Chronic and acute heart failure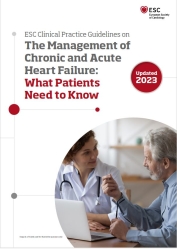 This guide for patients aims to provide an overview of the latest evidence-based recommendations for the diagnosis and treatment of heart failure. In particular, it should help patients to understand the:
main types of heart failure
medicines they may be offered
devices that might be considered appropriate
importance of being treated by a multidisciplinary team
importance of rehabilitation
importance of looking after themselves and managing their condition
This document is not intended as a guide on how the heart works, nor can it be exhaustive. The topics included in this document have links that will direct the interested reader to the appropriate sections in the 2021 Guidelines.
People seeking more general information about heart failure should visit the Heart Failure Matters website.
Cardiovascular disease prevention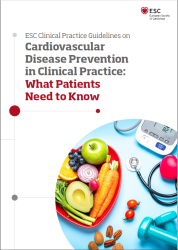 Coming soon! ESC Clinical Practice Guidelines on Cardiovascular Disease Prevention in Clinical Practice: What Patients Need to Know.