Welcome to the European Heart House, a haven of tranquility, ideally located in the natural surroundings on the French Riviera in the middle of a 26 950 m² park between Nice and Cannes.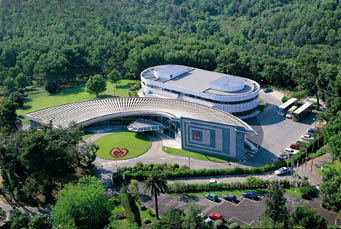 The center offers 6 meeting rooms, a registration desk and a dedicated catering area providing a perfect space for refreshment breaks and lunch.
The different sized rooms at the European Heart House are perfect for small or large meetings and events.
All our rooms are flooded with natural daylight and include an LCD projector, Speakers, Screen, Flip chart, and High-Speed WiFi. In addition, we also provide free notepads and pens to our guests.
We know that good catering can be essential to the success of your event and that's why our catering partners can provide a wide range of finger food, sandwiches, drinks and buffets upon request.

The European Heart House is staffed by highly experienced and qualified meeting professionals who are committed to ensure the success of your meeting.
All the logistical aspects of the event (accommodation, catering, transportation) will be taken care of by a dedicated member of ESC staff.