About the initiative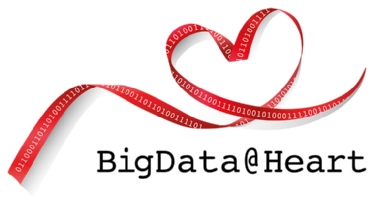 Launched in March 2017, BigData@Heart is a five-year project of the Innovative Medicines Initiative (IMI), an EU public-private consortium consisting of patient networks, learned societies, SMEs, pharmaceutical companies and academia.
The ESC, in partnership with a number of European academic research groups and pharmaceutical companies, have joined forces to develop a big data-driven translational research platform. BigData@Heart has access to most of the relevant large-scale European databases, ranging from EHR and disease registries to well-phenotyped clinical trials and large epidemiological cohorts enriched with –omics data, including data on more than five million patients with acute coronary syndromes, atrial fibrillation, and heart failure and about 20 million controls without the diseases. By accessing and harmonising European-wide data sets, the ambition is to design algorithms that predict the evolution of disease, based on medical history, hospital records, and country-specific statistics. Using all available data across data modalities, combined with machine learning or Bayesian network models, is expected to further refine outcome prediction. In addition, BigData@Heart will explore and set standards for the use of large and heterogeneously distributed data sets. Investigations include data mapping using common standards, federated data analysis obviating the need for central databases, and the legal and ethical aspects of using consented and unconsented data, in view of the EU general data protection regulation but also across countries with varying privacy rules.
October 2020 - Stakeholder Meeting >