Abstract results are now available.
The ESC would like to thank all the contributors who have chosen ESC Congress 2023 as their preferred scientific platform to submit their research.
The ESC Congress Programme Committee would like to acknowledge the members of the Abstract Reviewing Committee for their essential contribution to the abstract programme.
All Abstract submitters have been notified by email about the status of their abstract(s) and can VIEW THE RESULTS from their My ESC account by signing in first.
How to confirm your abstract presentation
STEP 1 - The submitter must sign in to her/his My ESC account with the email and password used at the time of submission to consult the abstract presentation day, time and format.
STEP 2 - The submitter must select and confirm the presenter from the list of authors.
STEP 3 - The Presenter selected in STEP 2 will receive instructions on how to confirm the presentation and submit the related agreement form.
This confirmation should be done as soon as possible upon receipt to ensure the abstract information is accurate in the scientific programme.
STEP 4 - The presenter must register to the congress.
STEP 5 - The presenter can start preparing her/his presentation by consulting the Presenter Guidelines.
Important Dates
2 May 2023 - Abstract results announcement. A notification email has been sent to each submitter.
31 May 2023 - Early fee registration deadline – All abstract presenters must register for the congress.
Mid-June 2023 - Opening of the upload platform. A notification will be sent to each presenter.
30 June - Deadline for the assigned presenters to confirm presentations and submit the related agreement forms.
ESC Congress Awards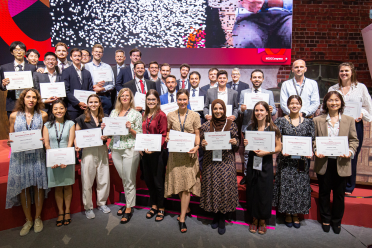 In each session, four young investigators, selected for the outstanding quality of their work, will present their research in front of a Jury and compete for a prestigious ESC Award.
Each finalist will receive a free registration to the congress, an Award certificate and a prize - €2,000 for the winners and €1,000 for the runners-up.
Presenters whose abstract is selected for presentation in an ESC Award session will receive specific instructions at the time of results announcement.
Young Investigator Awards
Six YIA sessions will be held focussing on Basic Science, Clinical Cardiology, Thrombosis, Population Sciences, Coronary Pathophysiology and Microcirculation, Heart Failure (Spotlight of the Congress)
To be eligible for competing in one of the YIA sessions, the presenter must be under 40 at the time of presentation.
See winners from the previous editions
Nursing and Allied Professions Investigator Award
This award aims to recognise significant contributions from new investigators in cardiovascular nursing and allied professions.
See winners from the previous editions