Submission of an abstract constitutes a formal commitment by the author(s) to present the work in person in Amsterdam at ESC Congress 2023, if accepted.
Submission deadline is Wednesday 1 March 2023, 12:00 noon CET.
Beware of the peak submission time in the last days; start now drafting your abstract to submit early and to avoid the stress around the deadline.
You will need to sign in to your My ESC account
Important Dates
1 March 2023, 12:00 noon CET - Abstract submission deadline. There will be no extension.
Early May 2023 - Abstract results announcement. An email will be sent to each submitter.
31 May 2023 - Early fee registration deadline – All abstract presenters must register for the congress.
Mid-June 2023 - Opening of the upload platform. A notification will be sent to each presenter.
30 June - Deadline for the assigned presenters to confirm presentations and submit the related agreement forms.
1 August 2023 - Deadline for abstract presenters to register for on-site participation to the congress and upload their presentation(s). Failure to upload and register by this deadline will lead to the withdrawal of the abstract from the scientific programme and all related publications.
Prepare your submission
ESC Congress Awards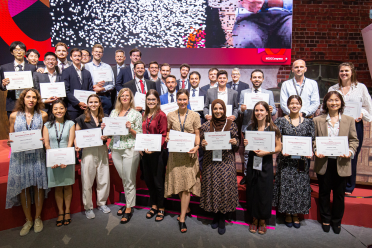 In each session, four young investigators, selected for the outstanding quality of their work, will present their research in front of a Jury and compete for a prestigious ESC Award.
Each finalist will receive a free registration to the congress, an Award certificate and a prize - €2,000 for the winners and €1,000 for the runners-up.
Presenters whose abstract is selected for presentation in an ESC Award session will receive specific instructions at the time of results announcement.
Young Investigator Awards
Six YIA sessions will be held focussing on Basic Science, Clinical Cardiology, Thrombosis, Population Sciences, Coronary Pathophysiology and Microcirculation, Heart Failure (Spotlight of the Congress)
To be eligible for competing in one of the YIA sessions, the presenter must be under 40 at the time of presentation.
See winners from the previous editions
Nursing and Allied Professions Investigator Award
This award aims to recognise significant contributions from new investigators in cardiovascular nursing and allied professions.
See winners from the previous editions