The objective of these fellowship programmes is to promote the development of academic medicine within the field of clinical cardiac electrophysiology.
EHRA Training Fellowship Programme
EHRA Training Fellowships are offered to give physicians the opportunity to gain specialised training in clinical electrophysiology (EP) in an ESC Member Country preferably outside their home country.
From September 2021, for individuals and centre, the application process will be open in both:
EHRA Recognised Training Centres (ERTC) will have the exclusive possibility to apply.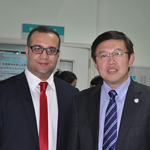 Dr. Khalid Bin Waleed, EHRA/APHRS International Fellow, defending his PhD in May 2018
EHRA Observational Training Programme (EOTP)
Get the chance to attend 2 to 4 weeks of clinical shadowing and learning in EP /CP in quality labelled centres belonging to EHRA Recognised training centres (ERTC).
The application process is now closed. Discover 2020 winners.
Testimonial
Dr. Jane Taleski shares his two weeks experience of EHRA Observational Training Programme in Sestre milosrdnice University Hospital Centre.