The European Heart Rhythm Association (EHRA) knows that you need to stay on top of the latest innovations in arrhythmias, pacing and electrophysiology. We deliver EHRA congress every year just for that reason.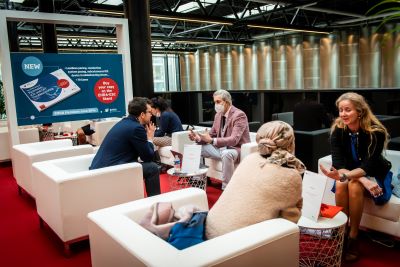 In three focused days, you will find out which new discoveries and technologies will improve what you do. Plus, you will meet the people who are changing the face of cardiology. You may not know about them now, but you will by the end of EHRA 2023.
EHRA Members enjoy significant savings and a special congress experience! Not a member yet? Find out more and join now.
To be easily recognised as an EHRA Member, we strongly recommend that you:
Print your badge in colour and bring it with you to EHRA 2023
Add an EHRA Member sticker to your badge holder upon arrival at the congress. Stickers will be available at collection points in the registration area and at other locations throughout the congress centre
Otherwise, you will be invited to print your badge in the registration area and may face delays entering the congress centre
20 years of EHRA
The European Heart Rhythm Association (EHRA) was created on 2 September 2003 with a mission of "improving the quality of life and reducing sudden cardiac death by limiting the impact of heart rhythm disturbances".
Over the years, EHRA has become the leading European network – and one of the most influential associations worldwide – for electrophysiologists and allied professionals. After 20 years of initiatives, exchanges, and adventure, it is time to take in the view of all that has been accomplished
Attending EHRA 2023 in Barcelona?
There are a few stops you should definitely make time for while you're at EHRA 2023 in Barcelona.
Visit "EHRA Home" in the registration area
Pick up your free eyeglasses holder
Get the latest EHRA Key Messages booklets at a great price
Find out more about:
Have your professional portrait photo taken. Exclusively for EHRA Members.
You are an ESC Pro Member & FESC, grab your free 2022 Pocket guidelines set !
New EHRA Members will get the last EHRA Key Messages on 'Conduction System Pacing' for free
Stop by the EHRA Members Lounge
The EHRA Members Lounge has one mission: to help you relax and recharge.
Enjoy a free cup of coffee while you chat with old and new friends
Use the printers on hand if you need to
Indulge in a relaxing moment in massage seat
Get a personal Amma massage
If you're a Fellow of EHRA, pick up your FEHRA diploma and pin
All ECGen Members are invited to a breakfast meeting in the EHRA Members Lounge at 07:40 on Monday, 17 April, at EHRA 2023 in Barcelona
Are you under 40 or still in training?
Special events are taking place in the EHRA Members Lounge just for you:
A networking meetup on Monday, 17 April at 19:00 CEST
Speed mentoring, where you can meet with renowned experts in one-to-one meetings to discuss your career and ongoing research.
EHRA General Assembly
Members are invited to attend the EHRA General Assembly, where the recent election results will be announced and you will meet the new EHRA Board.
When: Monday, 17 April at 12:00–13:00 CEST
Where: Lecture Room 4
Agenda
Welcome address (Prof. Jose Luis Merino – EHRA President, FESC, FEHRA)
Novelty and changes within EHRA (Prof. Haran Burri – EHRA Secretary, FEHRA)
Budget FY 24 (Prof. Isabelle C. Van Gelder – EHRA Treasurer, FESC, FEHRA)
Congratulations to the newly elected FEHRA (Dr. Nikolaos Dagres – EHRA Selection Committee Chair, FEHRA)
Questions and answers
Closing remarks (Prof. Jose Luis Merino – EHRA President, FESC, FEHRA)
Attending EHRA 2023 online?
Visit EHRA Home on the congress platform (available soon).