Dates and location
This year's in-person speed mentoring sessions took place at EHRA 2023, Barcelona (16-18 April), in the EHRA Members Lounge. Individual and group sessions were available to Young EP who had applied before the congress.
Eligibility criteria
Electrophysiologists and cardiac device specialists in or out of training until the age of 40 years old or within three years after training if over 40 years old
Application
Please note: applications are no longer being accepted. See you next year!

Applicants are selected based on their motivation letter and CV. Each applicant is assigned up to two individual interviews of 20 minutes each according to their profile and the mentor's availability and a group mentoring session, if applicable.
Mentors in 2023
Haran Burri

Areas of expertise
Cardiac pacing and interventional electrophysiology
Place of work
University Hospital of Geneva, Geneva, Switzerland
Julian Chun

Areas of expertise
Catheter ablation, atrial fibrillation, Ventricular tachycardia, LAA closure, stroke prevention, coronary intervention
Place of work
CCB, Med. Klinik III, Markuskrankenhaus, Frankfurt, Germany
Natasja de Groot

Areas of expertise
Mapping and ablation of complex arrhythmias, pediatric arrhythmias
Place of work
Erasmus University Medical Center, University of Technology, Delft, The Netherlands
Tom De Potter

Areas of expertise
AF and VT ablation, first-in-man development
Place of work
OLV Hospital Aalst, Cardiology Department, Aalst, Belgium
David Duncker

Areas of expertise
Catheter ablation, sudden cardiac death, devices, wearables
Place of work
Hannover Heart Rhythm Center, Department of Cardiology and Angiology, Hannover Medical School, Hannover, Germany
Hein Heidbuchel

Areas of expertise
From cellular to clinical EP to managing EP
Place of work
Antwerp University Hopital, Antwerp, Belgium
Gerhard Hindricks
Areas of expertise
Electrophysiology and cardiac arrhythmia
Place of work
University of Leipzig, Heart Center Leipzig and Leipzig Heart Institute, Leipzig, Germany
Sabine Ernst

Areas of expertise
Complex arrhythmias, atrial fibrillation, ventricular arrhythmia in both paediatric and adult patients
Place of work
Royal Brompton and Harefield Hospitals, London, UK
Christophe Leclercq

Areas of expertise
Cardiac resynchronisation therapy, cardiac defibrillation / EHRA Past President
Place of work
Rennes University Hospital (CHU) and Rennes 1 University, Rennes, France
Jose Luis Merino

Areas of expertise
AF, atypical flutter & VT ablation / EHRA President
Place of work
La Paz University Hospital, Madrid, Spain
Helmut Pürerfellner

Areas of expertise
Electrophysiology, AF ablation, VT ablation / EHRA President-Elect
Place of work
Ordensklinikum Linz Elisabethinen, Linz, Austria
Daniel Scherr

Areas of expertise
Catheter ablation, atrial fibrillation, building up an EP center and a team, early career advice, how to combine research and clinics
Place of work
Medical University of Graz, Graz, Austria
Jan Steffel

Areas of expertise
Electrophysiology and ablation, clinical arrhythmology, device implantation and troubleshooting, oral anticoagulation & stroke prevention
Place of work
Hirslanden Clinic, Zurich; University of Zurich, Zurich, Switzerland
Emma Svennberg

Areas of expertise
Digital cardiology, screening for atrial fibrillation
Place of work
Karolinska University Hospital, Stockholm, Sweden
Isabelle van Gelder

Areas of expertise
Arrhythmias and device therapy, cardiovascular risk management and diagnosis, prevention of heart failure
Place of work
University Medical Centre Groningen, Groningen, The Netherlands and Univeristy of Southern Denmark, Odense, Denmark
Testimonials
EHRA 2023 Speed Mentoring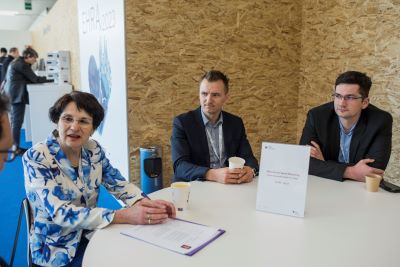 "During EHRA 2023 in Barcelona I had the pleasure of participating in a speed mentoring session both individually with Tom De Potter and in a group mentoring session with Isabelle van Gelder. It was a nice, laid-back conversation and I was able to freely ask for advice and guidance from expert EP physicians in achieving my professional goals. I gained some new perspectives and they seemed genuinely interested in my views. They patiently addressed all of my questions and concerns and gave me useful insight. I would recommend these sessions for any young EP interested in mentoring."
Harri Saarinen, Finland

"Speed mentoring provided a unique opportunity to meet leading EP specialists, listen to their personal and professional stories, and hear what motivates and inspires them. During the group-based mentoring session, I was also happy to connect with a few of my co-mentees, whom I also hope to meet again. It was a highly motivating experience for which I am very thankful."
Maria Hee Jung Park Frausing, Denmark

"During the EHRA Speed Mentoring session, I had a great opportunity to discuss my career path with Prof. Jan Steffel. With a very friendly and open approach, I could ask questions about training in the field of ventricular tachycardia ablation and my strategy to build a VT program in my hospital. Hints and recommendations were truly valuable – a frank, straight-to-the-point conversation highlighting where to go, and what to avoid. Also, Prof. Steffel was kind to share his experience on working as an EP clinician in Switzerland, explaining possible career paths to me."
Dr. Tomasz Jadczyk, Poland

"As a young professional in the field of heart rhythm, I was thrilled to attend the EHRA 2023 Speed Mentoring event. The opportunity to learn from renowned experts in the industry and connect with fellow professionals was unparalleled. Not only did I gain valuable insights and expand my knowledge of the latest developments in the field, but I also had the chance to network and build lasting relationships with other professionals. The connections I made at this event will undoubtedly help shape my career path moving forward.
I cannot express enough how impactful this event was for me and I highly recommend it to anyone looking to advance their knowledge and career in the heart rhythm field."
Dr Pranav Bhagirath, The Netherlands
EHRA 2022 Speed Mentoring

"It has been a helpful and wonderful experience. Talking to famous EP experts is always great to improve your career and enlarge your European contacts."
Dr. Lorenzo Mazzocchetti, Italy


"I have had the opportunity to participate in EHRA Speed Mentoring for a few years in a row.
As a young Canadian EP, this is always a great opportunity to hear about ideas in Europe, get feedback on my vision and connect through the networks of my mentors to my peer group in Europe."
Dr. William F. McIntyre, Canada


"The speed mentoring gave me the possibility to gain important insights regarding next possible career steps as well as important steps to take during my EP fellowship. Moreover, it was a great possibility to network on an international basis with an expert in the field of electrophysiology. Would recommend it to every Young EP."
Dr. Henrike Aenne Katrin Hillmann, Germany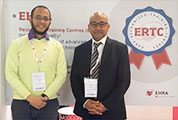 "Contacting one of the EP masters is one of the most important steps in your EP career. A speed mentoring session puts you on a faster track in your career by taking professional advice from a brilliant electrophysiologist around the world. Don't miss it."
Dr. Mohamed Sayed Ahmed, Egypt

EHRA 2021 Online Speed Mentoring

"This was a great opportunity to meet and receive extraordinary advice from world-famous experts, which I have already started to apply in my daily practice. I have agreed on future cooperation with some of them. An extraordinary experience!"
Dr. Stefan Simovic, Serbia

"EHRA Online Speed Mentoring was very helpful, motivating and fun. What an honour to have such successful senior EP specialists spend their time and thoughts on you! I am very thankful for this experience."
Dr. Johanna Mueller-Leisse, Germany