Introduction
National CVD Prevention Coordinators (NCPCs) are appointed by the Presidents of National Cardiac Societies, with the following roles and responsibilities:
Facilitate the endorsement, adaptation, translation and publication of the European Guidelines on CVD Prevention
Coordinate the development of CVD prevention tools at national level
Liaise with the country's Ministry of Health representatives
Build national multi-disciplinary professional alliances and a close collaboration with relevant national societies in the field of CVD prevention
Act as a direct and privileged contact for the EAPC
NCPC Representatives in the Prevention Implementation Committee (PIC):
Iulia Kulcsar (Romania)
Piotr Jankowski (Poland)
Aim: Enhance cooperation with all national coordinators around Europe and thus strengthen the effectiveness of the committee.
NCPC Activities
NCPC Meeting
ESC Congress in Paris (September 2019)
21 National Coordinators and Representatives met at ESC Congress 2019 to:
Get updates about the latest EAPC prevention activities
Share prevention activities, implementation strategies and barriers in the different countries
NCPC Workshops
EuroPrevent in Ljubljana (April 2018)
18 National Coordinators and Representatives from 17 different countries met at EuroPrevent in Ljubljana to discuss: "Big differences in the state of cardiac rehabilitation from country to country: focus on cardiac rehabilitation".
ESC Congress in Barcelona (August 2017)
27 National Coordinators ("old" and "new") from 23 different countries shared their experiences, discussed the "Overview of Cardiac Rehabilitation in ESC Member Countries" initiative and presented "Prevention Pictures".
EuroPrevent in Malaga (April 2017)
National CVD Prevention Coordinators and CCNAP National Representatives from 14 different countries discussed the "ESC Prevention of Cardiovascular Disease Programme" and other prevention implementation initiatives.
EuroPrevent in Lisbon (May 2015)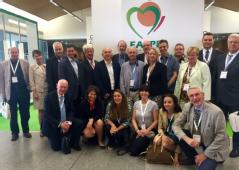 National CVD Prevention Coordinators from 11 different countries discussed prevention strategies.
Country of the Month
"Country of the Month" reports on the state of prevention and rehabilitation are prepared by NCPCs with the aim to share best practices and to inspire health professionals in the field of preventive cardiology.
Overview of Preventive Cardiology in Europe
"The Overview of Preventive Cardiology in Europe" is a valuable source of information, based on the "Country of the Month" reports of the NCPCs which allows readers to compare "Cardiac Rehabilitation" and "CVD Prevention" between different European countries.
National CVD Prevention Coordinators
With the launch of the 2021 ESC Guidelines on cardiovascular disease prevention in clinical practice, the renewal of the national coordinators for the next term is in process. This list shows the coordinators which were appointed in 2017. The updated list will be available once the nomination process is finalised.
Country
Coordinator (appointed 2017)
Armenia
Dr. Tigran R. Astvatsatryan
Azerbaijan
Assoc. Prof. Rahima I. Gabulova
Belarus
Dr. Olga Paulava
Belgium
Prof. Johan De Sutter, FESC
Prof. Patrizio Lancellotti, FESC
Bosnia and Herzegovina
Prof. Mirza Dilic, FESC and Prof. Dusko Vulic, FESC
Bulgaria
Dr. Evgeni Goshev
Croatia
Prof. Davor Milicic
Cyprus
Dr. Kypris Lambros
Czechia
Prof. Michal Vrablik
Denmark
Dr. Ann Bovin
Estonia
Prof. Margus Viigimaa
Finland
Prof. Seppo Lehto
France
Dr. Marie-Christine Iliou
Georgia
Dr. Zurab Klimiashvili
Germany
Prof. Stephan Gielen, FESC
Greece
Asst. Prof. Konstantinos Tsioufis, FESC
Hungary
Assoc. Prof. Eszter Szabados
Iceland
Prof. Karl Andersen, FESC
Ireland
Prof. Bill McEvoy and Dr. Angie Brown
Israel
Dr. Barak Zafrir
Italy
Prof. Pasquale Perrone-Filardi, FESC
Dr. Stefano Urbinati, FESC
Kazakhstan
Assoc. Prof. Kairat Davletov
Kosovo
Dr. Pranvera Ibrahimi
Kyrgyzstan
Dr. Ksenya Neronova
Latvia
Dr. Vilnis Dzerve, FESC
Lebanon
Dr. Georges Saade, FESC
Libya
Dr. Omar Msalam, FESC
Lithuania
Prof. Rimvydas Slapikas, FESC
Luxembourg
Dr. Jean Beissel
Macedonia, North
Asst. Prof. Nela Kostova
Malta
Dr. Myra Tilney
Moldova, Republic of
Dr. Rudi Victor
Montenegro
Prof. Aneta Boskovic
Morocco
Prof. Mohamed Alami
Netherlands
Dr. Madoka Sunamura and Dr. Roderik A. Kraaijenhagen
Norway
Prof. Henrik Schirmer
Poland
Assoc. Prof. Piotr Jankowski
Portugal
Prof. Ana Abreu
Romania
Dr. Iulia Daniela Kulcsar, FESC and Prof. Dan Gaita, FESC
Russian Federation
Prof. Sergey Boytsov
San Marino, Republic of
Dr. Marina Foscoli
Serbia
Dr. Vojislav Giga
Slovakia
Professor Stefan Farsky
Slovenia
Dr. Zlatko Fras, FESC
Spain
Dr. Regina Dalmau Gonzàlez-Gallarza
Sweden
Dr. Anna Kiessling
Switzerland
Prof. François Mach
Turkey
Prof. Meral Kayikcioglu and Assoc. Prof. Kartal Emre Aslanger
Ukraine
Prof. Elena Nesukay
United Kingdom of Great Britain and Northern Ireland
Dr. Joseph Mills
Coordinators to be appointed
| Country | Coordinator |
| --- | --- |
| Albania | To be appointed |
| Algeria | No Coordinator |
| Austria | To be appointed |
| Egypt | To be appointed |
| Syrian Arab Republic | To be appointed |
| Tunisia | To be appointed |
Documents and resources