The Academy community
Join the community – get on the map!
Connect with other members of the European Heart Academy's Alumni community!
To access the map, first log in to your MyESC account, then please click on the map image below.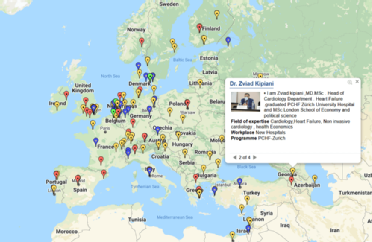 If you haven't yet created a profile Join now
The Alumni Task force
In 2021, the Academy's focus is to give more opportunities to its Alumni to get involved in different activities. To identify and develop relevant projects that make sense for the entire community, a task force of 12 Alumni has been created with 4 participants from the PCHF-Zurich course, 4 participants from the MSc in Health Economics course and 4 participants from the DAS-CAM course.
Its mission is to be a link between the community and the ESC, to engage with all the Alumni and represent the Academy.
To achieve that goal, the enthusiasm of the task force has been key, in a few months of time they managed to create a momentum: mapping the alumni community, a reinforce presence on social media, include Alumni in ESC activities… and more is still to come.
We wish to create a network that really allows you to build, exchange, help you evolve in your career. The Academy and the Task force count on your interest and your support in making this community strong and influential at an individual and at a global level.
Members of the Alumni task force
Firstname

Lastname

Academy Programme

Country

Francisco

Costa

Chair Alumni Task Force

DAS-CAM 1 (2017-2018)

Portugal

Vanessa

Weberndörfer

DAS-CAM 1 (2017-2018)

Netherlands

Matteo

Anselmino

DAS-CAM 2 (2019-2021)

Italy

Arian

Sultan

DAS-CAM 2 (2019-2021)

Germany

Christos

Varounis

MSc in Health Economics 1 (2016-2018)

Greece

Clara

Hanekamp

MSc in Health Economics 3 (2018-2020)

Netherlands

Filip

Zemrak

MSc in Health Economics 5 (2019-2021)

UK

Agnieszka

Pawlak

PCHF 2 (2016-2017)

Poland

Inga

Ingimarsdóttir

PCHF 3 (2018-2019)

Iceland

Nathan

Mewton

PCHF 3 (2018-2019)

France

Mariya

Tokmakova

PCHF 3 (2018-2019)

Bulgaria