Join your community from 24 to 26 March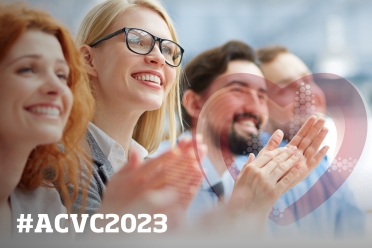 The scientific programme will present the latest cardiovascular science to improve daily practice of acute cardiovascular care professionals from cardiologists, intensivists, anaesthesiologists, internists, cardiac surgeons, nurses, to paramedics and other allied professionals who care for acutely ill cardiac patients.
BROWSE THE SCIENTIFIC PROGRAMME
When planning your programme, please note: daylight savings time starts on Sunday, 26 March. This means clocks are turned forward at 02:00 AM.
Get a sneak peek of the programme
Dedicated sessions for the young audience
State-of-the-art treatment of cardiogenic shock in 2023
New biomarker strategies in acute coronary syndromes
Contemporary management of AHF in the emergency department
How to effectively manage a patient with acute heart failure and other severe conditions
Controversies in management of cardiogenic shock
Other attractive sessions
Burning topics about post-resuscitation care
How to manage mechanical circulatory support therapy in cardiogenic shock
ST-segment elevation and left main disease or triple vessel disease
Management of a patient with pulmonary embolism: state of the art and new insights
How to manage patients with acute chest pain in the ED
Cardiac arrest care: strengthening the links of survival
ACVC Congress 2023 workshops
ACVC Congress 2023 Workshops
Acute Cardiovascular Care Congress 2023 provides you with a unique opportunity to learn or update your skills!
Presentations by leading global experts, covering the entire spectrum of acute cardiac care
Including acute coronary syndromes, acute heart failure, reperfusion and revascularisation, mechanical circulatory support in shock or pre-shock, management of arrhythmias in the acute setting, refractory cardiac arrest, acute venous thromboembolism, cardiothoracic intensive care, secondary prevention, with a particular focus on antithrombotic therapy, lipid-lowering, and anti-diabetic strategies.