Information regarding the 2021 Women Transforming Leadership Programme
Due to the COVID-19 pandemic, the ESC 2020 Women Transforming Leadership Programme course has been postponed to October 2021 and is now full. Applications will open again in 2022.
About the grants and course
The ESC offers eight grants for its members to attend the innovative Women Transforming Leadership Programme. This executive education programme is run by the Saïd Business School of the University of Oxford (UK) and the 2021 course will take place from 4 - 8 October 2021.
The ESC grants cover the course fees and the winners will have to arrange and pay for their travel and accommodation. The course focuses on different ways of dealing with organisational challenges and provides women with tools for finding their own leadership style.
Who can apply?
Eligibility criteria
Women in cardiology, who are thinking of taking on a new responsibility/leadership position (relative to seniority) or a different upward path (in their workplace and/or within ESC)
Citizens or permanent residents of an ESC Member Country or an ESC Affiliated Country, for at least three years, preceding the application date. Periods of residence dedicated to full-time education will not be accepted as ordinary residence for this purpose.
ALL ESC Members can apply to mean:

Associations, Working Groups and Councils members
NCS members who are declared to the ESC
Professional and Professional Plus Members
Fellows (FESC, FEHRA, FHFA)
Evaluation criteria
Need

Applicant's plans to take on greater responsibility or a new leadership position in her workplace or in the ESC, or need to improve her effectiveness in her current position

Impact

Applicant's anticipation of how the WTLP course and acquired skills may help her attain her goals and be beneficial for the pursuit of her career plan
Applicant's availability and willingness to support the Women in ESC initiative in rolling-out its activities
Applicant's present involvement in ESC and/or intention to become increasingly involved in ESC activities, explaining how they think they may best contribute to the work of the Society

Excellence

Applicant's personal professional standing relative to seniority
Selection will be based on merit in line with geographical strategic objectives (in further promoting the ESC WTLP)
How to apply
Applications for 2021 are now open.
The following documents should be submitted with the application:
Motivation letter

In the motivation letter (max. 1 page), you must state clearly the reasons for your interest in applying to this course at this point in your career and your aspirations, including specific reference to the ESC WTLP Grants evaluation criteria relative to need, impact and excellence. Please give emphasis in outlining the plans you have for engaging with the ESC and explaining how you think you may best contribute to the Society.

Short Curriculum Vitae (max. 2 pages), with the following information:

Postgraduate career including present employment
Previous training in Clinical Cardiology
Research experience/Academic record
Publications in refereed journals relevant to this application (including journal-title, page number(s) and names of co-authors)
Role in ESC and/or National Cardiac Society boards, nuclei, task forces and working groups, if any
Selection and grading
The ESC-WTLP grants graders will only evaluate the documentation submitted via the online application. Only complete applications submitted by the deadline will be considered.
The top eight applicants will be awarded the ESC WTLP Grants. In the event of equal grades, the applicant with the highest grade for the criterion 'potential to become increasingly involved in ESC activities' will be retained.
Only, in case of absolute necessity (personal medical condition, imperative business or personal prior engagement) successful ESC WTLP Grant applicants may request to postpone their WTLP attendance to the following calendar year. However, please note that the grant cannot be transferred for a second time.
Results
Successful candidates will be informed by email about the results ahead of the ESC Congress.
Due to the high number of applications, only successful candidates will be contacted.
The names of the grant winners will be officially announced at the ESC Congress Inaugural Ceremony.
Testimonials from course alumnae
Read this short article which brings together the views and experiences of past participants.
Dr Sarah C. Clarke, ESC Board member, attended the course and explains why you should too.
"Focus on the things you are good at and the things that you can change for the better. Things that you are not good at and that you do not like must be outsourced. This and many more lesson have greatly changed my (professional) approach to various problems to the positive. I strongly encourage everybody to take the opportunity and apply for this program which provides great imput in so many different ways. Not only concerning leadership, but also troubleshouting, work life balance, and many more."

Julia Mascherbauer, Medical University of Vienna (Austria)
"It was transformative. It was like putting brackets on my life. A little bracket where it was time to reflect and strategise; I cannot begin to describe how important that is. Especially when it's among like-minded women, with the myriad of considerations that we all have. It was priceless.

It's not something you do and forget, it's something you take away with you. The first thing I did when I went back to Singapore is, I shared it with my group, and my group happened to be predominantly women. It was like paying it forward. I can tell you that people benefitted beyond the people that were sitting in the class."

Carolyn Lam, Professor and Senior Consultant, Duke-NUS (Singapore)
"If you're either a leader or thinking about becoming a leader you'll get inspiration in the Women Transforming Leadership Programme about how to use your strengths and identify your personality and how to use them to become the best possible leader."

Cecilia Linde, Working Groups and Councils, Women in ESC, ESC Membership and Young Communities (Sweden)
"I got to the point in my career where it was challenging, exciting and at the same time daunting. The course gives you the tools to identify your strengths, your weaknesses; it's helped me build my independence as a leader and find my voice. The decisions I make in my leadership role, not only affect me and my career, but those of my team. That's a huge responsibility and the course has made me feel more confident about doing that well."

Carol Ann Remme, ESC Working Group on Cardiac Cellular Electrophysiology, Vice-Chairperson & Treasurer, 2016 - 2018 (Netherlands)
"This course helped me understand my leadership style and how I can best use it to serve my institution, team and patients. It didn't change how I handle certain challenges, but made me worry less about whether or not I'm 'doing the right thing'. I learned to assess whether I'm doing the best I can, with the information, tools and resources at my disposal. It's been very empowering."

Susanna Price, Acute Cardiovascular Care Association President Elect 2016- 2018 (UK)
"Becoming a leader in my workplace meant collaborating with different professionals - clinicians, academics, health stakeholders - and engaging them to deliver the outcomes I wanted. This course really helped me learn how to manage my relationships with these people, and how to establish my aims in a way that was clear for everyone. It's made a big difference and I'd definitely recommend attending."

Ekaterini Lambrinou, Chairperson of ESC Council on Cardiovascular Nursing and Allied Professionals (Cyprus)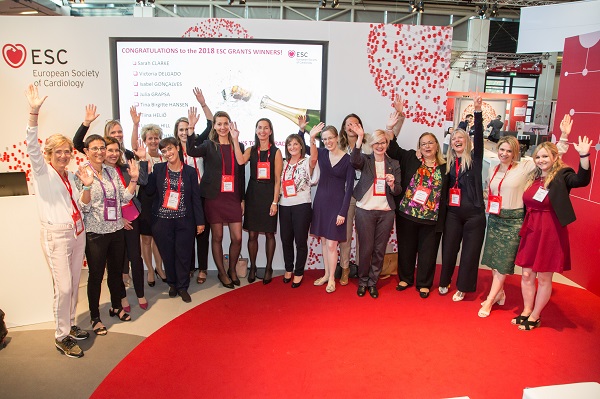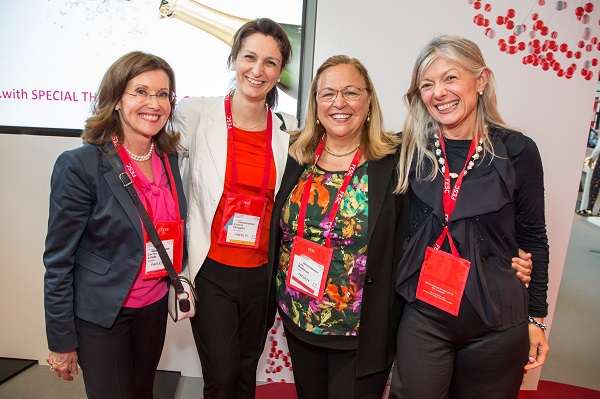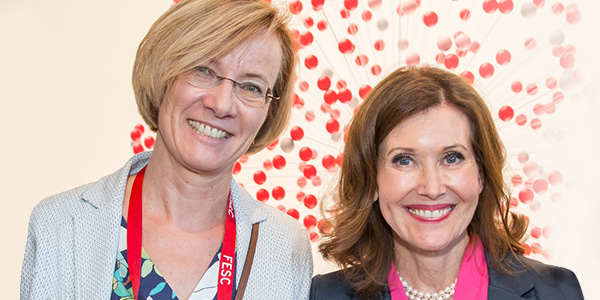 ESC Grant Winners
2020 Grant Winners
Beatrice BONELLO (UK)
Ruth HEYING (Belgium)
Lynne HINTERBUCHNER (Austria)
Ewa JANKOWSKA (Poland)
Charlotte MANISTY (UK)
Lis NEUBECK (UK)
Stéphane MANZO-SILBERMAN (France)
Emanuela VALSANGIACOMO BUECHEL (Switzerland)
2019 Grant Winners
Nina AJMONE MARSAN (Italy)
Gill Louise BUCHANAN (UK)
Alessia GIMELLI (Italy)
Ruxandra JURCUT (Romania)
Stefanie SCHUEPKE (Germany)
Heather SMALL (UK)
Ana Teresa TIMOTEO (Portugal)
Liesl ZUHLKE (South Africa)
2018 Grant Winners
Sarah CLARKE (UK)
Victoria DELGADO (Netherlands)
Isabel GONÇALVES (Sweden)
Julia GRAPSA (UK)
Tina Birgitte HANSEN (Denmark)
Tiina HELIÖ (Finland)
Loreena HILL (UK)
Renate SCHNABEL (Germany)
2017 Grant Winners
Elena ARBELO (Spain)
Jelena CELUTKIENE (Lithuania)
Vanessa FERREIRA (UK)
Lene HOLMVANG (Denmark)
Carolyn LAM (Singapour)
Ekaterini LAMBRINOU (Cyprus)
Ida Gjervold LUNDE (Norway)
Julia MASCHERBAUER (Austria)
2016 Grant Winners
Donna FITZSIMONS (N-Ireland)
Kristina HAMBRAEUS (Sweden)
Lixin JIANG (China)
Josepa MAURI-FERRE (Spain)
Avital PORTER (Israel)
Carol Ann REMME (The Netherlands)
Raquel YOTTI (Spain)
2015 Grant Winners
Chiara BUCCIARELLI-DUCCI (UK)
Marisa Generosa CRESPO-LEIRO (Spain)
Sigrun HALVORSEN (Norway)
Nina JOHNSTON (Sweden)
Susanna PRICE (UK)