"The HFA Winter Meeting is the premier meeting for basic translational science in Europe, the excellence of which is recognised internationally. The organisers need to be congratulated on maintaining such uncompromising high standards over many years and for providing the young (and not-so-young) generation of scientists and clinician scientists with a fantastic opportunity to learn about the latest (unpublished) discoveries, participate in lively scholarly discussions, and network with the best scientists in the field.

There is no doubt in my mind that HFA Winter Meeting is amongst the very best initiatives fostered by the ESC family and a model for future developments."
Prof. Barbara Casadei
President of the ESC, 2018 - 2020
2021 HFA Winter Meeting
Wednesday, 20 January to Thursday, 21 January 2021
The HFA Winter Meeting on Translational Heart Failure Research is widely considered the best basic and translational heart failure meeting in Europe.
Due to the current COVID-19 pandemic and the restrictions resulting from it, the 2021 edition of the HFA Winter Meeting has been reformatted and was held online.
Programme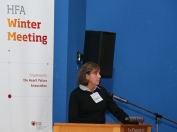 What makes this meeting unique is a blend of cutting-edge basic science with state-of-the-art translational and clinical knowledge, aiming at further improving heart failure treatment.
Poster sessions were presented in a closed forum.
The Abstracts book is now available
Highlights from previous Winter Meetings
HFA Winter Meeting publications Previous Winter Meetings Winners of Winter Meeting awards