Find out more about presenting abstracts at the Winter Meeting by watching some videos of the 2018 YIA and Guido Tarone Award winners:
Guido Tarone Award
2020
Abdellatif Mahmoud (Graz, AT) for "Fine-tuning of cardiac IGF1 signalling improves cardiac health and extends lifespan".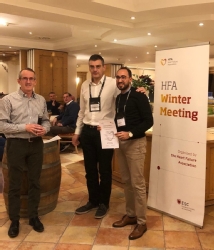 2019
Ralf Gilsbach (Freibrug, DE) for ''The identification and functional (epi)genetic modulation of chromatin interactions in cardiac myocytes''.
2018
Maarten van den Hoogenhof (Amsterdam, NL) for "RBM20 mutations induce an arrhythmogenic dilated cardiomyopathy related to disturbed calcium handling".
2017
Marco Mongillo (Padova, IT) for "Dynamics of neuro-effector coupling at cardiac sympathetic synapses".
2016
Ellen Dirkx (Trieste, IT) for "Targeting the miRNA-106b-25 cluster as a potential regenerative therapeutic approach for myocardial injury".
Young Investigator Award
Winners
2021
Ruping Chen (Wuerzburg, DE) for ''Mechanistic insights of the p.L13R mutation in the inner nuclear membrane
protein Lemd2 leading to cardiomyopathy associated with arrhythmias''.
2020
Victoria Mauz (Heidelberg, DE) for "Type II protein arginine methyltransferases are required for cardiac integrity and metabolic adaptation to stress".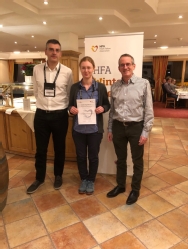 2019
Hashim Ali (Trieste, IT) for "The ubiquitin ligase TRIM35 is a novel restriction factor for cardiomyocyte proliferation".
2018
Daniel Brayson (London, UK) for "Prelamin A toxicity drives 'inflammaging' of the myocardium: a mechanism for multiple cardiomyopathies".
Edoardo Bertero

(Wurzburg, DE) for "Down regulation of the mitochondrial calcium uniporter hinders cardiac energy supply-and-demand matching in Barth syndrome".
2017
Mahmoud Abdellatif (Graz, AT) for "The natural autophagy-inducer spermidine protects the aging heart and promotes longevity in mice".
Runners up
2020
Karoline Bjarnesdatter Rypdal (Oslo, NO) for "The secret glycoprotein ADAMTSL2 is up-regulated in heart failure and directs anti-fibrotic signalling".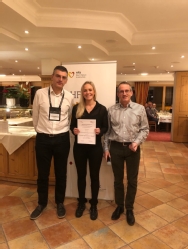 Tim Rubben Eijgenraam (Groningen, NL) for "A novel mouse model of phospholamban p.Arg14del cardiomyopathy develops heart failure with protein aggregation and is unresponsive to common heart failure drugs".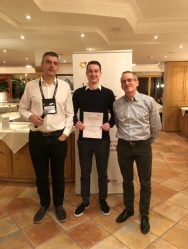 2019
Arwa Kohela (Utrecht, NL) for "Epicardial contribution to arrhythmogenic cardiomyopathy"

Justine Dontaine (Louvain, BE) for "New paradigm for cardiac hypertrophy prevention"

2018
Stephen Gray (London, UK) for "The mitochondrial unfolded protein response protects the heart during chronic pressure overload"
2017
Ellen Dirkx (Trieste, IT) for "High throughput small molecules screen identifies the neuroactive alkaloid harmine as an inducer of cardiomyocyte proliferation".
Maxance Ribeiro (Paris, FR) for "New role of EPAC in the Anthracyclines-induced cardiotoxicity".
2018 rewarded abstract presenters with Prof. Rudolf de Boer (meeting coordinator) and Prof. Christoph Maack (chair of poster session jury).