Introduction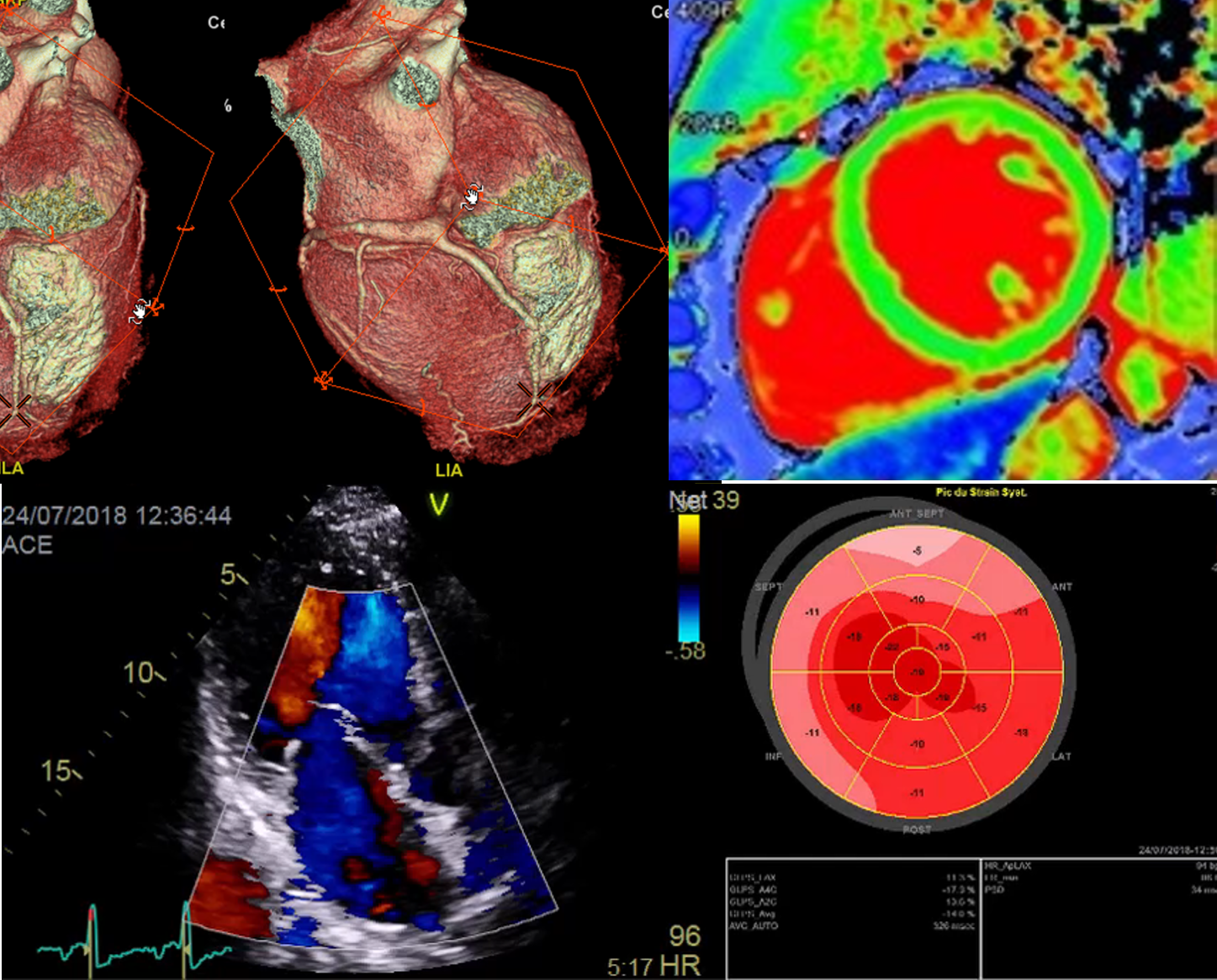 Cardiomyopathies are a family of diseases characterized by myocardial alterations which cannot be solely explained by preload or afterload changes. They can represent a challenge for cardiologists and cardiac imaging specialists, but an in-depth knowledge of etiologies and characteristic changes can lead the diagnosis.
Hence, the diagnostic pathway for patients with suspected cardiomyopathy consists of signs and symptoms detected by history taking and clinical examination, ECG related abnormalities, specific laboratory tests, family history, genetic testing and invasive evaluation.
Cardiac imaging plays a pivotal role in the diagnosis of cardiomyopathies or structural changes related to exercise in athletes. Transthoracic echocardiography - safe, readily available and affordable -is the imaging tool that will be used early in case of a suspected cardiomyopathy or will even trigger the probability of an underlying cardiomyopathy. Besides echocardiography other imaging modalities such as cardiac magnetic resonance (CMR), cardiac computed tomography (CT) and nuclear imaging play an instrumental complementary role.
In this toolbox the EACVI provides it members with state-of-the-art practical presentations on imaging modalities and how to implement them in the workup of suspected Dilated Cardiomyopathy, Hypertrophic Cardiomyopathy, Restrictive Cardiomyopathy, Arrhythmogenic Cardiomyopathy, Left Ventricular Non-Compaction and the Athletes' heart.
Each chapter, prepared by experts in the field, briefly discusses the specific cardiomyopathy in a short introduction followed by practical presentations for the different relevant cardiac imaging modalities, illustrated with examples. The integration of complementary imaging modalities is discussed in a multimodality presentation. A dedicated short literature list and links to existing EACVI congress presentations, selected clinical cases and webinars is provided.
The EACVI thanks the contributors to each chapter and hopes that this toolbox provides the readers with up-to-date knowledge that can be implemented in clinical practice.
The programme is composed of 6 parts, as follows:
Part 1: Dilated Cardiomyopathy
Section Chairperson: Erwan Donal
Section contributors: Matteo Cameli, Edoardo Conte, Erwan Donal, Anca Florian, Gianluca Pontone, Leyla Elif Sade, Antti Saraste, Arthur Scholte, Jeanette Schulzmenger, Ivan Stankovic
Part 2: Hypertrophic Cardiomyopathy
Section Chairperson: Nuno Cardim
Section contributors: Nuno Cardim, Olivier Lairez, Theodore Murphy, Denis Pellerin, Steffen E. Petersen, Monica Rosca
Part 3: Restrictive Cardiomyopathy
Section Chairperson: Ruxandra Oana Jurcut
Section contributors: Philippe Charron, Marianna Fontana, Alessia Gimelli, Gilbert Habib, Ruxandra Oana Jurcut, Sebastian Onciul, Antti Saraste
Part 4: Arrhythmogenic Cardiomyopathy
Section Chairperson: Kristina Haugaa
Section contributors: Ana Almeida, Marcus Carlsson, Monica Chivulescu, Kristina Haugaa, Juhani Knuuti
Part 5: Left Ventricular noncompaction
Section Chairperson: Nico Van De Veire
Section contributors: Ana Almeida, Gabriella Captur, Giovanni Di Salvo, Erwan Donal, Hani Mahmoud-Elsayed, Steffen E. Petersen, Nico Van De Veire, Simon Woodbridge
Part 6: The Athlete's Heart
Section Chairperson: Antonello D'Andrea
Section contributors: Antonello D'Andrea, Flavio D'Ascenzi, Guido Claessen, Edoardo Conte, Hélder Dores, Sabiha Gati, Hani Mahmoud-Elsayed, Gianluca Pontone