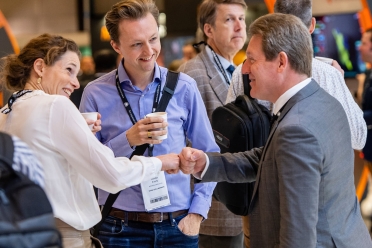 The annual meeting of the European Heart Rhythm Association (EHRA) brings together scientists, healthcare professionals and other players involved in arrhythmia management from all around the world.
Our flagship congress brings the EHRA community together for networking and enjoying the thrill of discovering, learning, and sharing together in-person.
To review presentations all year long on ESC 365 and receive additional benefits, become a member of the European Heart Rhythm Association.
See you in 2024 in Berlin, from 7 to 9 April. It's not too early to start planning. Save the dates!
EHRA 2023 Winners
Congratulations to our winners in the different categories: Young Investigator Award - Basic and Translational Science & Clinical, e-cardiology award session and the ECG competition.
EHRA Scientific Programme Committee
Prof. Serge Boveda, EHRA Scientific Programme Chairperson
Prof. Andrea Sarkozy, EHRA Scientific Programme Vice-Chairperson
| Position | Name | Country |
| --- | --- | --- |
| Chair | Prof. Serge Boveda, FEHRA | France |
| Co-Chair | Prof. Andrea Sarkozy, FEHRA | Belgium |
| Member | Prof. Mervat Abou El Maaty, FESC | Egypt |
| Member | Dr. Angel Arenal | Spain |
| Member | Dr. Fernando Arribas | Spain |
| Member | Prof. Angelo Auricchio, FESC, FEHRA | Switzerland |
| Member | Prof. Elijah Behr, FESC | UK |
| Member | Prof Carina Blomstrom-Lundqvist, FESC | Sweden |
| Member | Prof Lucas Boersma, FESC, FEHRA | Netherlands |
| Member | Dr. Giovanni Luca Botto, FESC, FEHRA | Italy |
| Member | Dr. Michele Brignole, FESC | Italy |
| Member | Dr. David Calvo | Spain |
| Member | Prof. John Camm, FESC, EFEHRA | UK |
| Member | Dr. Julian Chun, FEHRA | Germany |
| Member | Prof. Carlo de Asmundis, FESC | Belgium |
| Member | Dr. Tom De Potter | Belgium |
| Member | Dr. Marta De Riva Silva | Netherlands |
| Member | Dr Luigi Di Biase, FESC | Italy |
| Member | Prof. Pascal Defaye, FEHRA | France |
| Member | Prof. Jean Claude Deharo, FESC | France |
| Member | Prof. Isabel Deisenhofer | Germany |
| Member | Prof. David Duncker, FEHRA, FESC | Germany |
| Member | Prof. Mattias Duytschaever | Belgium |
| Member | Prof. Sabine Ernst, FESC | UK |
| Member | Dr. Michal Farkowski | Poland |
| Member | Prof. Laszlo Alajos Geller, FESC | Hungary |
| Member | Dr. Maria Cecilia Gonzalez | UK |
| Member | Dr. José Guerra Ramos | Spain |
| Member | Prof. Kristina Hermann Haugaa, FESC | Norway |
| Member | Prof. Gerhard Hindricks, FESC, FEHRA | Germany |
| Member | Prof. Pierre Jais | France |
| Member | Prof. Eloi Marijon, FESC | France |
| Member | Prof. Mario Martins Oliveira, FESC, FEHRA | Portugal |
| Member | Assoc. Prof. Petr Peichl | Czechia |
| Member | Dr. Moises Rodriguez-Mañero | Spain |
| Member | Prof. Richard Schilling, FESC | UK |
| Member | Prof. Jan Steffel, FESC, FEHRA | Switzerland |
| Member | Dr. Stylianos Tzeis, FEHRA | Greece |
| Member | Dr. Emma Svennberg | Sweden |
| Member | Prof. Jacob Tfelt-Hansen | Denmark |
| Member | Dr. Bruno Valente | Portugal |
| Member | Prof. Hikmet Yorgun | Turkey |
| Member | Dr. Francesco Zanon, FEHRA | Italy |
| Member | Prof. Katja Zeppenfeld, FEHRA, FESC | Netherlands |