It was a great pleasure to meet all of you in Madrid and online.
Thank you all delegates for their contributions and great discussions.
Catch up on what you missed!
One of the many benefits Silver Members of the Heart Failure association received is the year-long access to your congress resources on ESC 365, the cardiology knowledge hub.
Review abstracts, slides and video on ESC 365
Not yet a member of the Heart Failure association? Join us now.
Find out more on how to retrieve your Certificate of Attendance and Continuing Medical Education (CME) credits.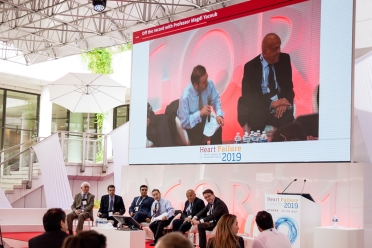 At Heart Failure congress, you get in-depth scientific presentations by leading global experts, covering the entire spectrum of heart failure during exciting symposia, Guidelines in Practice sessions, how to- and case-based sessions, as well as debates.
See you in 2023 in Prague and online from 20 to 23 May. It's not too early to start planning. Save the dates!
Andrew J.S. Coats, HFA President
Antoni Bayes-Genis, Congress Chair 2022
Brenda Moura, Congress Co-Chair 2022
#HeartFailure2022 is buzzing
Follow our amazing team of Twitter Ambassadors for the latest updates from the congress. Join them for insightful discussions: @HFA_President @HillLoreena @ARakisheva @HanCardiomd @LauraMeems @_antocannata @WilfriedMullens