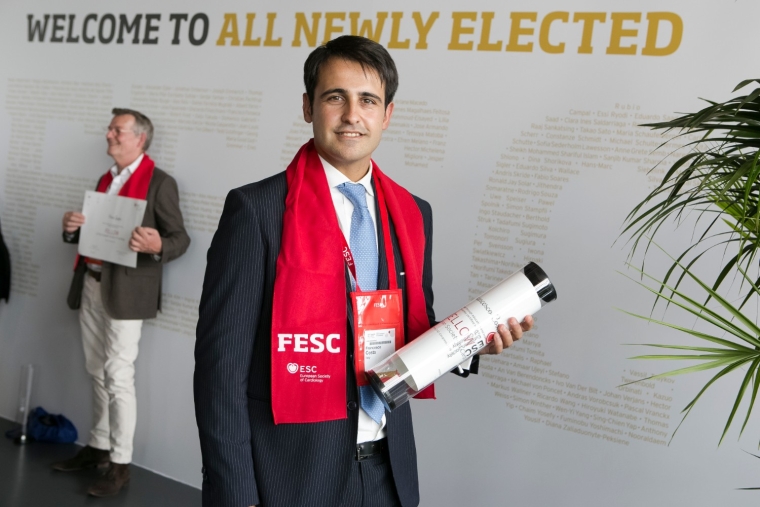 The title 'Fellow of the European Society of Cardiology' (FESC) honours individuals who have distinguished themselves in the cardiovascular field. A unique and prestigious title, the ESC Fellowship programme recognises excellence and lifetime achievement.
The application period for becoming a Fellow of the ESC in 2024 is now closed.
We encourage you to check the next annual application period from 15 June to 30 September. You may consider to start preparing your documents (Refer to the application guidelines).
The ESC supports applications from all healthcare professionals (cardiologists, MD, PhD, nurses, and allied professionals) in all fields. There are no age criteria.
Why should you apply?
The title ''Fellow'' is a symbol of excellence within the cardiology community. It represents the exceptional contributions and achievements made by cardiovascular health professionals. Being entitled or elected as a FESC indicates to the cardiovascular world your high level of expertise and impactful contributions to cardiovascular health.
FESC is a symbol of excellence – all applications are reviewed by the FESC Task Force
Be recognised and respected by the global cardiology community
Be visible for opportunities to become more involved in the ESC
A unique network of more than 4,300 eminent cardiovascular professionals from over 100 countries
Compliments and supports Fellowship to your National Cardiac Society
Access a broad range of privileges and benefits

online access to all ESC journals
free registration to ESC Congress
exclusive access to the FESC lounge premium services with a dedicated assistance desk
unlimited access to ESC 365 – all congress resources and webinars from the ESC and its seven associations
using the FESC title in your signature
All applications are reviewed by the FESC Task Force
Watch Doctor Mamotabo Rossy Matshela, FESC, talk about her experience as a FESC.
How to apply
The criteria for becoming a FESC involves a rigorous selection process, reviewed by the FESC Task Force, that evaluates the candidate's, notable contributions, groundbreaking research, influential publications, and overall impact on advancing knowledge and innovation in cardiovascular health.
The application is open to all healthcare professionals who have distinguished themselves in the cardiovascular field. There are three tracks to becoming a FESC.
Scientific Excellence

Clinical excellence

New in 2023: 'Nursing & Allied Professional Excellence in contributing to the ESC mission'.
Review the application criteria
Submit your application (from 15 June to 30 September), along with all the relevant supporting documentation in your My ESC account.
If you have any queries regarding the Fellowship of the ESC, we invite you to review the Fellowship FAQ or access the Contact Us section and choose the category "Fellowship of the ESC". Our dedicated FESC team is at your entire disposal and will be pleased to help on any matters related to Fellowship of the ESC.
What happens next?
Your application will be reviewed by the FESC Task Force
You will be informed of the decision regarding your application in November
If successful, you will be informed of your exclusive benefits, associated fees and details of the award ceremony at the following ESC Congress