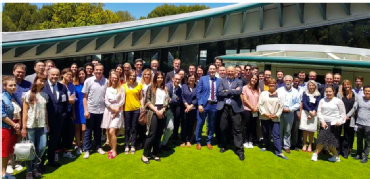 From 12th to 14th June 2019, The ESC Working Group of Thrombosis and ESC Working Group on Aorta & Peripheral Artery Disease got together to deliver a residential course focused on providing an update in antithrombotic therapies. The course was held at the European Heart House in Sophia Antipolis, South of France. Around 70 researchers and clinicians from across Europe and beyond participated, many supported by travel grants from the ESC. I was lucky enough to be one of them.
Arriving from England, the sunshine of the French Riviera heralded a welcome break from the record-breaking rainfall we were experiencing at home. Over the next three days, we were updated on a diverse range of topics, from acute and chronic coronary syndromes, peripheral artery disease, venous thromboembolism and management of antithrombotic therapy with intracardiac devices. The sessions were delivered by renowned experts in the field who were able to present the very latest studies and recommendations, bringing us right up-to-date. Whilst all the sessions were illuminating and well delivered, a particular highlight was the chance to hear Professor Lars Wallentin's guest lecture in which he shared his thoughts on the latest advances in prediction of bleeding risk, much of this being his own work.
Throughout the course there was a warm and collegiate atmosphere, allowing free discussion between delegates and the faculty. Happily, each session had ample dedicated time for questions. As well as academic sessions, as visitors we were made to feel welcome with a drinks party on the first evening, creating a valuable opportunity to network with colleagues. Delegates stayed in the beautiful town of Antibes on the Cote d'Azur and were free to stroll the beaches and sample local cuisine when not at the Heart House. Getting between Nice Airport, the hotel and the course were made easy through the helpful provision of coaches by the organisers.
On behalf of the attendees, I would like to thank the organisers for the excellent content and organisation, and the ESC for their hospitality and support. I heartily recommend to anyone with an interest in thrombosis or antithrombotic therapy to look out for any future courses – do not hesitate to enrol!