SoT nucleus members
Dr. Gemma Chiva-Blanch, Spain

Area of expertise: Extracellular vesicles as biomarkers of cardiovascular and metabolic diseases; Nutrition and atherothrombosis
Dr. Gemma Chiva-Blanch obtained a PhD in Medicine from the University of Barcelona, Spain. During this period, she investigated the effects different food compounds and dietary patterns on cellular and soluble biomarkers of atherosclerosis. She obtained two postdoctoral competitive contracts from the Spanish Government, to work at the Catalan Institute of Cardiovascular Sciences (ICCC) in Barcelona. There she studied the potential of extracellular vesicles as biomarkers of different cardiovascular pathological stages. She performed a research stage at the Centre for Clinical Heart Research, Department of Cardiology, Oslo University Hospital Ullevål, Norway, deepening into the relationship between thrombosis, myocardial infarction and cardiovascular mortality and the levels and phenotype of extracellular vesicles.
She is currently a CIBEROBN Research Fellow at the August Pi i Sunyer Biomedical Research Institute (IDIBAPS) of Barcelona, Spain. Her current research is primarily focused on the role of extracellular vesicles in atherothrombosis, diabetes and obesity, as well as on the study of the influence of diet in extracellular vesicle shedding in the context of cardiovascular disease.
Dr. Julien Barc, France

Area of expertise: genetics, epigenetics and molecular mechanism of ventricular arrhythmia
Julien Barc's group leads genetics and epigenetics research programs on the inherited cardiac arrhythmia at l'institut du thorax in Nantes, FR where he obtained his PhD in genetics of ventricular cardiac arrhythmia. Julien spent 5 years at the department of Experimental Cardiology of Amsterdam, a world leader group in genetics and functional studies on cardiac arrhythmias. He dedicated this early part of his carrier to identify new syndromes, genes and mutations associated with inherited cardiac arrhythmia at risk of sudden death. More recently Julien developed research programs on patient population to investigate the role of common variants in cardiac disorders. He also participates to a national program on the French genome variability "GOLD". Lastly, our capability to sequence the entire genome (i.e non-coding region) conducts Julien to explore the role of regulatory region by genome editing in induced pluripotent stem cell-derived cardiomyocytes. His research is supported by national (ANR, French Federation of Cardiology, regional council rising star grants) and European grants (European Joint Programme on Rare Diseases, Marie Sklodowska Curie IF, ESC research grant). Julien received prestigious awards such as the French Cardiology Society Prize Edouard Coraboeuf and the Descartes-Huygens prize from the Royal Netherlands Academy of Arts and Sciences. Till 2020, he was co-leading the "Réseau Avenir GRRC" a national network on cardiovascular research dedicated to young fellows.
Dr. Monika Gladka, The Netherlands
Area of expertise: Cardiac Repair, Gene Therapy
Dr. Monika Gladka is currently an Assistant Professor at the University Medical Center in Amsterdam. Her current research focuses on understanding the molecular mechanisms that regulate cardiac repair, intending to identify new players to develop novel, improved gene therapies. She uses several state-of-the-art techniques such as single-cell sequencing, enabling an in-depth mechanistic understanding of the biological processes in injured cardiomyocytes. In 2016 and 2020, she received two prestigious Dr. E. Dekker personal grants from the Dutch Heart Foundation for heart repair research. She is actively involved in several cardiac societies acting as a board member of Young@Heart from the Netherlands Heart Institute and nucleus member of the Scientists of Tomorrow from the European Society of Cardiology.
Dr. Rui Adao, Portugal
Area of expertise: Pathomechanisms of pulmonary arterial hypertension and right ventricular failure
Dr Rui Adão, is a Biologist with a PhD degree in Cardiovascular Sciences obtained at the Faculty of Medicine of the University of Porto (Portugal), where he is currently working as a postdoctoral research scientist at the Cardiovascular Research and Development Center - UnIC.
During his PhD training, Rui developed a strong expertise in animal models of pulmonary arterial hypertension (e.g., monocrotaline, hypoxia-Sugen5416) as well as cardiac function evaluation in vivo and in vitro, sparking a particular interested in the role of Urocortin-2 in pulmonary arterial hypertension and adaptation of the right ventricle to pressure overload (Adão R et al. Cardiovascular Research 2018).
Rui has made a significant contribution to this scientific field as exemplified by several high impact original publications as first- or co-author.
His current research focuses on elucidating the role and therapeutic potential of novel small molecules (e.g., small peptides and microRNAs) in the setting of pulmonary arterial hypertension and associated heart failure.
Dr. Sveva Bollini, Italy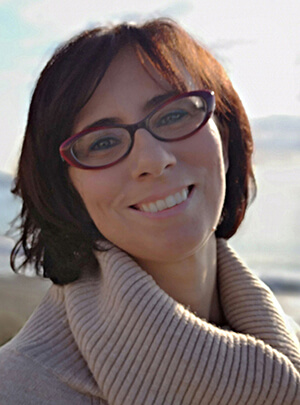 Area of Expertise: Human stem cell-derived paracrine effect and extracellular vesicle biology for cardiac repair and regeneration
Dr. Sveva Bollini graduated in Medical Biotechnology and got her PhD from the University of Padova in Italy, where she studied the cardiomyogenic potential of human amniotic fluid stem cells. During her post-doctoral work, she worked on the lineage characterization of reactivated epicardium-derived progenitor cells for cardiac repair at UCL-University College London and at University of Oxford, in UK.
In 2014 she was presented with the "Rita Levi Montalcini" Young Investigator Award from the Italian Ministry of Research and Education (MIUR) and invited back to Italy to study the paracrine potential of the human amniotic fluid stem cell secretome (i.e. the whole of cell-secreted soluble factors and extracellular vesicles) to boost endogenous heart repair mechanisms. Currently she is an Associate Professor in Experimental Biology in the Department of Experimental Medicine, University of Genova in Genova, Italy. Her research mainly focuses on the functional characterisation of human fetal and perinatal stem cell secretome to resurge myocardial renewal, following injury (i.e. myocardial infarction and drug-induced cardiotoxicity).
Dr. Mahmoud Abdellatif, Austria

Area of expertise: Autophagy and Cardiovascular Aging
Mahmoud is a research fellow at the Clinical Department of Cardiology at the Medical University of Graz, Austria. After studying human medicine in Egypt and Spain as well as basic cardiovascular science in Portugal, he joined the Graz experimental cardiology team in Austria. There, he developed an immense interest in the molecular mechanisms of cardiovascular aging and potential interventions that could delay disease and extend lifespan. His quest for anti-aging therapies led to discovering the cardio-protective and longevity-promoting effects of the natural autophagy-inducer and caloric restriction mimetic spermidine. He has received various prestigious awards for this finding including, but not limited to, the Sanofi Aventis Prize (2017) and the European Society of Cardiology young investigator award of the Heart Failure Association (winter meeting, 2017).
Currently, he is experimenting on other novel and feasible strategies to slow aging, meanwhile taking to the clinics those backed with sufficient preclinical evidence for human translation.
SoT advisors
Dr. Constanze Schmidt, Germany

Area of expertise: Cellular and Translational Electrophysiology in Atrial Arrhythmopathy, Cardiac Tissue Remodeling
Dr. Constanze Schmidt currently works as physician scientist at Heidelberg University Hospital after her education in internal medicine and clinical cardiology with focus on cellular and clinical electrophysiology. She studied medicine and physics at Georg August University Göttingen, Germany. During her post-doctoral work, she studied the role of two-pore domain potassium channels in atrial fibrillation. Consecutively, she established her own laboratory focused on regulation of cardiac ion channels in thepathogenesis of atrial arrhythmopathyand investigation of new compounds in atrial fibrillation models for new antiarrhythmic applications. She received numerous research scholarships and awards from national and international foundations (Young Investigator Award Basic Science Finalist of the American Heart Rhythm Society, 2014; Olympia-Morata funding program, 2014-16; OskarLapp research award 2016 of the German Cardiac Society; August Wilhelm and Liselotte Becht research award 2017 of the German foundation for heart research).
Dr. Albano C. Meli, France

Area of expertise: Calcium Handling, Excitation-Contraction Coupling, Stem Cells
Albano received his PhD in Neurobiology at the Faculty of Pharmacy in Montpellier (France) in 2007. He then worked as a postdoctoral research scientist at Columbia University Medical Center in New York City (USA) for 4 years. He was granted the European Marie-Curie Fellowship (2011) and the European Society of Cardiology grant (2012) to build up a team on human pluripotent stem cell-derived cardiomyocytes at Masaryk University Faculty of Medicine in Brno (Czech Republic). Albano was recruited as a permanent researcher by the French National Institute for Health and Medical Research (INSERM) in 2014. He has experience in basic cardiac physiology, calcium handling, ion channel biophysics as well as in human pluripotent stem cell-derived cardiomyocytes to model inherited cardiac arrhythmias.