Report by Prof. Helmut Gohlke and Prof. Ulrich Keil
National CVD Prevention Coordinators for Germany (-2017)

Helmut Gohlke
MD, FESC, FACC
Cardiologist, Associate Professor at the University of Freiburg
Past-Chairman of a Department of Cardiology at the Universitäts-Herzzentrum Freiburg-Bad Krozingen
contact: email
Read the CV | publications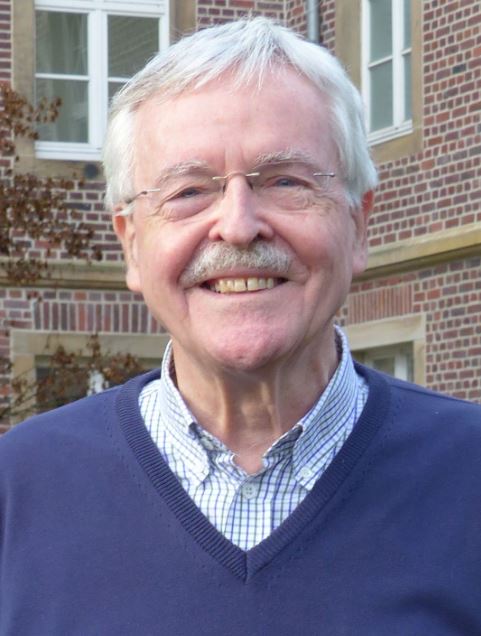 Ulrich Keil
MD, MPH, PhD, EFESC, FAHA, FRCPProfessor emeritus, Department of Epidemiology and Social Medicine, University of Münster
Adjunct Professor, Department of Epidemiology, School of Public Health, University of North Carolina at Chapel Hill, USA
contact: email
Read the CV | publications
(Note: National CVD Prevention Coordinator for Germany since 2017: Prof. Stephan Gielen)
Important new information from Prof. Gohlke
"Concerted action against tobacco advertising in Germany"
Read the updated report on "Prevention activities".
Recommended reading by Prof. Keil
The new SCORE Germany risk charts 2016
Documents to download
Health care
Germany has a compulsory health insurance system in which every person residing in Germany is covered for diagnosis and treatment of diseases and cardiac rehabilitation.About 0.2% of the population has no health insurance. The general health care and consultationis managed by physicians - general practitioner and specialists- in private practice. Both can refer patients to the appropriate hospital as deemed necessary. In 2011 there were 380 physicians per 100,000 inhabitants (OECD average: 320) working in the health care system, about half of these in private practice (2, 3).
Read the full report
Risk factors
"At the time of the unification of Germany in 1990, life expectancy in the East was considerably lower than in the West. Since 1990 the German East-West mortality difference narrowed rapidly, particularly for women aged 50-64, for whom the mortality in the East declined below that of the West in 2000. This East-West mortality cross-over for German women is attributable to smoking: When smoking-attributable deaths are removed, the mortality cross-over vanishes." (Adapted from key messages of the article "Reversing East-West mortality difference among German women, and the role of smoking" by M Myrskylä & R Scholz, Int J Epidemiology 2013; 42: 549-558)
Lifestyle and Prevalence of Risk Factors in Germany (1):
Lifestyle and Risk Factors
Overall
Men
Women
Smoking
30%
34%
26%
Overweight (BMI 25-<30)
36%
44%
29%
Obesity (BMI

>

30)
16%
16%
16%
Hypertension (>140/9o mmHg) (age

>

65)
55%
54%
57%
Type 2 Diabetes
6.6%
6.7%
6.5%
Salt intake/day
9g
6.5g
Alcohol consumption
27g/day
Risky alcohol consumption (highest % in the 19-28yrs group)
33%
22%
AUDIT C

>

5/4 points for males/females (Alcohol Use Disorders Identification Test)
45%
32%
Read the full report
Main actors & prevention methods (updated February 2016)
There is no detectable governmental strategy for cardiovascular prevention. A newly passed law for prevention may hopefully change this deficit. A common statement of the professional cardiological, pneumological societies and the society of occupational and environmental medicine as well as the German Heart Foundation and the Lung Foundation welcomes the regulation in the new "law for prevention" that identification and treatment of risk factors according to scientific guidelines by physicians will be supported; but there are several points of criticism: goals of prevention ( a Strategy for Prevention) are to be delineated in a "Conference of Prevention" by social insurance agencies, as well as federal, state and community agencies excluding participation of scientific societies. Lack of exercise and poor nutritional habits should be addressed by extending the hours devoted to sport in schools. The most important risk factor in terms of lethal events is tobacco consumption (TC), which is inadequately dealt with. Tobacco advertising and taxes are not even mentioned as instruments for improving prevention. TC –irrespective of its intensity- is regarded in §34 SGB V (social code, book V) as lifestyle which is not in accordance with the state of science. The new law for prevention represents some improvement compared to the previous state of the law, but there is a great need for further optimisation.
Preventive activities are supported by non-governmental organisations (NGOs): by the German Heart Foundation (GHF) , a patient organisation with 80.000 members, the German Cardiac Society; by the German Society of Cardiovascular Prevention and Rehabilitation; with respect to smoking by a Task Force Non Smoking and Pulmonary and Cancer Societies. By General Practitioners: At age 35 there is a cardio Check up evaluating risk factors.
Read the full report
Prevention activities (updated February 2017)
Update:
Concerted action of more than 100 Professors of Medicine and the German Heart Foundation (Deutsche Herzstiftung e.V.) against tobacco advertising in Germany:
In January 2017 the German Heart Foundation published an article in its Journal HERZ HEUTE explaining the long story of the inadequate application of the ratified FCTC (WHO Framework Convention on Tobacco Control) with respect to advertising and the ensuing health risks particularly for youngsters. The article was sent to all members of parliament with the request to end this situation by passing the adequate law to ban advertising for tobacco products in public places. (read more in the full report)
The GHF publishes short brochures for lay people summarising the preventive recommendations regarding nutrition, cholesterol, exercise and general life style but also pharmacological secondary prevention. Each year in November the GHF launches a national educational campaign with one specific topic: cardiovascular risk factors, prevention and early recognition of myocardial infarction (MI), or symptoms of heart failure, of valvular heart diseases or of rhythm disturbances in particular atrial fibrillation with its associated risks. More than 1200 seminars are offered in November throughout the country by local hospitals, rehabilitation clinics and local physicians - usually cardiologists. The campaigns are also supported by regional and national news media reaching some 40 million people.

The GHF also promotes physical activity in schools for 8-10 year old children by running the project "Skipping Hearts": workshops to teach rope skipping and local competitions are organised by GHF's instructors. So far, "Skipping Hearts" has reached more than 3200 schools (exceeding 150,000 students).

The "Task Force Non Smoking" (9) represents eleven medical societies (cardiac, pulmonary, cancer, addiction, general prevention, physicians associations) in Germany, dealing with the consequences of smoking; the Task Force tries to improve non-smokers rights by lobbying for a better legislation.
Read the full report
Cardiac Rehabilitation
Since 1974, phase II cardiac rehabilitation (CR) after MI and cardiac surgery and for a number of other indications (listed in the table) is guaranteed by law (14). Traditionally, a three week course of CR takes place in a residential setting with emphasis on exercise training, risk factors and secondary prevention.

In recent years however ambulatory CR is a well-established alternative method if the quality criteria of the residential setting are met. CR is paid for by the retirement funds with the proven assumption, that early CR improves the return to work rate, delays premature retirement and is cost effective from the perspective of the retirement fund. About 50 to 60 % of qualifying patients participate in a phase II and 25% to 40% in a phase III CR programme (14, 15). If the patient is already retired, CR will be paid for by the health insurance.
Read the full report
Aims for the future
Risk factor counselling has to be reimbursed by the insurance companies

Risk stratification by a scoring system should become part of the check-up at 35

Smoking bans have to be extended; restriction of advertising - as outlined in the FCTC (WHO Framework Convention on Tobacco Control) - has to be implemented

The implementation of the new EU-Tobacco Products Directive has to be observed and supported or demanded.
Read the full report
The content of this article reflects the personal opinion of the author/s and is not necessarily the official position of the European Society of Cardiology