New this year
Application in home country allowed for EAPCI Education & Training grants 2021!
Due to the new challenge imposed by strong mobility restrictions, the EAPCI Board approved an exceptional measure for 2021 applications only. As mobility obviously remains the priority, should applicants find it impossible to perform their education and training grant in an institution abroad, they will be allowed to apply to an institution based in their own country, provided it is not their home institution.
Please note that, at this stage, this measure only applies to 2021 applications, not beyond.
No need to identify a hosting centre before applying.
The matching between the candidate and the centre will be done by the EAPCI Fellowship Grants Committee with full consultation of the candidate and the hosting centre.
About the programme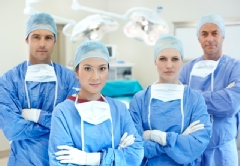 The European Association of Percutaneous Cardiovascular Interventions (EAPCI) offers Education and Training Grants of €25,000 to provide an opportunity for clinical training in an ESC Institutional Members Country in the interventional cardiology field.
Centres involved in the programme host the trainee for 12 months training on a specialised topic:
Percutaneous coronary interventions with focus on metallic and bioresorbable stent technology
Interventional pharmacology in patients with ACS and structural heart disease
Transcatheter aortic valve implantation
Transcatheter mitral valve interventions
Structural heart disease interventions with a focus on left atrial appendage closure, closure of PFO and atrial septal defects, paravalvular leak closure etc.
Intracoronary imaging (IVUS, OCT, NIRS) and physiologic lesion assessment with FFR
Carotid and peripheral arterial interventions
Imaging for structural heart intervention
Advanced percutaneous coronary interventions with focus on chronic total occlusions, heavily calcified lesions and hemodynamically unstable patients
Candidates also have the possibility to suggest other topics of interest, in line with their training needs and career development.
It's no secret that women are underrepresented within the interventional cardiology profession.
50% of the 2021 EAPCI Education & Training grants will be allocated to women (subject to applications received).
Why should you apply?
"Receiving an EAPCI grant helped me to advance in my career as interventional cardiologist. Few women choose to embrace this demanding but gratifying profession and I am glad that EAPCI has decided to support women allocating 50% of its 2019 grants to them."

Dr. Giuliana Capretti, Women Grant winner 2017

"Receiving an EAPCI grant helped me improve my daily practice by learning new interventional techniques from top European cardiologists. I wouldn't have had so many career opportunities without the EAPCI Grant."

Dr. Salvatore Brugaletta, FESC, Grant winner 2007
Dr. Alexandru Patrascu (Germany) describes how an EAPCI Grant changed his career
Eligibility
Applicants eligible for the Education and Training Grant programme must be:
Citizen or permanent resident from an Institutional Members Country of the ESC, AND, whose 'country of work/training at the time of application' is among institutional Members Country of the ESC
Medical graduate provided they have already proved some research potential by publishing in medical journals OR are science graduate holding a PhD or DPhil degree or equivalent or have submitted a thesis before starting the training period relating to the grant
Under 40 years of age at the day of the application deadline
EAPCI member
NOTE:
Applicants with doubts about their eligibility are advised to contact the EAPCI prior to submitting an application.
Applicants are advised to read the Rules & Regulations before submitting an application.
NEW - candidates are not required to have a pre-agreement with a centre before applying
Important: grant allocation will be subject to visa acceptance (when needed) and compliance with all the requirements to be specified by the hosting centre (including language level, medical license, approval of the relevant authorities… This list is not exhaustive). This will be discussed during the selection process between the candidate, the EAPCI Fellowship Grants Committee and the proposed hosting centre(s).
Application for individuals
Application is made exclusively via an online form. Applications by email or paper applications will NOT be accepted.
To access the application online form please log in to your "MY ESC" account and select "New Application " in the "Grant' section.

IMPORTANT: The EAPCI Education and Training Grant application form will be visible and accessible over the application period only if you fulfill the eligibility criteria. If you cannot access but believe that you are eligible, check your My ESC account to ensure that your information is accurate, and then contact the EAPCI to explain your situation.
Make sure to choose the category "Associations" and Sub-category " European Association of Percutaneous Cardiovascular Interventions (EAPCI)".
Process
The applicant will be required to fill an online form and to download an application document (part A) (Word format). The application process is divided into 2 parts :
Part A would need to be uploaded to the online application form by the applicant.
Applicants are strongly encouraged to save their forms in PDF before uploading them online.
The completed application form including CV in a European format and a recommendation letter must be submitted no later than 30 April.
Application for training hosting centres
To access the application online form (Part B) for the hosting training centre please log into your My ESC account. Once you are logged in, go to the Grants and select New Application.
Any centre (in CathGo database or not) interested in the 2021-2022 programme should apply by completing the application form. Previous application forms will not be accepted.
Meet our Grant Winners 2020