The case
A 55-year old ultra-athlete, also named Phidippides, came to our attention for pre-participation screening. His training history was impressive; in 22 years of exercise training, he has run about 41,000 km and cycled almost 16,000 km, i.e. 1.42 circumferences of the earth. He participated in different ultra-marathons and marathons, with a peak of 10 marathons a year (Figure 1).
Figure 1: Patient's last 22 years of endurance sports activity

Figure 1a shows the km covered by Phidippides (blue columns show running km, red columns show cycling km). Figure 1b shows the number of his endurance events (blue columns show marathons and red columns show ultramarathons).
No pathological findings during resting evaluation were found and basal ECG was normal for an athlete (Figure 2).
Figure 2: Resting ECG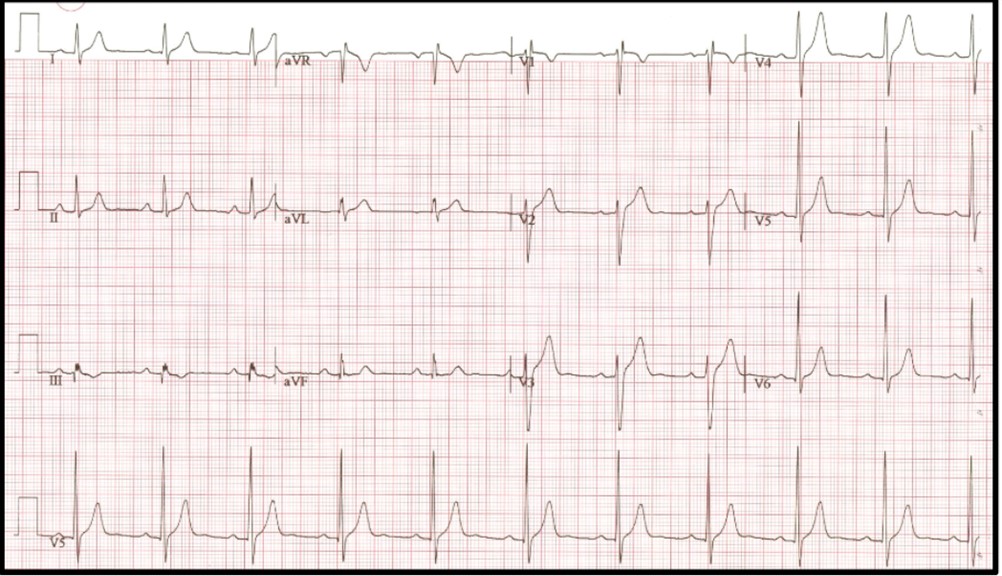 As recommended by the Italian COCIS 2017 Guidelines (2), a maximal exercise test was performed for the mandatory preparticipation screening in master athletes as well as for sports-medical counselling (3). During the test, the ECG showed frequent premature ventricular contractions (PVCs) conducted as RBBB - inferior axis (Figure 3a) and two similar couples of PVCs in the early recovery phase (Figure 3b).
Figure 3: Premature ventricular contractions (PVCs) during exercise test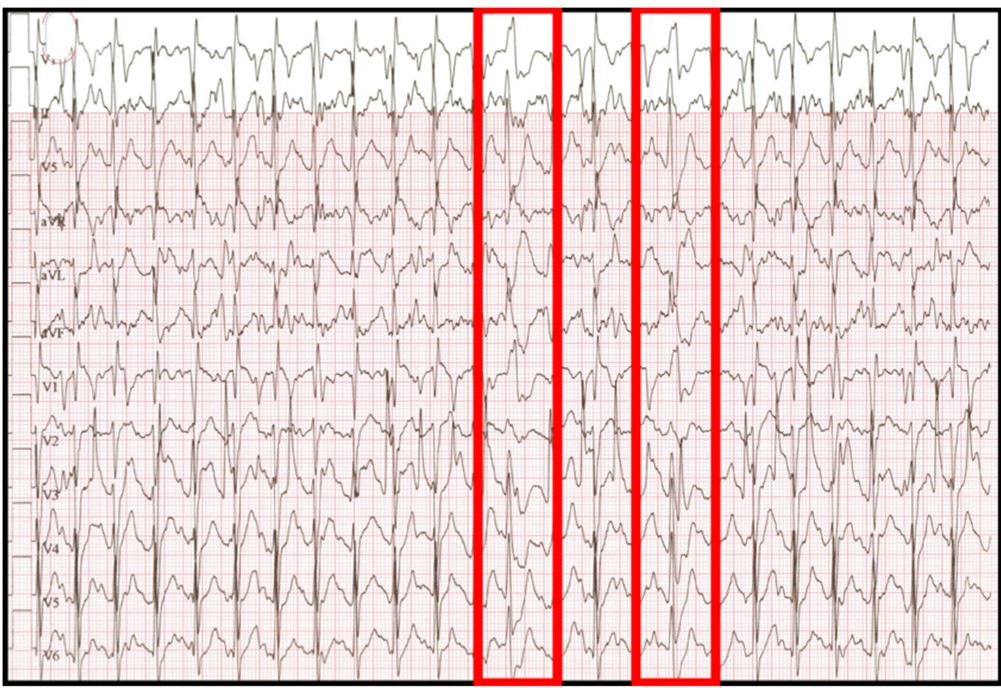 Figure 3a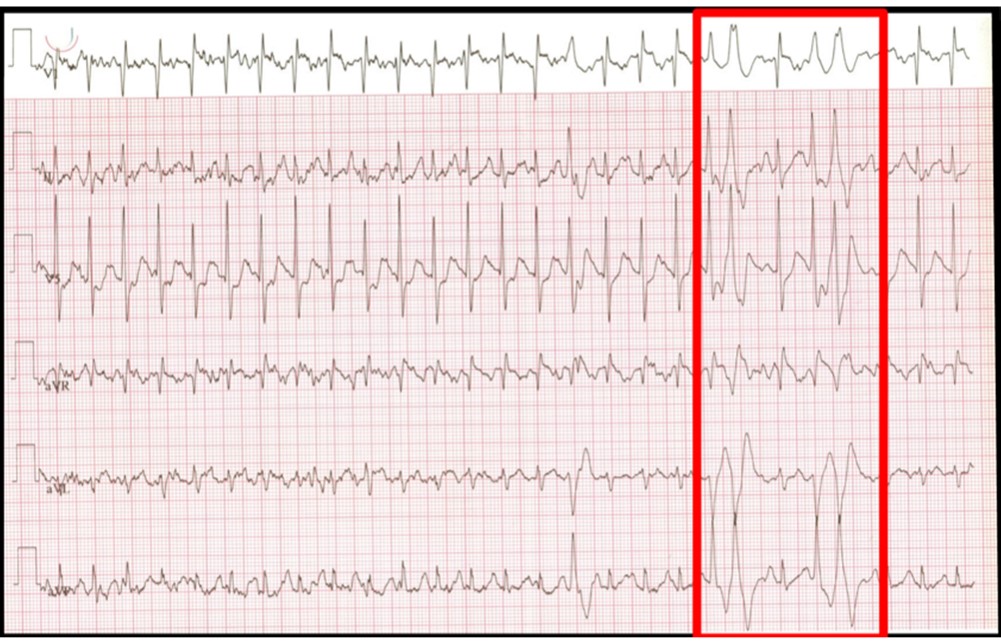 Figure 3b
Further investigations revealed a mild mitral valve prolapse (MVP) with a minimum regurgitation on echocardiography and frequent PVCs and a short run of monomorphic ventricular tachycardia (Figure 4) on 24-hour ECG Holter monitoring; PVCs were exclusively registered during exercise and recovery.
Figure 4: Run of monomorphic ventricular tachycardia recorded during the exercise/recovery phase of 24 h ECG-Holter monitoring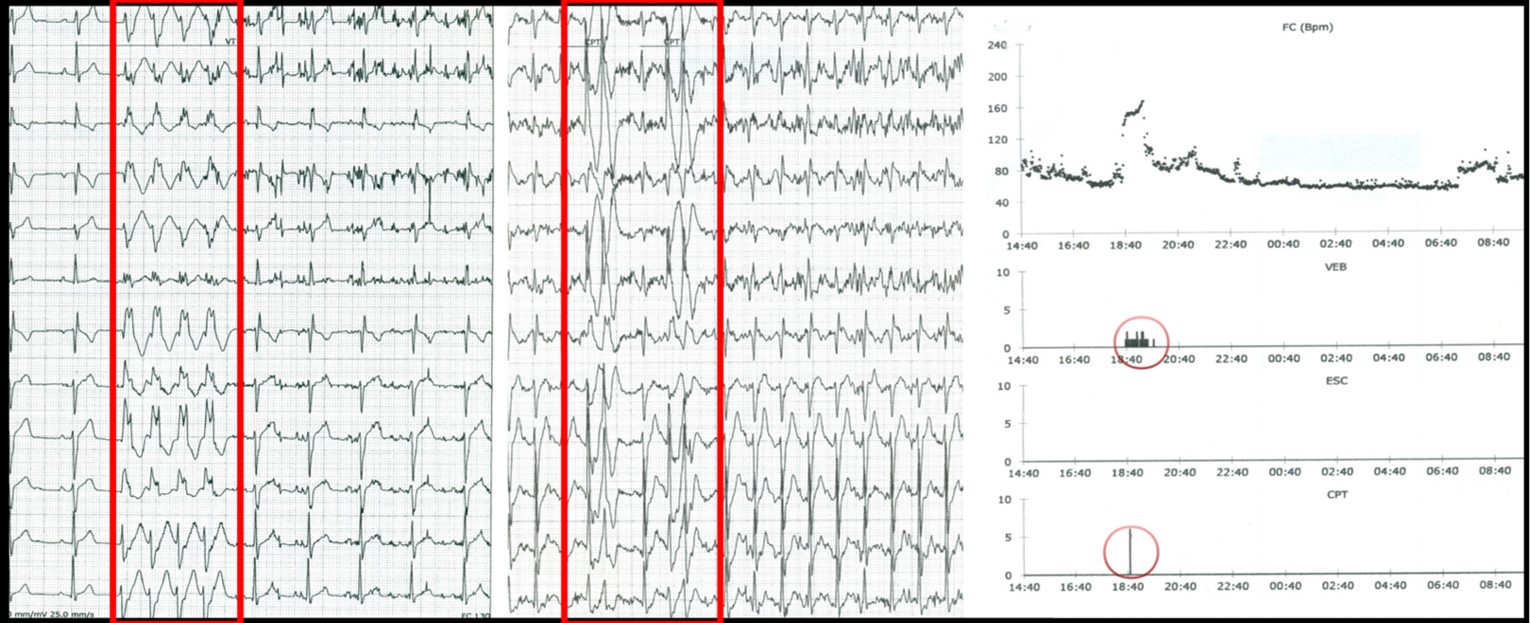 The cardiac magnetic resonance (CMR) detected an isolated late gadolinium enhancement (LGE) in the anterior papillary muscle of the left ventricle suggestive of a non-ischaemic endomyocardial fibrosis (Figure 5).
Figure 5: late gadolinium enhancement (LGE) in the anterior papillary muscle of the left ventricle on CMR

Cardiac CT angiography showed normal coronary circulation.
It is known that a severe MVP might induce regionalised myocardial fibrosis and could thus lead to ventricular arrythmias. However, the case suggests that a huge volume of strenuous exercise might lead in certain clinical conditions such as a mild MVP, to morphological maladaptations which could become responsible for potentially dangerous arrhythmias in the long-term.
But what should we do with our patient Phidippides? Should he stop his sports activity?
Test your knowledge
Note: The views and opinions expressed on this page are those of the author and may not be accepted by others. While every attempt is made to keep the information up to date, there is always going to be a lag in updating information. The reader is encouraged to read this in conjunction with appropriate ESC Guidelines. The material on this page is for educational purposes and is not for use as a definitive management strategy in the care of patients. Quiz material on the site are only examples and do not guarantee outcomes from formal examinations.