Editor-in-Chief
Prof. Pascal Vranckx
Cardiology (interventional) and critical care medicine,
Medical director Cardiac Intensive Care Unit, Hartcentrum
Hasselt, Belgium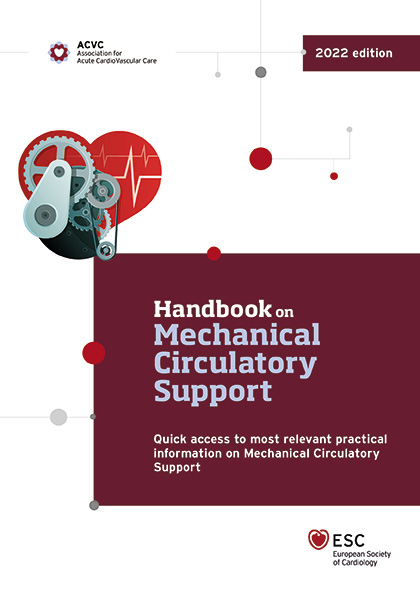 Why a new handbook on mechanical circulatory support?
This is a singular document with specialised and focused topics, its comprehensive content, the contribution of the best experts in the world, and the support of the ESC and ACVC, makes this handbook a unique and incomparable offer in the market.
The manual represents the current state-of-the-art for managing patients on percutaneous mechanical circulatory support devices.
What does it contain?
The manual provides fast access to comprehensive tables, clear diagrams, and algorithms.
Topics are presented in a concise fashion, making it a practical resource for caregivers who need a user's manual in the heat of the moment during patient care as well as a reference for a better understanding of the unique components of every device available for human use.
Table of contents
View the detailed table of contents
These chapters are available to you thanks to an educational grant from Abiomed
Who needs this handbook?
The handbook is for cardiologists, intensive care physicians, and affiliated health care professionals, at every stage of their career, involved in the care of patients on MCS.
Why should you get it?
To get hands-on-advice from clinical experts active in the field, to help you make the best bedside clinical decisions when managing patients (in the need of)/with MCS.
You might not always get what you want, but in this manual you certainly get what you need to handle these often complex patients.
How can you buy this handbook?
The handbook is available as a PDF, for private use only, please do not share it.
Prices
€50 (excl. VAT) for ACVC Silver Members & Fellows of the ACVC
€99 (excl. VAT) for ACVC regular members and non-members
After your purchase, the access link will be available via your My ESC account in the publication section