Editor-in-Chief
Prof. Josep Masip, MD, PhD, FESC
Intensive Care Department, Consorci Sanitari Integral,
University of Barcelona, Spain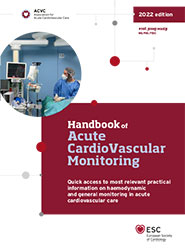 Why a new handbook of acute cardiovascular monitoring?
Physicians working in acute care settings need to know all the techniques of monitoring, how to proceed for monitoring in the main clinical scenarios and how to obtain or calculate some important clinical parameters.
In addition, they require to know which are the main classifications, scores, indexes and guidelines definitions related to these scenarios.
What does it content?
The handbook of acute cardiovascular monitoring provides knowledge, which cannot be achieved by consulting published reviews or general textbooks.
It contains a detailed overview of the main techniques for monitoring acute cardiovascular patients, offering a practical approach to the main clinical scenarios, constituting an irreplaceable tool for health care providers managing acute cardiovascular patients.
No matter if a patient presents acute cardiovascular or non-cardiovascular complications, a practical guidance will be easily found in its pages.
Table of content
PART I - OVERVIEW OF HAEMODYNAMIC MONITORING
PART II - TECHNIQUES FOR HAEMODYNAMIC MONITORING
PART III - SPECIFIC CLINICAL SCENARIOS
THE FUTURE
APPENDIX
View the detailed table of contents
Discover the free sample chapter on Intra-abdominal hypertension
Who needs this handbook?
The handbook addresses fellows or in-training cardiologists, intensive care, emergency and internal medicine physicians, as well as nurses and staff physicians from these specialties.
Why should you get it?
The handbook provides an extensive and detailed overview of the topics, practical and visual presentations, and also a rapid identification and clear updated information provided by the most important experts in the world on each topic.
It is a unique and incomparable resource in the field.
How to get this handbook?
The ACVC Handbook is an online PDF, for private use only, please do not share it.
Prices
€50 (excl. VAT) for ACVC Silver Members & Fellows of ACVC
€99 (excl. VAT) for ACVC regular members and non-members
After your puchase, the acess link will be available in your My ESC account in the publication section