The ESC Textbook of Intensive and Acute Cardiovascular Care (IACC) is a key reference for education, serving the needs of all professionals involved in the management of patients with acute cardiovascular care diseases.
The third edition - March 2021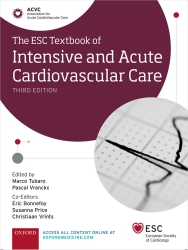 This third edition continues to comprehensively approach all the different issues relating to intensive and acute cardiovascular care and addresses all those involved in intensive and acute cardiac care, not only cardiologists but also critical care specialists, emergency physicians and healthcare professionals. The chapters cover the various acute cardiovascular diseases that need high quality intensive treatment as well as organisational issues, cooperation among professionals, and interaction with other specialities in medicine.
Buy the online ESC Textbook of Intensive Acute Cardiac Care