Now updated and expanded!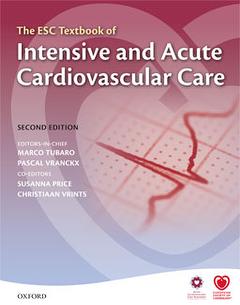 Encompassing pre-and post-hospital care, procedures, diagnostics, techniques, management, settings, structure, function....

The new IACC Textbook is the key reference for education, serving the needs of all professionals involved in the management of patients with acute cardiovascular care diseases.

A comprehensive book with the best scientific information
Third Online update: February 2018
Substantial amendments made to 13 chapters
16 Neurological assessment of the acute cardiac care patient
17 Monitoring of the kidneys, liver, and other vital organs
18 Blood gas analysis: acid-base and fluid and electrolyte disorders
19 Clinical assessment and monitoring of chest radiographs
32 Nutrition support in acute cardiac care
40 Atherosclerosis and thrombosis
43 ST-segment elevation myocardial infarction
46 Non-ST-segment elevation acute coronary syndromes
48 Coronary artery bypass graft surgery
50 Gender considerations in acute coronary syndromes
54 Acute heart failure: heart failure surgery and transplantation
64 Acute respiratory failure and acute respiratory distress syndrome
77 Perioperative management of the high-risk surgical patient: cardiac surgery
and minor changes to other 28 chapters
Access the free Chapters Introduction andTraining and Certification in Intensive and Acute Cardiovascular Care
Order the 2nd Edition

Complement your knowledge on the ACVC e-learning platform (ESCeL), a unique tool for knowledge, skills assessment and professional development in the field of acute cardiovascular care.