By Rita Camporotondo, Rossana Totaro, Ilaria Costantino, Max Gnecchi, Luigi Oltrona, and Sergio Leonardi
Coronary Care Unit, Fondazione IRCCS Policlinico San Matteo, Pavia, Italy
Any emergency is unexpected but a pandemic in 2020 is even more so. And Pavia, in the middle of Lombardy, is one of the worst affected areas from COVID-19.
The architecture of our Coronary Care Unit has been transformed by this virus, as has the entire hospital. Dedicated COVID areas were physically created from scratch in less than 48 hours. We had six beds. Now we have nine: five non-COVID beds and four COVID-only. Nurses from the outpatient clinics have been moved to COVID areas. So, we have doubled our number of nurses but have the same number of physicians to do an ever-increasing workload. The number of intensive care unit beds in the hospital – constantly increasing, now almost 100 but still insufficient – have been invaded by the sickest COVID patients. And only a few, less than 10, are for non-COVID patients, with major implications for the critical care of the other patients.
COVID is sucking all the resources, with unintended and dramatic consequences. We have observed a 50 to 70% decrease in the admission of patients with acute myocardial infarction. Patients told us they are scared to go to the hospital and have heard "don't come to the hospital". When they do come in, they are sicker and most of the damage has been done. The same is true for many other critically ill patients, including patients with advanced heart failure and pulmonary embolism. In addition, cancelling outpatient appointments and postponing elective procedures may have implications down the line. The question is how significant they will be. COVID is the number one priority for everyone now but this will change over time and we need to be able to react quickly. Our perception is that at the beginning, people underestimated the risks of COVID but now we may overestimate it to the detriment of other emergencies. Anything that is non-COVID has a lower priority now, with possible direct consequences for the many time-dependent emergencies, from cardiac arrest to major trauma.
On the other hand, we have to face completely new challenges with these patients. Witnessing the physical and social isolation of patients is shocking and soul destroying for staff. Many of us are burned out because of this. A typical sign of distress and burnout is the loss of empathy and we are trying to fight that in the short-term. It's difficult to say whether this will have a lasting impact on doctors and nurses. At the moment we are not discussing long-term issues, including clinical questions, because this pandemic will take months to be solved.
We feel the human element of care is essential. We are the only connection these patients have with the outside world. We started video conferencing for them, and they start crying when they see their loved ones. Patients believe they are going to die which, for many of them, is true. Today a 60-year-old man who had been intubated on his daughter's birthday had a video call with her. He started crying like a baby when he said "happy birthday" to her. When you are scared about dying it transmits even over the phone. We are happy to provide video connections because we understand how important it is to patients and their families. This is what keeps us motivated despite all the risk, all the stress, being tired, and the shortage of PPE.
As in Bergamo, there is one corpse after another. There is no more space in the morgue. The practicality of this is that infected patients are separated from others even after death. They are put in a blue bag for isolation. Funerals are banned. For us, it's heart breaking.
The problem is not only that there are many patients, but it's very contagious, and the course of disease is long for the sickest patients. Once intubated, patients typically require prolonged hospitalisation. Either you die, or you need ventilation for two to three weeks. The decision to intubate is based on the greatest chance of survival. The younger and the healthier are more likely to survive. These are the ethical consequences of this disease – we had to learn that quickly and the hard way.
Even though we are doing our very best, if you are tired it is more likely that you will make mistakes and get infected. You won't take your PPE on and off correctly. You have to be very, very obsessive about it. Getting dressed is a nightmare and undressing is even worse. We have started doing shorter but more frequent shifts to avoid exhaustion.
On the other hand, because the cardiology staff are here all the time, we are discovering a new sense of brotherhood. We feel humanly closer with one another. We take food to colleagues isolated at home because the delivery companies are booked up. The young doctors and our fellows in particular are doing a fantastic job. They work day and night. You see how passionate they are. They keep us motivated even when we are depressed. It's not easy. When you are tired you start to be very anxious, nervous, we have some words. But then we realise that it's a tough moment for us all.
Ultimately, we hope to transform all these professional and human challenges into enduring lessons for the post-COVID era.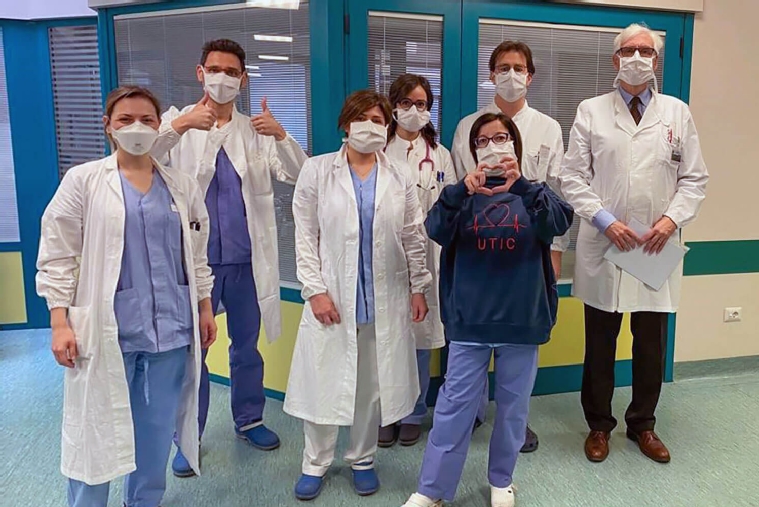 Access more COVID-19 resources and stories from the front lines