Aim and methods
A systematic review was performed to assess the efficacy and safety of colchicine for pericarditis prevention. Randomised clinical trials on pharmacological prevention of pericarditis were included. Potentially relevant studies published up to December 2011 were searched in BioMedCentral, the Cochrane Collaboration Database of Randomised Trials (CENTRAL), ClinicalTrials.gov, EMBASE, Google Scholar, MEDLINE/PubMed, and Scopus. The PubMed search was performed with the term 'pericarditis' and 'colchicine'. Recent (2005 or later) conference proceedings from the American Heart Association, American College of Cardiology, and the European Society of Cardiology were electronically or manually searched. Searches were not limited by language, sex, or age. In addition, references of retrieved studies were scanned for additional unpublished studies.
Main results
From the initial sample of 127 citations, five controlled clinical trials were finally included (795 patients) and are reported in the following table.
Three studies were double-blind randomised controlled trials (7-9), and two studies were open-label randomised controlled trials (1,2). Trials followed patients for a mean of 13 months.
Meta-analytic pooling showed that colchicine use was associated with a reduced risk of pericarditis during follow-up (RR 0.40, 95% CI 0.30 to 0.54) either for primary or secondary prevention without a significant higher risk of adverse events compared with placebo (RR 1.22, 95% CI 0.71 to 2.10), but more cases of drug withdrawals (RR 1.85, 95% CI 1.04 to 3.29).
Gastro-intestinal intolerance is the most frequent side effect (mean incidence 8%), but no severe adverse events were recorded.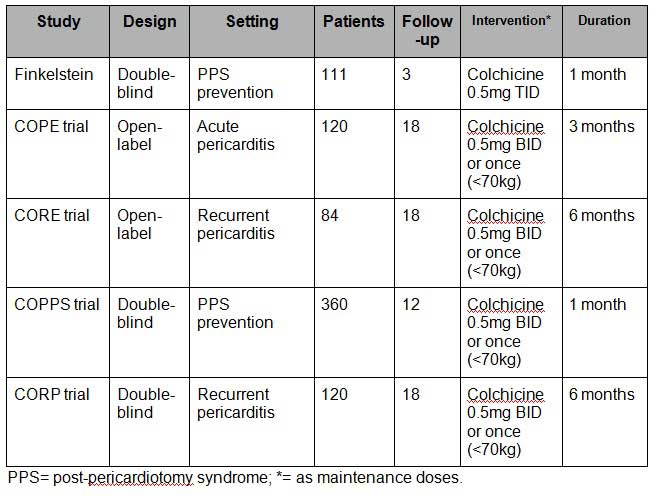 Comments
At present, this is the first comprehensive meta-analysis on this topic, including all published clinical trials up to December 2011.
There are some limitations to be acknowledged. Some of the included trials were open label (1,2), which might have introduced bias; however findings were similar in open-label and placebo-controlled trials (7-9). Moreover all trials have independent blinded outcome assessment with very low or absent participant dropout, thus indicating studies of high quality. An additional potential limitation is that potentially heterogeneous populations (idiopathic, viral, postoperative pericarditis as well as pericarditis related to a systemic inflammatory disease) have been included, however the same treatment and preventive strategies are adopted and recommended for such patients, that are heterogeneous for etiology but homogenous for pericarditis medical therapy. Bacterial and neoplastic pericarditis has been excluded because requiring specific treatments.
Conclusion:
In conclusion, the present meta- analysis provides a stronger evidence base for the use of colchicine in patients with pericarditis, as outlined in previous recommendations on colchicine use in the 2004 guidelines on the management of pericardial diseases of the European Society of Cardiology (10), based on expert consensus while randomised trials were not available at that time. At present, there are no available updates of 2004 guidelines, and no specific guidelines on the management of pericardial diseases have been issued by the American College of Cardiology, and the American Heart Association. This meta-analysis is useful to summarise data from all published clinical trials on pericarditis prevention by colchicine.
In conclusion, our study found that colchicine 0.5-1.0 mg daily was safe and efficacious for the primary and secondary prevention of pericarditis and should be considered as first line therapy for pericarditis prevention.
Further data are needed to prove its efficacy and safety in the setting of the first episode of acute pericarditis. Ongoing results of the ICAP trial will provide more solid evidence for or against this additional indication (ClinicalTrials.gov Identifier: NCT00128453).