Submit your abstract for next ESC Congress (open from mid December to mid February)
If you are not yet a member of the Working Group, awardees are required to join for free.
Awardees 2019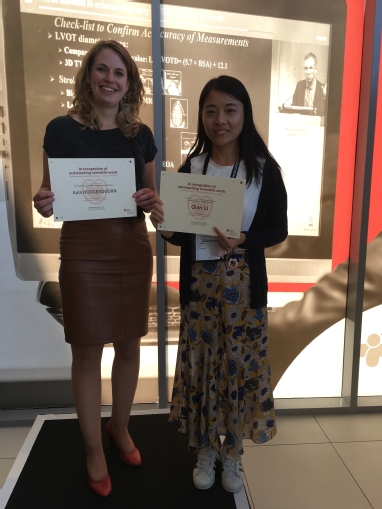 Working Group on Atherosclerosis and Vascular Biology Young Investigator 2019 Awardees: Ayla Hoogendoorn (left) and Qian Li (right).
Interview with Ayla Hoogendoorn (Rotterdam, The Netherlands), for the abstract on Atherosclersis
Coronary vulnerable plaque development is promoted by multidirectional wall shear stress
Who are you?
I'm Ayla Hoogendoorn, 29 years old. After obtaining my Bachelor and Master degrees in Biomedical Sciences, I started my PhD project in 2014 at the Erasmus MC, Rotterdam, The Netherlands. In September 2019 I received the PhD degree (with honours) and from November I will be working as a PostDoc at the South Australian Health and Medical Research Institute and the University of Adelaide in Australia.
What got you interested in research?
Already during high school, I was fascinated by how the human body, and especially the heart, works. I doubted to become a medical doctor, but I soon realized that I much more enjoyed the excitement and challenge of investigating the unexplored paths of human pathophysiology. I especially enjoy working on large multidisciplinary projects to bring specialists from different fields together to take all the steps from basic science towards clinical translation.
What question your study addressed and how do you interpret your findings?
Wall shear stress has been widely associated with atherosclerotic plaque development and destabilization. However, the multidirectionality of wall shear stress, induced by the pulsatile nature of blood flow in combination with the arterial geometry, is rarely taken into account. Using an adult, familial hypercholesterolemic pig model, we were able to monitor, on a highly detailed level, the development of plaques in the coronary arteries. The combination of multimodality invasive and non-invasive imaging and local flow velocity measurements allowed for local assessment of plaque growth and wall shear stress. We showed that both low and multidirectional wall shear stress promote the development of large and complex coronary atherosclerotic plaques with vulnerable characteristics. The high predictive values for fibrous cap atheroma development, the most advanced plaque stage, demonstrate the potential of multidirectional wall shear stress as a predictive clinical marker for vulnerable atherosclerotic disease.
What does winning the "Young Investigator Award" for best abstract on Atherosclerosis / Vascular Biology at the ESC 2019 mean to you, and to your future?
Winning the Young Investigator Award of the Working group on Atherosclerosis & Vascular Biology at the ESC 2019 conference was a great honour and an appreciation of my work. As a young investigator, this award strengthens me in pursuing a career in cardiovascular research and encourages me to take that extra step to move the field forward.
Interview with Qian Li (Bonn, Germany) for the abstract on Vascular Biology
Extracellular Vesicle-incorporated Long Noncoding RNA PUNISHER as a novel biomarker and effector of vascular function
Who are you?
My name is Qian Li. In 2014 I graduated from Jilin University, China and I had worked as a cardiologist for 2 years. In 2016, I started my research work at the University Clinic, Bonn (Medicine Clinic-II, Molecular Cardiology), Germany.
What got you interested in research?
From the clinical experience, I have realized that there are so many uncovered puzzles regarding the genesis and development of diseases, e.g. atherosclerosis. Clinical-based research could provide clues to understand the essential pathogenesis of diseases. Importantly, scientific research could help to maintain my curiosity and allow me to keep on thinking without barriers.
What question your study addressed and how do you interpret your findings?
Long noncoding RNAs (lncRNAs) are crucial regulators of cardiovascular disease. Circulating lncRNAs can be incorporated into circulating EVs. The role of extracellular vesicle (EV)-incorporated lncRNAs in coronary artery disease (CAD) is unknown. Herein, we identify that the small extracellular vesicle (sEV)-incorporated lncRNA PUNISHER is regulated in patients with CAD compared to non-CAD patients. sEV can transfer functional PUNISHER into recipient endothelial cells, promoting an angiogenic response in a VEGF-dependent manner. In clinical practice, the sEV-associated lncRNA PUNISHER might be used as a novel biomarker to identify patients with CAD. Prospectively, sEV-associated lncRNA PUNISHER could be used as a therapeutic target in diseases with impaired angiogenesis.
What does winning the "Young Investigator Award" for best abstract on Atherosclerosis/ Vascular Biology at ESC Congress 2019 mean to you and to your future?
It is my first time to get such great honor on the international stage, the award also belongs to my supervisor and all the colleges in the group. I regard winning the "Young Investigator Award" as a kind of understanding, acceptance, and affirmation of our work. It encourages me to maintain the original believing and to go further in my research career. It also provides me huge motivation to become an outstanding cardiologist and to help the young physicians like me in the further.
Access the list of past awardees