Press Release for Immediate Release

09 October 2015, London, UK. Current challenges to bringing safe and effective treatments to patients were discussed today at a workshop organised by the European Society of Cardiology (ESC) Cardiovascular Roundtable (CRT), at the Royal College of Physicians, London, UK.
"Randomised clinical trials of sufficient size are considered the most reliable way of assessing the benefits and hazards of new and existing treatments. However, over the last two decades, clinical trials have become more difficult to undertake because of outdated regulation such as the ICH-GCP guidelines (1) and other obstacles. As a result, less trials are undertaken especially in the field of cardiology, resulting in a lower number of new drugs available to patients," said Prof Barbara Casadei, ESC Vice President for Scientific Affairs and Research, Co Chair of the CRT meeting.
The ESC CRT meeting brought together key stakeholders involved in clinical trials: patients, regulators, industry and academia. Regulators from Europe, the US and Japan took part in the discussions. National health authorities from the UK, Portugal, Netherlands, Spain and Sweden also attended the event.
Professor Robert Califf, representing the US Food and Drug Administration (FDA) said:
"The environment has changed since the GCP (Good Clinical Practice) guidelines were written. GCP is a necessary reference but we must come back to its core principles. Guidelines should not be about compliance to rules and regulations, but about having a fluid framework that allows research to collect the best evidence, depending on the questions being asked. Direct patient involvement is crucial to ensuring the right questions are asked."
Representing patients, Richard Stephens, NCRI Consumer Forum Chair, UK, agreed:
"The public supports research. Patients want to help good research to happen, for them this is personal: 'is there a treatment out there that can help me?' Patients participate in trials hoping to benefit from new treatments and in order to help others. Our experience shows that patients are willing to participate in clinical trials but they do want the data to be publicly available."
Transparency of clinical trial data appeared as one of the main requirements to ensure quality of evidence. Fergus Sweeney, Head of the compliance and Inspection Sector of the European Medicines Agency (EMA) explained that the new European Regulation (2) - EU No 536/2014 - that entered into force on 16 June 2014 (but will apply no earlier than 28 May 2016) "is a real opportunity for innovation. All interventional trials on medicines authorised under the new EU regulation will be made public."

Other ways to improve research were discussed, including the use of registries and primary care systems for trials. Professor Stephan James, from Uppsala University, Sweden, provided examples of how the Swedish registry programme has been a source of quality data by identifying patients and allowing randomisation.
"For example, SWEDEHEART: Sweden's online cardiac registry, the first of its kind, covering all hospitals in Sweden, has allowed long-term follow-up and immediate feedback report on the outcome of every patient hospitalized for acute coronary syndrome or undergoing coronary or valvular intervention. Information collected contributes to secure quality of care for the public."
Dr Murray Stewart - Chief Medical Officer GSK - shared industry's vision of "broad, independent solutions to allow access to data from clinical trial conducted by multiple companies."
Stewart said that "everyone agrees on the principles but, regarding transparency, the question is how to put principles into practice. Companies should move ahead of the law and shift in this direction, including publishing full protocols and disclosing all clinical trial information, as well as publishing negative studies."
A Consensus Statement with key recommendations to improve clinical trials stemming from this meeting will be published shortly.
Each year cardiovascular disease (CVD) causes over 4 million deaths in Europe and over 1.9 million deaths in the European Union (3). Overall CVD is estimated to cost the European Union economy 196€ billion a year.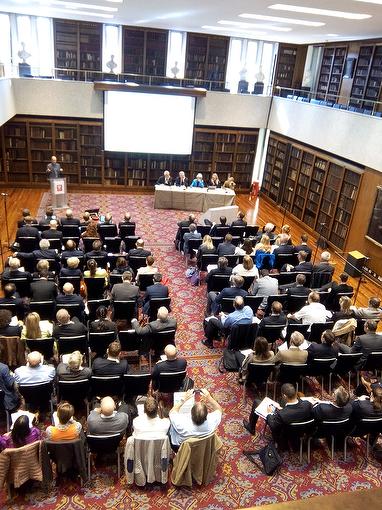 ENDS