Transapical access is based on decades of clinical experience with de-airing the heart, through the tip (apex) of the left ventricle, during routine cardiac surgical interventions. Insertion of a catheter and later-on closure through the apex is possible in a relatively uncomplicated manner. An anterolateral minithoracotomy is a simple and standardized access to the apex. It is applicable in almost all patients and they can be extubated soon afterwards. This procedure can even be performed without intubation under regional anaesthesia in some patients.

From the apex of the left ventricular, the aortic valve is almost within reach. The major advantage of the TA access is the direct and antegrade approach of the aortic valve. Thanks to the short distance and the direct access, very exact positioning of an aortic valve prosthesis inside the stenosed native valve is possible from the left ventricular apex. In addition, there is minimal manipulation in the aortic arch with this technique. This is definitively associated with minimal risk of mobilizing intravascular calcifications and thus with a minimal stroke risk. The lower stroke risk of the transapical, in comparison to the transfemoral aortic valve implantation technique, has become evident in all published series in medical literature.

The technique of TA-AVI is well illustrated in the figure below. The direct access from the apex to the aortic valve, with short distance and excellent ability to exactly position the valve prosthesis can be seen. All these procedures are being performed by a specialized team of cardiac surgeons and cardiologists together with anaesthetists. High quality imaging is required and ideally the procedures should be performed in the setting of a hybrid operative theatre. This includes all operative capabilities together with high quality fluoroscopic imaging.

TA-AVI is being performed as an off-pump procedure. Femoral guidewires are being placed to be able to convert to cardiopulmonary bypass for the safety of the patient. The apex is reached by means of an anterolateral minithoracotomy in the fifth or sixth intercostal space. Pursestring sutures are placed at the apex. Valve implantation is then performed over guidewires that are antegradely inserted under fluoroscopic visualization. The apex can be safely closed using the prepositioned pursestring sutures afterwards. The chest is closed in a routine fashion. The patient can then be extubated soon.

The Valve in a valve technique allows for implantation of a transcatheter xenograft inside a degenerated conventional xenograft that has been implanted years ago. Basically, the same procedural steps are applied. In parallel to TA-AVI the technique of Valve in a valve implantation has also been successfully introduced into clinical practice.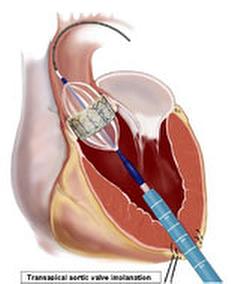 Transapical Aortic Valve Implantation