Thus, this year the organisers of World Heart Day, the World Heart Federation, are taking the home as their focal point for healthy habits - both to reduce the individual risk of heart disease and establish lifestyle habits which have a lasting impact on the whole family. Even habits adopted by children in the home may have benefits for the parents as well.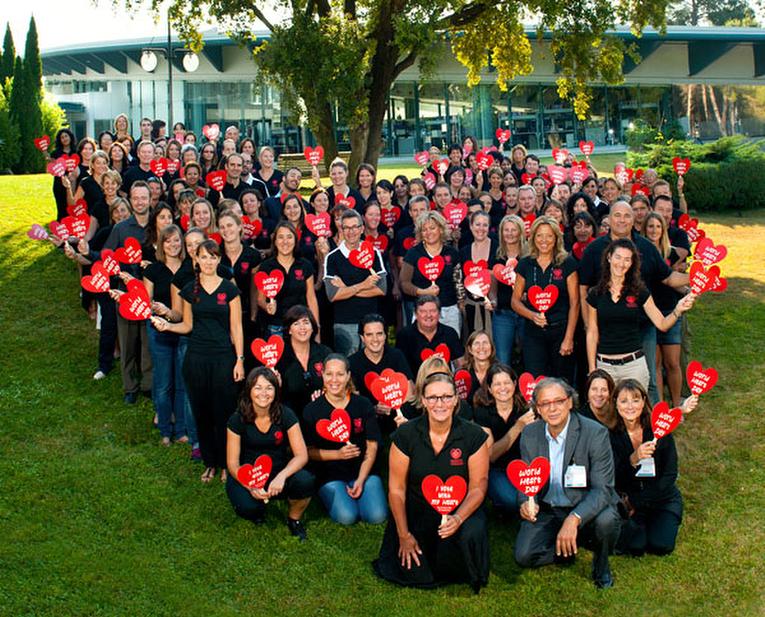 ESC staff showing their involvement in the fight against cardiovascular disease on World Heart Day. Front row: ESC CEO Isabel Bardinet with Dr F Bernasconi and Ms Chatelier from a local hospital.
Indeed, a new study reported at this year's ESC Congress 2011 in August suggests that children may even hold a key to their parents' cardiovascular health. Investigator Luciana Fornari from the University of Sao Paulo, Brazil, was inspired to perform the study from her own experience as a mother. "Lessons my children learned at school about environmental issues and recycling changed family attitudes," she said. "Under their insistence, I even found myself using less water when I brushed my teeth. So I thought, why not try to use children to influence cardiovascular prevention for the whole family."
Her study divided 197 school children aged six to ten years into two groups: first, a control group (which also included 161 parents) provided with basic educational material at the start and middle of the academic year with written information on nutrition, an active lifestyle and quitting smoking; and second, an active group (which included 162 parents) given the same material but also exposed to weekly educational sessions about cardiovascular prevention run by a multidisciplinary team of nurses, PE teachers, physiotherapists, nutritionists and psychologists. The programme even included practical cooking sessions and opportunities to take part in family bike rides and Olympic-style events.
When the study started a similar number of parents in each group were assessed as having a greater than 10% risk of developing cardiovascular disease over the next 10 years. However, after one year just one parent in the intervention group compared to 13 in the control group were estimated to have a greater than 10% risk of developing CVD over the next 10 years. These results represented a 91% risk reduction in the intervention group, compared to a 13% reduction in the control group.
Not every home can benefit from the weekly programme enjoyed by the study children in Brazil, but the ESC recommends three simple measures which might be introduced into every home on World Heart Day:
Stock your home with healthy foods. Start the day with a piece of fruit and prepare lunches at home to ensure their healthy content. Make sure every evening meal contains at least two or three servings of vegetables per person.
Be active. Families should limit their TV time to less than two hours per day. Organise outdoor activities for the family, and, when possible, travel by bike or walk - instead taking the car.
Know your numbers. Make sure your doctor measures your blood pressure, cholesterol and glucose levels, together with body mass index (BMI). These measurements will provide an indication of your overall cardiovascular risk, from which - if necessary - you and your doctor can develop a specific plan of action to improve your heart health. Make this action plan clearly visible in your home as a reminder!
And of course, whatever the family does in the home, it will pay to enjoy it. Another study described at this year's ESC Congress looked at the effects of laughter on arterial blood flow. With ultrasound researchers measured the diameter of the brachial artery in 20 non-smoking healthy men and women who on one day watched clips of comedy films, and on another watched the stressful opening sequence of "Saving Private Ryan". Their results showed that blood flow was enhanced by 22% in those watching the funny film, but decreased by 35% in those watching the stressful film. "The magnitude of the effects we saw were similar to the effects of exercise or taking a statin," said investigator Michael Miller from the University of Maryland in Baltimore, USA.

"We're not talking about a simple chuckle," he said, "but real mirthful laughter," which, he added, should last for at least 15 seconds. Laughter, he explained, might exert its beneficial effect through the release of endorphins by the brain, which activate receptors on the endothelium which in turn lead to the release of nitric oxide. "Nitric oxide dilates blood vessels, reduces inflammation, cholesterol deposition and clotting," said Miller.
The prevention of heart disease through lifestyle modification is now at the core of the ESC's public health policies. For the fact is that cardiovascular disease - as well as many other "non-communicable" diseases such as diabetes, certain cancers and liver disease - are preventable, and prevention is far more effective (and cost effective) than treatment.
Indeed, a declaration on the prevention and control of cardiovascular and other non-communicable diseases was reached by the United Nations earlier this month, with concrete endorsement from the heads of government present. Yet our efforts to lower the huge burden of cardiovascular disease - which causes 29% of all deaths globally each year and untold suffering - cannot rest only with the policy makers and global leaders. Individuals throughout the world can also reduce that burden, by learning about the risk factors and taking those important steps to reduce their own and their family's liability. As a hub for family activities, and as a focal point in everyone's life, the home is where the heart is and why this year, for World Heart Day, the World Heart Federation and its members are concentrating their efforts on the home. By adapting a few household behaviours, people all over the world can have longer and better lives through the prevention and control of heart disease and stroke.
END