"The economic and social impact of the conference and congress medium, and the federations and associations behind it, truly merit a special tribute to spotlight the activity and those responsible for developing it," said Philippe Augier, President of France Congrès, at the end of what proved to be a very successful evening.
France Congrès Awards Ceremony: awards and winners
"Conference and City of the Year" award - National audience: Congrès des Experts Comptables – Marseille

"Conference and City of the Year" award – European audience: Conference of European Association of zoos and aquaria – Montpellier

"Jacqueline Pietri" award – International audience:  International Symposium and Exhibition on natural dyes - La Rochelle

Special Sustainable Development award: Les Assises des déchets – Nantes  
A Prix Spécial awarded to the European Society of Cardiology 2011

"The ESC Congress 2011 exceeded all previous attendance records. Its success is clearly due to the quality of the scientific programme presented to a community of cardiologists drawn from every corner of the world, but is also closely linked to the attraction of Paris as a destination.
With 33,000 delegates attending, the ESC Congress 2011 is the world's biggest conference on cardiovascular disease and an event not to be missed for any professional keen to stay abreast of the latest developments in cardiology.  
We are particularly proud that the choice of Paris as venue enabled French cardiologists to demonstrate their expertise, and also to cement links with the international community of cardiologists," added Isabel Bardinet, CEO of ESC.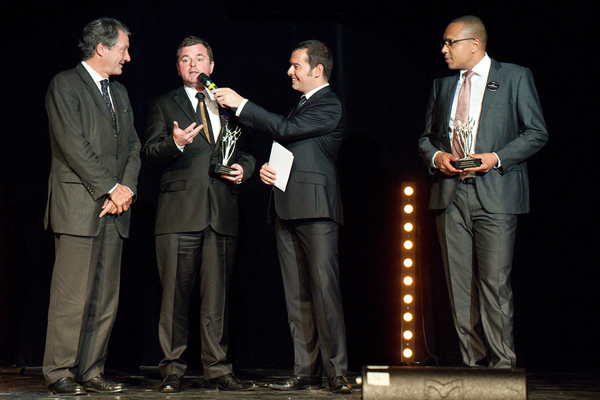 Ben Hainsworth and Nata Nambatingue of the European Society of Cardiology, receiving the award from Philippe Augier, President of France Congrès.

An award named in honour of Jacqueline Pietri, "a grande dame of the conference world", who died in 2009.
She was "Madame Nice", feared by her competitors but also widely respected in the profession. The first woman to be elected President of ICCA (International Congress and Convention Association) in Adelaide in 1990, then re-elected in Taiwan from 1992 to 1994, she made education in and development of business tourism her life's work.  As an "Ambassadress" of France to all the major international bodies, she was hailed as the leading "Grande Dame of Business Tourism", a role she proudly upheld until her death in April 2009.
"I knew and admired Jacqueline Pietri, and I am particularly touched and happy tonight that the conference world should pay her this well-deserved tribute of naming the international category of the award the Prix Jacqueline Pietri," said Olivier Lépine, a member of the Executive Board of France Congrès, in a speech honouring her memory.
END