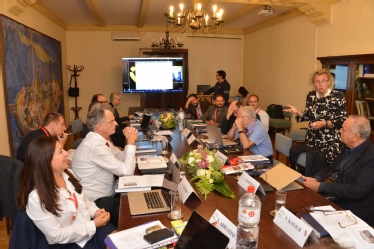 Committees
With more than 175 experts involved in 15 Committees covering all the scope of heart failure, the HFA is actively supporting research and researchers.

Please find more information about HFA Committees here.
Scientific meetings
On average 8 HFA workshops are planned per year with the aim of gathering eminent scientists around a specific topic.

HFA Workshops are usually closed events and might be supported by sponsors in the form of unrestricted educational grants. The scientific programme is not influenced in any way by its sponsors.
The conclusions result in various deliverables such as webinars, positions papers or sessions for HF Congress or HFA Winter Meeting.

All the upcoming workshops are published in the main timeline. Go to HFA Homepage or click on the topic columun in the table hereunder to get more information.

Past & upcoming HFA Workshops
| Committee/Study Group | Date | Topic | Programme |
| --- | --- | --- | --- |
| Translational Research Committee | 18-19 March 2019 | Cancer & heart failure | Soon available |
| Cardiorenal Study Group | 21-22 February 2019 | Renal function assessment throughout the heart failure trajectory | Soon available |
| Acute Heart Failure Committee | 14-15 Febuary 2019 | Cardiogenic shock | Programme |
| Cardiac Devices Committee | 14 November 2018 | Management of Patients with Heart Failure and Secondary Mitral Regurgitation: Achieving Synergy between Drugs, Devices and Interventions | Soon available |
| Imaging Study Group | 11 October 2018 | Cardio-Imaging | Soon available |
| Cardio-Onco Study Group | 10 October 2018 | Role of biomarkers in diagnosis and surveillance of cardiotoxicity in cancer patients receiving cardiotoxic therapies | Soon available |
| Takotsubo Study Group | 14-15 May 2018 | | Soon available |
| Co-morbidities, Translational Research, Surveys, Registries and Epidemiology, HFpEF and Cardiomyopathies | 24-25 April 2018 | Atrial Fibrillation & Heart Failure co-treatment | Programme |
| Long Term Management and Exercise Training Committee | 21-22 March | Care vs Cure vs Rehabilitation in Heart Failure Patients | |
| Acute Heart Failure Committee | 8-9 March 2018 | Acute Coronary Syndromes and Acute Heart Failure | |
| Cardio-Renal Study Group | 15-16 February 2018 | Diuretic Use in Heart Failure | Agenda |