2018's dates
Awareness Days 2018 will take place from 7 to 13 May 2018
2017 Winners
Find out what happened all over Europe during the 2017 Heart Failure Awareness Days.
Who won the award for the best organisation?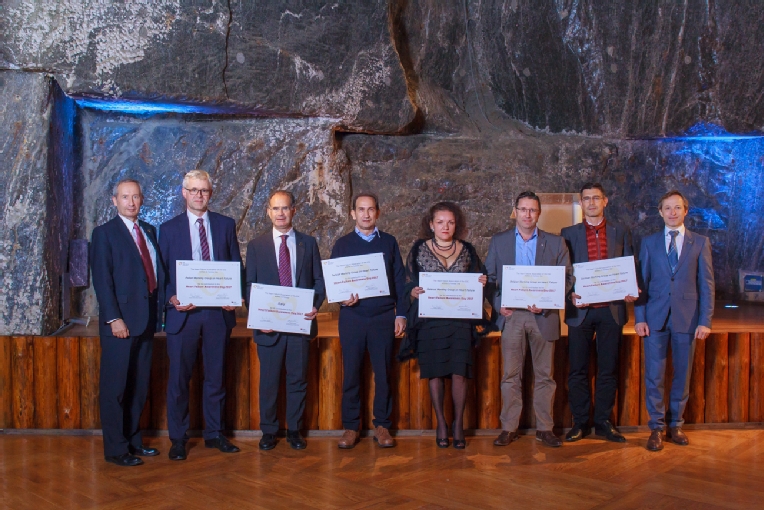 From left to right: Poland, Italy, Turkey, Belarus, Belgium and Germany
Click on the link to find out what they did
Activity reports per country
Armenia
In Armenia Heart Failure Awareness Days has been held in 11-13th of May. The Working Group organised:
HFA awareness session as a part of congress of Armenian Cardiologists Association with involvement of President of ACA, principal cardiologist of Ministry of Health and leaders in field of cardiology
HoT (HF specialists of Tomorrow) seminar during Heart Failure Awareness Days session with awards for the most active ones
TV and radio coverage in order to arise awareness of Heart Failure problem, organised with Armenian Cardiologist Association with involvement of Ministry of Health, Ministry of Education and Science
A flower logo of HF awareness day made by "Brabion flora service" in front of National Academy of Science during Congress of Armenian Cardiologists Association and in North Avenue during joint outdoor session, organised by ACA, HF WG of ACA and Gold's Gym Armenia
A joint outdoor session on the North Avenue, National Academy of Science, Yerevan with ACA, HF WG of ACA and Gold's Gym Armenia with cardiovascular disease patients group
An open clinic with leading cardiologists in the department of heart failure of Institute of Cardiology
The creation of a Heart Failure patients group who wish to learn and to teach other patients with Heart Failure
To provide patients with Heart Failure opportunity connect to other persons with HF and their caregivers
Actively including patients and their caregivers in the HF management program and explain them importance of healthy lifestyle, primary and secondary prevention
A walk for HoT, leaders in cardiology and Heart Failure patients
Translation, implementation, endorsement and use Heart Failure guidelines, Heart Failure and Heart Failure nurse curriculum, position paper, white paper in Heart Failure
Joint master courses in Heart Failure with HFA/HFA NS
Use of cost-effective drugs, i.e. made in Armenia
Belarus
In 2017 the Heart Failure team from Belarus intended to: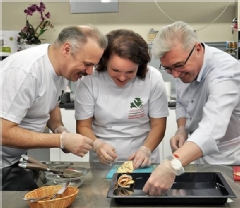 Hold conference with the head of the Belarusian Heart Failure Association and the leading specialists in this field
Arrange a flower display in the form of the Heart Failure Awareness Days logo
Organise special cooking master class with patients suffering from HF
Perform the week of children's creativity and workshops, including lectures on the structure of the human body for little citizens of Belarus
Hold a joint yoga class for patients with CHF NYHA II-III and HF specialists
Develop the mobile application for patients with CHF
Promotion in local TV, radio, and newspapers
Belgium
For the 8th consecutive year, the Belgian Working Group on Heart Failure (BWGHF), the Belgian Working Group on Cardiovascular Nursing and the Belgian Cardiologic League joined their forces for to organise the campaign on a national level starting on the 5th May 2017 across the country.

This year, the following 24 Belgian hospitals have already confirmed their participation:
AZ Delta (Roeselare), AZ Turnhout, OLV Hospital (Aalst), UZ Gasthuisberg, (Leuven), AZ Sint Lucas (Brugge), AZ KLINA (Brasschaat), AZ Groeninge (Kortrijk), Ziekenhuis Oost Limburg (Genk), UZ Brussel, CHU de Liège, CHR de la Citadelle (Liège), Clinique Saint Luc (Bouges), CHU Brugmann (Bruxelles), CHU UCL Namur (site de Godinne), CHR Verviers, CHC Hermalle s/Argenteau, Centre Hospitalier Epicura Hornu, Grand Hôpital de Charleroi, CHU Ambroise Paré (Mons), Centre Hospitalier de Wallonie Picarde (CHWAPI) (Tournai), Hôpital Erasme (Bruxelles), CHU Saint Pierre (Bruxelles), Cliniques Universitaires St Luc (Bruxelles), Centre Hospitalier Jolimont (La Louvière).
www.bwghf.be / www.liguecardioliga.be / https://twitter.com/BWGHF

Many activities have been organised, such as:
Lectures to patients, their relatives and the general population about heart failure: what about Heart Failure, epidemiology, symptoms, diagnosis, treatments, role of education
Workshops about 'heart failure' diets
Presentation of the movie 'L'insuffisance cardiaque, un nouveau parcours pour votre cœur ' or " Hartfalen, een nieuw parcours voor uw hart" (new edition)
"Open house" in heart failure clinics
Panel debates with heart failure cardiologists
Offering blood test, blood pressure measurements
Performing BNP test (coordination by Walter Smolders)
Participation of patient representatives to share their experiences
Patient testimonials
Presentation and signatures of the Charters
Bulgaria
The Bulgarian Working Group for Heart Failure gave interviews to the media regarding the importance of HF, its consequences on society, and its medical treatment.
They will also did open-doors cardiology exams for people.
Croatia
The Croatian Heart Failure Society organised a 1/2 day programme on 5th May at the Institute of Public Health and at the University Hospital Split, Clinic for cardiovascular disease.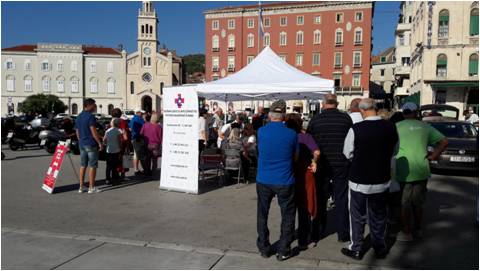 Other activities:
involve HF patients group
panel debates with heart failure specialists and specialists in cardiovascular prevention from Institute of Health
inform our patients about disease and possible prevention
have open hours in hospitals and the Institute
offer the measurements of blood pressure, lipids, glycaemia, BMI, to test the smoking status
inform press, radio, television, social media, websites in advance about activities and during the event
material about heart failure for patients
arrange the public event, during the days of town Split (patron, St Duje)
Cyprus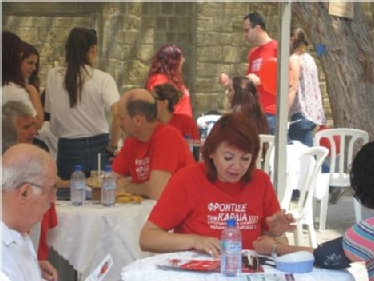 The Cyrus Heart Failure Working Group planned a variety of events and activities including:
Press conference to be held at the Ministry of Health press room in order to announce the activities for the awareness days. Scheduled to participate as presenters are the presidents of Cyprus Society of Cardiology, the Cyprus Heart Failure working group and the newly created Cyprus working group on Cardiovascular Nursing, and a board member of the patient's association. The Minister of Health or a representative will address the press conference
Publication of articles in all major local print and electronic press media
Interviews of selected members of the Heart Failure Working group in relevant TV and radio programmes
HF awareness kiosk downtown the capital Nicosia for supplying information and printed material (general information, booklet, warning signs) to the public regarding HF, obtain BP measurements and response to queries by members of the HF working group and HF nurses. Children activities shall accompany the event (eg drawing and painting themes related to the heart). The public will again be asked to fill in forms in order to assess awareness of HF as part of an international registry
Running or cycling event in the waterfront of Limassol, the second biggest city of Cyprus, in collaboration with the local University (the Cyprus University of Technology) which hosts the department of Nursing studies in Cyprus
Educational event for patients and public at the University facilities in Limassol
Finally, the activities will reach their conclusion with our final educational event at the presidential palace open for public. The first lady Mrs Andri Anastassiades will address the event, as well as the Minister of Health, the presidents of the Pancyprian Medical Association, the Cyprus Society of Cardiology and the Nicosia Cardiac Patients Association. The main lecture will be given by the president of the HF working group. Q&A session will follow the lecture.

The above mentioned campaign will be under the auspices of the MOH and will be supported by the Pancyprian Medical Association, the Nicosia Cardiac Patients Association, the Cyprus University of Technology (Nursing Department), the Pancyprian Federation of patients' Associations and friends, and the Lioness club Nicosia-Kyrenia, suggesting a wide collaboration and alliance for the battle against heart failure in our country.
Denmark
In Denmark we have planned a dedicated campaign with the Danish Heart Foundation (starting May 5):
Public lectures on heart failure in the three major cities May 5-9
TV spots, Facbook posts, ads in papers
Press releases
Egypt
Germany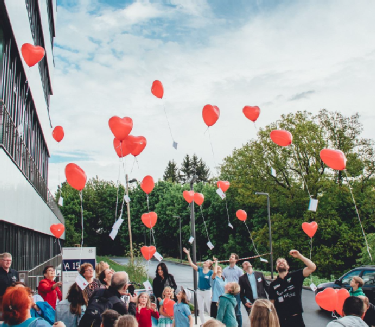 The leading theme of the Awareness Day in Germany is "heart in motion". Different activities take place from April to the end of May under this motto. The National Partner is the German Heart Foundation. This year's Ambassadors are DJK Rimpar Wölfe, who play in the second German handball league team.
The Kick-off Press Conference n the issue of "sport with a weak heart" took already place at the Congress of the German Society of Cardiology in Mannheim at April 20th. Participants were: Prof. Georg Ertl (University Hospital Wuerzburg), Prof. Stefan Störk (Comprehensive Heart Failure Center), Prof. Martin Halle (Technical University Munich), Prof. Rolf Wachter (University Hospital Goettingen), Verena Ziska (athlete), Michael Wichert (German Heart Foundation).
Planned Highlights:
Heart failure information days (open houses) and seminars will take place at the action weekend May 12th to 14th. The main focus is in Wuerzburg and the region Mainfranken
Regional schools (classes 1 to 6) were invited to participate in the competition "little mascot for a healthy heart". The award ceremony will take place in Wuerzburg and Freiburg at May 13th. The best works of art will be exposed on several occasions, eg. in the University Hospital of Wuerzburg and in different schools
For the fourth time starts the prevention campaign "cycling tour with heart"
Greece
On Friday 5th of May, various Cardiology Clinics all around Greece, had an "Open Clinic", Event to the Common. A lecture will be presented, the citizens may ask questions regarding HF & a specific leaflet on HF (already edited by HCS), will be given to everybody.
Interviews and short presentations on HF, will be held on regional TV channels by the Chair and members of HF Working Group in the next few days.
A comic TV spot (made by HCS), under of auspice of Greek Ministry of Health, will be delivered on a national TV Channel on 5-7 May.
Hungary
Hungary will hold their Heart Failure Awareness Day event at the same time as World Heart Day on September 29th 2017.
Ireland
The heart failure support unit at Nenagh Hospital, in collaboration with the cardiac rehab team who run phase III programme, will have a stand in the hospital foyer from 09.00 to 13.00 on May 4th 2017, in conjunction with Healthy Ireland.
We have advertised on email to local General Practitioners by post and in local papers inviting staff and public. We will have a dietician, a cardiac rehab coordinator, a physio and two heart failure specialist nurses to answer questions. We have lots of information available in written booklets from the Irish Heart Foundation and online heartfailurematters.org
Our consultant cardiologist, Dr S F Abbas, will open the day with a few words. We have two patients speaking on their experiences of heart failure who are attending our heart failure nurse-led specialist clinic here in ULH Nenagh Hospital. We have a HF quiz for completion with 6 questions for prizes and will be distributing bottled water and fruit.
We have Communications attending to do patient video and put up snippets on twitter. We also will have posters on the research which looked at the contribution of the nurse-led clinic on patient education for HF self-care and Quality of life and copies of same. We also have two articles on HF submitted to local papers. First article on HF – what it is, signs and symptoms, tests done, management, role of nurse-led clinic etc. published on Wed. 26.04.2017 and next for publication Wed. 3rd May on cardiac rehab and the role of exercise.
Italy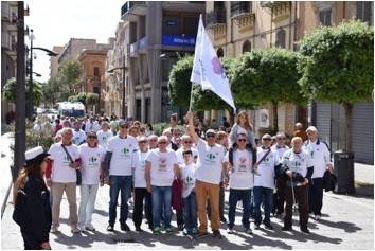 At least 40 centres around the country have agreed to participate, with special emphasis on promoting healthy lifestyle habits, with physical activity at centre stage.
A national press conference will be held in the town of Piacenza, with a representative from the Central government, on the 8th of May. More info
Kyrgyzstan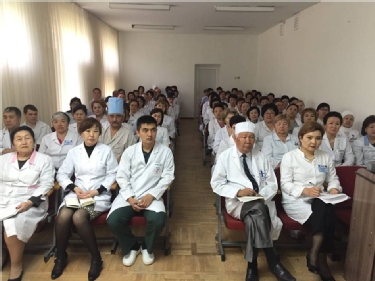 Information can be found on the website of Kyrgyzstan Society of Cardiology and the Kyrgyz State Medical Academy.
We have prepared publication with information in newspapers
There will be the lectures for patients in different hospitals across the country
A competiotion of the knowledge on HF between medical students of Kyrgyz State Medical Academy and Medical Faculty of Kyrgyz-Russian (Salvic) University is planned on the 6 May
Latvia
The HF WG of the Latvian Society of Cardiology, in collaboration with patients' organization "Par sirdi", will organise a public Heart Failure Awareness days' event "Mobile Heart Failure Clinic" with blood pressure and heart rate measurements, 6 min. walking tests, short consultations etc. in Valmiera (approximately 110 km from Riga) on May 18. For all visitors, printed leaflets with heart failure symptoms and main diagnostics tools and a short questionnaires will be provided.
The main attribute of Heart Failure Awareness days will be traffic lights (green, yellow and red) symbolizing different clinical status and warning symptoms (red) of heart failure. These traffic lights during HF Awareness day activities will be located in the largest hospitals in Latvia.
Every year, a new article regarding heart failure issues is included in the Spring edition of "Sirds un veselība" (Heart and Health).
Information about Heart Failure Awareness day activities will be spread via radio and websites.
The new lecture for GP's nurses is prepared in their continuing medical education portal "E-visit".
Lithuania
As every year, the European Heart Failure Awareness Days will start with annual press conference in the Parliament of the Republic of Lithuania (Seimas) which will be held on 4th May. The national parliamentary conference will address daily HF aspects, further development of HF care models, emphasize current experience of health care professionals who work in specialized HF program. Moreover, we anticipate comprehensive debate about our future needs, financial support and reimbursement and specialist certification.
As usual, we planned two public events in the largest cities of Lithuania: Vilnius (5th of May) and Kaunas (6th of May). Both events will be held in the large shopping malls and broadly announced in advance. Seven largest cardiac centers around the country will hold local activities and conduct HF survey. The HF Awareness Campaign will include distribution of informative material about HF and individual's personal experience of living with the disease.
The major strength in these events will be our youngest and largest part of medical community – medical students, cardiology residents, young specialists and nurses. Moreover, all attendees of the events will have an opportunity to discuss their risk factors and lifestyle corrections with health care specialists.
Ordinary, educative articles, video clips are permanently created, updated and published in the national press and website of Lithuanian Heart Failure Association. TV and radio interviews of members of the WG HF of LCS and HoT specialists are announced in local TV and radio channels.
Rep. of Macedonia
The Macedonian Society of Cardiology and the University Clinic of Cardiology medical faculty in Skopje will organise several activities during the HF awareness days to raise public awareness of Heart Failure:
Articles on heart failure by members of the Macedonian Society of Cardiology in newspapers, journals and websites during the awareness week (7-14th May, 2017)
TV and radio interviews with cardiologist dedicated to heart failure
Open house with educational leaflets, brochures and posters with information about symptoms and signs of heart failure, consistence with medical therapy, self-assessment of HF patients and proper way of life
Seminar on heart failure for primary care physicians with special emphasis on early diagnosis of HF, the compliance of those doctors to the ESC Guidelines for diagnosis and threatment of HF, management of major co-morbidities in HF patients (lectures and case reports on 7th May, 2017)
Malta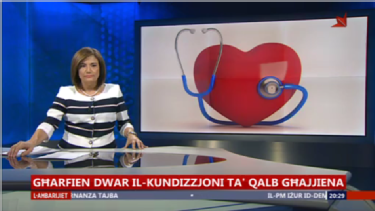 On Friday 5th May 2017 at Mater Dei Hospital Malta, a seminar on Heart Failure is organised for the general public and newspapers and radio representatives.
Heart Failure: Primary Prevention and Rehabilitation
Open Discussion with public audience: questions, difficulties,...
"Healthy"Reception during which Parameter Measurement will take place (including Blood Pressure, Heart Rate, Blood Glucose, BMI)
Netherlands
In the Netherlands the 2017 Heart Failure Awareness day goal is to improve the online heart failure patient education on official and popular Dutch health websites. The focus is to increase heart failure awareness by providing information on heart failure and its symptoms on information pages that are frequently visited by people with a high heart failure risk: eg. patients with diabetes, hypertension, obesity, copd, ischemic heart diseases,…

With PR we also try to increase the awareness of health care professionals. We deliberately focus on health care professionals who are involved in the care for patients with a high heart failure risk as we believe that the most effective heart failure awareness strategy is face-to-face education by well-informed health care professionals.
Norway
The Heart Failure working group are hosting a Heart Failure awareness day symposium for heart failure nurses in primary care and hospitals in Trondheim on May 5th.
Poland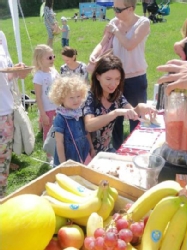 The "Hello it's your heart" campaign took place on the 3rd of June, 2017 by the Lake Malta in the heart of Poznań, Poland
The University Hospital of Lord's Transfiguration in Poznan, PL together with the Heart Failure Section of the Polish Cardiac Society and the 1st Department of Cardiology of the Poznan University of Medical Sciences acted as the sole organizers of the event.
Final report Watch the event video
Portugal
The Working Group on Heart Failure (WGHF) of the Portuguese Society of Cardiology (PSC) will organise this year several activities:
Publication of a position paper in the Journal of the Portuguese Society of Cardiology describing the need for a better structure in HF care all over the country.
An open press conference during the annual meeting of the WGHF, of the PSC, to discuss the position paper with representatives from the Portuguese health care authorities, the board of the PSC, leaders in field of HF and all the attendees of the meeting.
A cases-based course on HF organised by the board of the WGHF as a part of the annual congress of the PSC. Special emphasis on 2016 ESC Guidelines
Two different HF courses organised as a part of the annual meeting of the WGHF focusing acute HF diagnosis and treatment (SAVIC course) and imaging in HF.
ESC 2016 Pocket Guidelines on diagnosis and treatment of acute and chronic HF, endorsement by the PSC will be distributed in major events of the PSC and the WGHF.
Planned TV and radio interviews on national and local TV channels with board members of the WGHF and other HF opinion leaders about the definition, symptoms and signs, causes, treatment and prevention of heart failure to raise public awareness of heart failure.
Seminar on HF for primary care physicians with special emphasis on early diagnosis and treatment of HF and major co-morbidities and sessions for HF patients/ caregivers will be held in different hospitals and Primary Care Centres across the country during the HF awareness week.
A special effort for specialized Centres to prepare specialists and residents to implement new structured care for HF in several Hospitals all over the country.
The creation of a Portuguese HF patients group (AADIC) to provide patients with HF the opportunity to connect other persons with HF and their caregivers and to learn how to live with the syndrome, will be formalized on the HF awareness day (May 5th 2017). Facebook´s page and posts about Heart Failure, KOL's interviews and events.
Romania
Romania will be holding its Awareness Day on May 12th.
Russia
Here are the planned Russian Heart Failure Society activities for the Heart Failure Awareness days.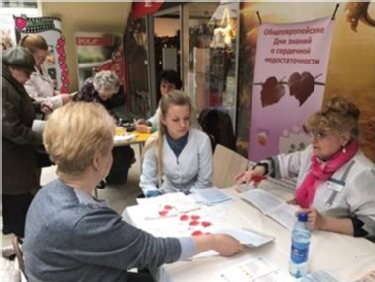 39 cities from the different part of the country will participate. They will organise workshops for patients, public actions, open days in clinics and PR activity in the press.
The central events will be organised this year in Kazan. A patient care workshop and press-conference with the participation of the HFA Patient Care Committee members will be organised on May 15th.
On May 16th we will also have a Spring Congress of the Russian Heart Failure Society.
The Russian Heart Failure society will provide the participants with:
Patient education brochures.
HFA White Paper
Russian Heart Failure Society Clinical guidelines for the diagnostic, prevention and treatments of the CHF
Russian Heart Failure Society Clinical guidelines for the organization of physical training of CHF patients
Slovakia
Call to Action: communicating through "heart activities" - HEART LISTENS - HEART READS - HEART EXERCISES
HEART READS
May 4th for journalists and the general public (discussion & reading about the heart in the bookstore)
HEART LISTENS
Presentations and discussions held by 3 TOP Slovak CV institutes (NUSCH, VUSCH, SUSCH) with cardiologists, psychologists and physiotherapists, nutritional advisors , meetings with HF patients & journalists
HEART EXERCISES
Creation of exercise programmes for HF patients - instructed exercises with features of yoga, tai-chi under the supervision of specialists . Creation of courses by CV centres, preparing of video courses available on youtube and social networks
Slovenia
Seminar for heart failure nurses, focusing on palliative care
Launch of heart failure prevalence study
Presentation of national hospitalization database analysis, 2004-2012
Team "Heart Failure" – Deputy Minister of Health and 2 physicians – to attend biggest sport recreational event in Slovenia
Attendance at sport and recreational activities to promote awareness about heart failure
Questionnaire survey, focusing on heart failure, for patients and lay public
Organise activities in all Slovenian hospitals that take care about HF patients
Lectures
Open day clinic
Promotional stands where people get together to deliver information about heart failure
Promotion in local TV, radio, and newspapers
Interviews with national media, including major newspapers and magazines, TV, and radio
Spain
The Heart Failure Working Group is working on events in towns all over Spain.
In La Coruna, the Hércules Tower, the oldest Roman lighthouse in the world still in operation, was lit up in RED on Saturday May 6th, 2017.
Sweden
Publication of an article in one of the major newspapers describing the need for a better structure in HF care all over Sweden. Due to the increasing awareness of HF in Sweden among doctors and administrators, structured care for HF has started or is about to start in several areas of the country
In Uppsala University, around 50 nurses from all over central sweden who work as HF nurses both in hospital and out of hospital are being trained
The national HF registry is expanding and a new version is launched soon with several seminars planned from north to south
Switzerland
CHUV in Lausanne will organise a public lecture, during which various members of the Cardiology and Cardiac surgery departments will tell you about the latest advances in heart failure management, a disease affecting approximately 175,000 people in Switzerland.
Turkey
HF Awareness Day activities will start with a national press conference in Istanbul on 4 May 2017, in which all national TV channels and newspaper representatives will be invited to attend and a press release will be delivered
Turkish Society of Cardiology International Pulmonary Vascular Disease (PVD) Congress will be held on 5-6 May 2017 in Istanbul. HF Awareness Day will be announced and a heart failure session has already been organised
Turkish 2017 version of HF Awareness Day Posters will be sent to primary care centers and public, private and university hospitals
Board members from the HF Working Group will give interviews about the definition, symptoms, signs, causes, treatment and prevention of heart failure on national and local TV channels to raise public awareness of Heart Failure
A new heart failure information set will be distributed to the patients admitted to outpatient departments
Newspaper announcements of the Heart Failure Awareness Day will be published and also newspaper interviews will be scheduled for rising public awareness of risk factors for HF
A newsletter about HF Awareness Day will be prepared and sent all members of the Turkish Society of Cardiology
Announcement of the Heart Failure Awareness Day and web banner will take place on the official website of Turkish Society of Cardiology
Last but not least, Heart Failure Working Group of the TSC will participate in the European Heart Failure Awareness Day 2017 Survey
United Kingdom
The British Society for Heart Failure and the Pumping Marvellous Foundation are teaming up to raise the awareness of heart failure
Carpool Consultation
Similar to James Corden's Carpool Karaoke and Peter Kay's Car Share, Pumping Marvellous brings you "Carpool Consultation", a selection of interviews with patients, heart failure nurses and consultants carried out in a car driving around their workplace whilst listening to their favourite tracks.
The interviews will be launched on the new Pumping Marvellous TV Live channel and promoted via social media on Friday 5 May.
Cats and Dogs Show
Paul O'Grady MBE will be the chief judge for the online Cats and Dogs Show. Entry of your cat or dog to the show is free and there are some super prizes provided by the sponsor of the show, Natural Instinct.
Winners to be announced: Friday 5 May, European Heart Failure Awareness Day.
Guys' and St Thomas' Hospital in London are organising an event on 5th May 2017