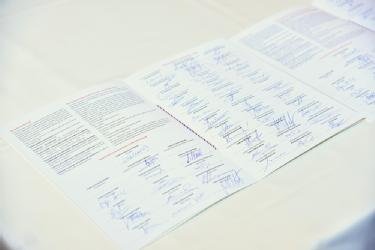 The HFA, the world's largest Heart Failure organisation and Heart Failure Working Groups from National Cardiac Societies join forces to recommend united action, and declare that they believe that the global burden of heart failure is huge, and cannot be allowed to continue unchallenged. Preventing Heart Failure must become a strategic health priority for each and every country
Consult the HFA White Paper "Heart failure: Preventing disease and death worldwide".
The White Paper aims to demonstrate the burden of the disease with a clear Call to Action which includes the establishment of a systematic approach to identifying target groups at risk from Heart Failure and appropriate prevention and treatment modalities which could serve as the basis for future international guidelines.
It has been distributed and presented to National Heart Failure Societies and Working Groups worldwide at the Endorsement Meeting that took place in Athens on 16 May 2014.

48 national heart failure working groups have endorsed the White Paper
Albania
Armenia
Austria
Belgium
Belorussia
Bosnia Herzegovina
Brazil
Bulgaria
Chinese Society for Thoracic and Cardiovascular Surgery
Croatia
Cyprus
Czech Republic
Denmark
Egypt
Estonia
Finland
France
Germany
Great Britain
Greece
Heart Failure Society of America
Hungary
Iceland
Ireland
Israel
Italy
Japan
Latvia
Lebanon
Lithuania
Macedonia
Moldavia
Morocco
Netherlands
Norway
Poland
Portugal
Republic of Serbia
Romania
Russian Federation
Slovakia
Slovenia
South Africa
Spain
Sweden
Switzerland
Turkey
Ukraine
Why a Heart Failure Global Awareness Programme is needed
Listen to Prof Petar Seferovic (Belgrade, RS) and Prof Piotr Ponikowski (Wroslaw, PL) discussing the aims and challenges of the Heart Failure Global Awareness Programme.
The complexity of the Heart Failure syndrome represents a major obstacle to adequate identification and diagnosis of untreated patients. But this also thwarts understanding of heart failure among politicians and the general public.
Heart Failure awareness among healthcare professionals and non-medics is poor across the globe, in contrast to the recognition of cancer which is related to the global campaign oncologists have been conducting for some time.
The publication of the 'Acute Heart Failure Report - Improving Care for Patients with Acute Heart Failure'. The recommendations contained in this report have been endorsed and adopted by the Heart Failure Association of the European Society of Cardiology as part of their Global Heart Failure Awareness Programme.
Endorsement meeting: 16 May 2014 - Programme and slides