Prof. Nicolle Kraenkel
The ESC Prevention of CVD Programme* is an initiative dedicated to understanding the needs surrounding secondary prevention and developing strategies to improve risk management. Doctor Nicolle Kränkel (Charité-Universitätsmedizin Berlin, Germany), Secretary of the European Association of Preventive Cardiology (EAPC), Chair of the EAPC Communication Committee and Chair of the ESC Prevention of CVD Programme, talks here about two exciting new components:
Healthy-Heart.org website
"Developed with the help of patients themselves, the Healthy-Heart.org website was launched at ESC Congress 2019. The patient is a crucial part of the management team and, along with caregivers, they need access to trusted information about their disease and practical guidance on event prevention. As just one example of where patients need reliable information, the benefits of cholesterol-lowering drugs and adherence are emphasised to combat the negative portrayal of statins in the lay press. The short videos, on a range of topics, seem to be particularly popular. There is also a monthly poll where patients can test their knowledge.
This has been a multidisciplinary and multinational effort and we are very proud of the progress made. At the Prevention Summit late last year, we had some really positive feedback from attendees, including patient representatives, but we will continue to look at ways to improve the site.
Since the launch, we have translated the site into multiple languages. Currently at nine, more translations will be added soon, and the National Cardiac Societies will be invited to help with languages not yet included. Raising awareness of the website among healthcare professionals and patients is another aim for the coming months.
ESC CVD Risk Calculation mobile app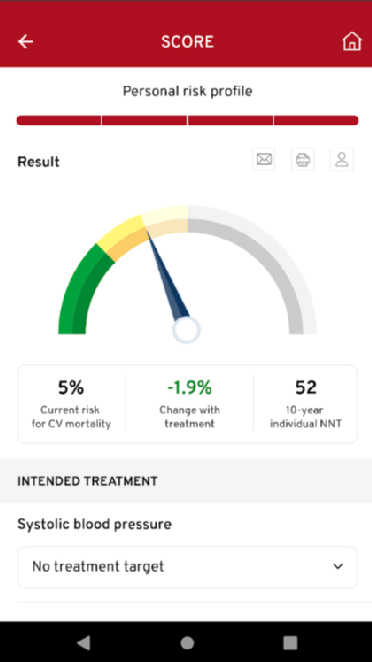 We are also very excited to launch the "ESC CVD Risk Calculation" mobile app (App Store / Google play) for healthcare professionals. Different risk calculators are used for different patient populations, which can be confusing and time consuming. The aim of the mobile app is to provide healthcare professionals with a single platform. By answering a short series of questions, the user will receive a recommendation for the most appropriate calculator to use and, subsequently, the patient's percentage cardiovascular risk estimation. The tool can be used to estimate the relatively short-term risk of patients with existing disease and to illustrate the benefits of interventional medication and lifestyle changes, such as smoking cessation. Just as importantly, it can also help healthcare professionals to explain the long-term cardiovascular consequences of unhealthy lifestyle choices to younger patients and to show them how to manage their risk by changing their behaviour.
Helping individuals to reduce their risk will bring benefits to patients and also to healthcare systems, which look set to be swamped by the costs of managing increasingly prevalent cardiometabolic diseases."
*The ESC Prevention of CVD Programme is led by the European Association of Preventive Cardiology in collaboration with the Acute CardioVascular Care Association and the Association of Cardiovascular Nursing and Allied Professions. It is supported by Amgen, AstraZeneca, Ferrer, Sanofi and Regeneron in the form of educatonal grants.