About me
Born (just) more than 60 years ago in Antwerp, I have been a sports addict all my life. Playing tennis, cycling, and now more recently padel fills up a significant part of my life. After graduating as a doctor, I played with the idea to go for an international tennis career, but fortunately, I was clever enough to see that I would never end up high enough to make a living. So I chose the safer option, being a doctor. To combine sports and medicine, I studied sports medicine and after that cardiology, to end up as a cardiac rehabilitation specialist. That way, I could still combine medicine and sports.
EAPC & me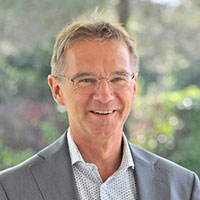 My life at the European Association of Preventive Cardiology (EAPC) also began decades ago (when it was only just starting as a merger of two working groups, called EACPR). In that period, I was absorbing all the new and exciting science, then I got the opportunity to participate in the international research resulting in the validation of the HeartQol questionnaire. The next step was being invited (there were no elections for the sections at that moment) to participate in the work of the section on Cardiac Rehabilitation.
I moved on to become the Secretary for 4 years and then to the "top job", 2 years as President of this beautiful association. Those years on the Executive Board were exciting, with a name change for the journal to the "European Journal of Preventive Cardiology (EJPC)" and the association to the "European Association of Preventive Cardiology (EAPC)", a restructuring of the sections to bring in the general practitioners, the start of accreditation, a lot of educational efforts, but also some stressful periods. The decision to cancel EuroPrevent in Istanbul due to terrorist threats was a very difficult one, the uncertainty of Covid and how this will further affect the way we work is another one. But even in difficult times, the feeling of being part of a positive-minded group of people that are dedicated to preventive cardiology makes you go on.
I want to specifically express my gratitude to the EAPC Team in the Heart House : Camille, Britta and Maxime. Thanks for all the effort to keep the EAPC ship afloat amongst sudden storms! And thanks to my fellow board and section members as well as the many EAPC Members who make this work interesting and fulfilling.
And maybe to end with a bit of advice for our young colleagues: even if being part of the EAPC often means extra work and less free time, it is really worthwhile to get engaged at every level: as a participant in congresses or courses, as a collaborator of a committee or a section, all the way up to the board level. Every part is necessary to make our association ever more successful.
What does it mean for me to be EAPC Past President?
I am proud to have been President of the EAPC, and will (in a bit more than a year) move on to join the "Honorary Presidents' Network" with a feeling of fulfillment and a continuing commitment to our common interest.
Related links
Not an EAPC Member yet?