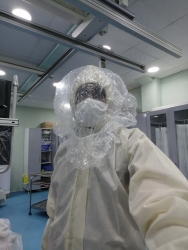 At the beginning of the second week of March 2019, like other countries in the third world, the threat of the epidemic was severe, many deaths happened, we experienced a lack of resources and a confrontation with the virus and the infection of more than 89 nursing staff in the first eight weeks of the start of the pandemic. And with all that, my workplace was the most dangerous (Cardiac catheterisation department in one of the major heart and chest hospitals in Sudan - 24 hours/week).
We started making plastic masks and also we wore garbage bags for prevention while performing the duty inside the cath laboratory, as well as following up on heart failure patients and patients who had pacemakers.
The first nine months were frightening and gloomy, and all the staff stood up one row, and started making masks for the sick ones and comforted with self-help, and then came the support of the government and the people.
The COVID-19 pandemic was the most difficult period of my entire career in the last 14 years.
A message of friendship, appreciation and respect to all the medical staff in the World. I dream of a pure world, devoid of coronavirus.
Abdellateef Mohammed, RN. CVT. advanced nurse in Shaab Teaching Hospital, Sudan.