The course comprises three core modules which when completed provide a detailed overview of the management of the critically ill patient with cardiovascular collapse, including post-resuscitation care based upon current evidence for each part of the chain of survival.
The aim is to improve knowledge in this important area, thereby improving patient outcomes in Acute Cardiac Care.
This content offers the learner a focused and interactive educational experience based on the ESC Textbook of Intensive and Acute Cardiovascular Care, 2nd edition 2015 - by Prof J. Nolan.
What's inside?
4 courses on:
Introduction
introduction and basic life support
Advanced life support
The post-cardiac arrest syndrome
Each course ends with a MCQs test.
How to access online courses?
This topic is free for all.
Make sure to log in with your My ESC account (Username and Password).
You do not have a My ESC account? Create an account.
Preview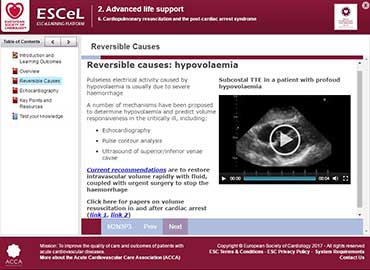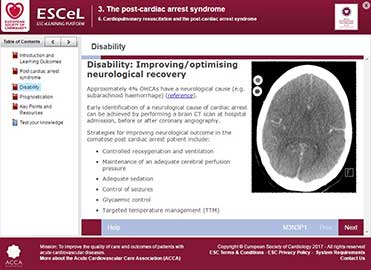 Contributors
Course Co-ordinator
Course Contributors
Dr Mette Marie Madsen
Dr Tinne Tranberg