This educational programme is an unique and comprehensive resource for approaching the acutely unwell/critically ill GUCH patient in a systematic way.
Written by real experts in the field – from the GUCH multidisciplinary team, reflecting the need for MDT-working in acute GUCH, GUCH intensive care - it also shows examples of anatomy, physiology, typical ECGs, echocardiograms, CTs and CMRs
These courses are based on the textbook chapter: Congenital Heart Disease in Adults of the ESC textbook of Intensive and Acute Cardiovascular Care, 2nd edition 2015 by S. Price, B. Keogh, L. Swan
What's inside?
6 courses on:
Introduction & epidemiology
Classifications and definitions in GUCH
Principles of management of the acutely ill GUCH patient
Acute medical conditions in GUCH
Postoperative management of the GUCH patient
Anaesthesia and sedation - considerations for the acutely unwell GUCH patient
Each course ends with a MCQs test.
How to access online courses?
Make sure to log in with your My ESC account (Username and Password) to access topics included in your membership level.
You do not have a My ESC account? Create an account.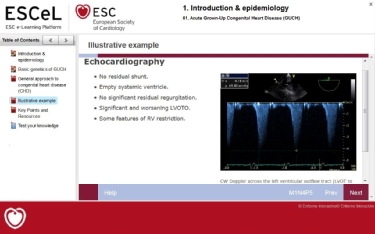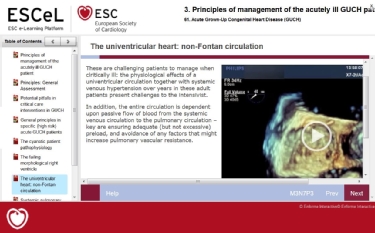 Contributors
Course Co-ordinator
Dr Miriam Conway
Dr Susanna Price
Course Authors
Dr Rafa Alonso
Dr Bertrand Annan
Dr Sonja Babu-Narayan
Dr Basrull Bhaludin
Dr Miriam Conway
Dr Kostas Dimopoulos
Dr Sabine Ernst
Prof Michael Gatzoulis
Dr Ee Ling Heng
Dr Sian Jaggar
Dr Matthew Jones
Dr Brian Keogh
Dr Wei Li
Dr David Lloyd
Jonathan Lyne
Dr Phil Marino
Dr Ana Martinez-Naharro
Prof Raad Mohaddiin
Dr Nitha Naqvi
Dr Richard Paul
Prof John Pepper
Dr Susanna Price
Dr Mike Rubens
Mr Michael Smith
Dr Lorna Swan
Dr Anselm Uebing
Dr Mary White