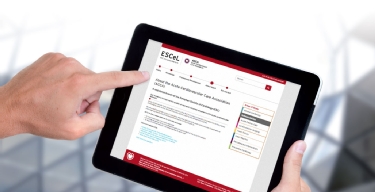 The ACVC e-learning platform is now accredited by the European Accreditation Council for Continuing Medical Education (EACCME).
ACVC Silver and Gold Members can obtain three CME credits per topic upon successful completion of the test.
Test your knowledge and acquire skills
A unique tool for knowledge acquisition, skills assessment and professional development in the field of acute cardiovascular care, available to ACVC Members (based on membership level).
Online courses comprise educational learning materials with associated multiple-choice questions (MCQs) for assessment of knowledge acquisition.
Its structure is based on the Acute Cardiac Care core curriculum and complements the latest edition of the ESC Textbook of Intensive and Acute Cardiovascular Care.
Each course includes several modules, references, images, videos, illustrations, etc.
Access a comprehensive portfolio of courses; from first medical contact in the pre-hospital phase up to patient stabilisation:
General overview
Acute heart failure
Acute coronary syndromes
Arrhythmias
The pre-hospital phase and the emergency department
Monitoring and investigations in the ICCU
The intensive cardiac care unit
Procedures in intensive cardiac care units
The laboratory in intensive and acute cardiac care
Concomitant acute conditions
Other acute cardiovascular conditions
What's inside
Free sample courses accessible for all
Access more topics
Restricted to ACVC Ivory Members
Restricted to ACVC Silver and Gold Members
All available courses
How to access online courses
Make sure to log in with your My ESC account (Username and Password) to access topics included in your membership level.
You do not have a My ESC account? Create an account.
And if you're not a member join now.