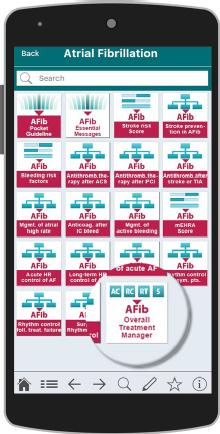 Download the ESC Pocket Guidelines App to access the 2016 ESC Clinical Practice Guidelines on AFib and exciting new tools from CATCH ME.
The new CATCH ME tools, based on the new ESC Clinical Practice Guidelines on AFib and fully integrated with your current AFib tools, will revolutionise your everyday clinical decision-making and the follow-up of your patients.
CATCH ME tools are designed to support your clinical decision-making in line with best practice guidelines. They will help you personalise prevention and management of AFib patients and implement best clinical practice, even when you are under pressure to make a rapid decision.

The first in a series of state-of-the-art CATCH ME tools are now available and enable you to:
Integrate your patient's data and get instant, customised, guideline-based best practice recommendations.
Save your clinical decisions and share your treatment plan with the patient's General Practitioners or others involved in the patient's care (available in 2017)
Find guidance in case of emergencies
Download the ESC Pocket Guidelines App including selected CATCH ME tools to:
Access the latest ESC Practice Guidelines on AFib in a succinct and easy to read format
Use interactive clinical tools including:

Pathways of care and risk scores calculators, such as the CHA2DS2-VASc
The novel Overall Treatment Manager from CATCH ME that provides a treatment package or pathway, based on the clinical conditions or your individual patient data

Share your patient treatment with other relevant health care professionals in the cloud-based patient health record (available in 2017)
Facilitate communication between you and your patients (available in 2017)
Get immediate access to documentation of your patient's clinical conditions and suggested treatments (pdf export function)
How to access the ESC Guideline on AFib/CATCH ME tools


Search 'ESC Pocket Guidelines' in Apple store, Google Play or Amazon
Download the FREE ESC Pocket Guidelines App
Select the AFib Guidelines
Click on the Overall Treatment Manager for CATCH ME tools
Already have the ESC Guidelines App? Simply select the 2016 AFib Pocket Guidelines. In 2017, an updated version will be made available, accessible by clicking on the ESC CATCH ME icon, giving you even better integrated functionalities.
Coming soon - associated CATCH ME Patient App!


Your patients will have their own app! They will be able to input day to day information about their condition, their treatment, and symptoms, in preparation of their next visit. This data will be accessible in the CATCH ME tools - expected to be launched in December 2016.
What is CATCH ME?
CATCH ME (Characterising Atrial Fibrillation by Translating its Causes into Health Modifiers in the Elderly, www.catch-me.info) brings together the expertise of leading academic institutions, healthcare organisations and professional societies with the aim of improving the care of patients with AFib. Find out more.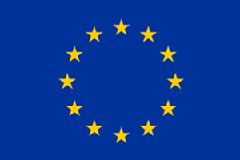 CATCH ME is funded by the European Union's Horizon 2020 research and innovation programme under grant agreement No 633196