ACVC Research Prize 2014 edition
Four finalists selected from the highest scoring abstracts presented their unpublished work in this dedicated session. The winner of the ACVC Research Prize in Acute Cardiovascular Care was announced at the end of the session and the prize (3000 Euros) and diploma was handed over by ACVC president Prof. Hector Bueno.

The ACVC Research Prize in Acute Cardiovascular Care is a highly competitive and prestigious annual prize for unpublished research. The young and fast growing Acute Cardiovascular Care Association is the primary scientific community for research in the field of acute cardiovascular care. With the successful establishment of the annual research prize, ACVC confirms its role as the leading scientific association in acute cardiovascular care leveraging clinical and translational research in the field.
The ACVC research prize was released for the first time in Geneva 2014.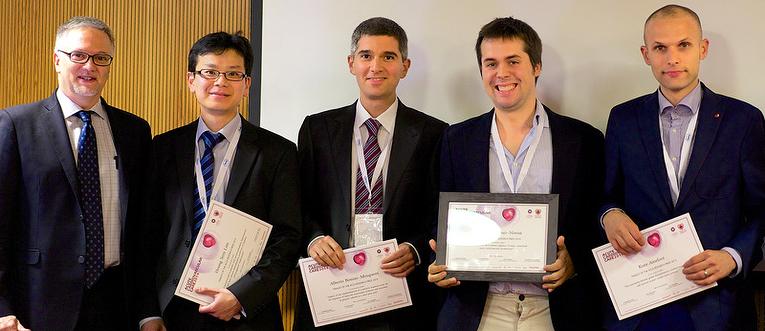 Discover the Winner
Francisco Vasques-Novoa
(Porto, Portugal): MicroRNA-155 as a central regulator of sepsis-associated acute cardiovascular dysfunction
"The ACVC Research Prize was a unique opportunity to share my research and gain the recognition of a leading scientific community."
And the 3 finalists
Koen Ameloot (Leuven, Belgium) : The association between global hemodynamics, cerebral oxygenation and survival in post-cardiac arrest patients
"The dedicated ACVC research prize session was the perfect forum for me to promote our findings to the scientific community and to discuss our results with the expert."
Alberto Bouzas-Mosquera (A Coruna, Spain) : Impact oft he implementation of a sensitive troponin assay on the frequency of inducible myocardial ischemia and outcomes in patients referred to a chest pain unit
"I would like to express my gratitude for the extraordinary opportunity to present my work at the Acute Cardiac Care Congress 2014. It was a great honor and a privilege to be nominated for such a distinguished award, and after having learnt of the other finalists' works, I feel even prouder to have been included among that outstanding group of researchers.

Attending the Acute Cardiac Care Congress 2014 was an exciting experience. In my opinion, it was the ideal setting to meet and exchange ideas with peers and colleagues, to get the most updated information, to discuss the newest innovations and to debate on controversial issues in the field of acute cardiac care. This experience has certainly motivated me to submit the results of my research at future editions of this congress, and I would strongly encourage all colleagues with interests in the field to join us next year in Vienna."
Hoong Sern Lim (Birmingham, UK): Sodium nitroprusside in patients with mixed pulmonary hypertension and left heart disease: hemodynamic predictors of response and prognostic implications.
"The ACVC brings together clinicians of various specialties and background, and offers a unique forum to share clinical experiences and research ideas."
This initiative was supported in the form of an unrestricted educational grant by: AstraZeneca, Novartis, Daiichi-Lilly, The Medicines Company, ThermoFisher Scientific