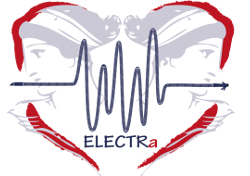 The registry is sponsored by EHRA
The implant rate of Cardiovascular Implantable Electronic Devices (CIED) continues to rise in most countries. The number of leads per patient is increasing due to a higher proportion of dual versus single chamber devices and an increase of CRTP/D systems. Greater life expectancy, need for upgrade, multiple replacements of generators or pocket revisions for complications expose patients to infections.
Despite advances in technology and improvements in reliability, leads remain the weak point of the systems and in some cases may fail.
Transvenous Lead extraction (TLE) is the gold standard in the treatment of CIED related infective complications and often required in the management of leads malfunction.
HRS and EHRA have published recommendations describing indications, settings, facilities, training and accreditation for transvenous lead extraction procedures.
Study design and method
This is the first large prospective, multicentre, European Controlled Registry of consecutive patients undergoing TLE procedures in European Countries and including a Follow-Up phase.
Objectives
Primary Objective
The primary objective is to evaluate the acute and long-term safety of TLE.
Measures: major procedure-related complications (including death) in acute and long-term follow-up.
Secondary Objectives
The secondary objectives of the ELECTRa Registry are:
To describe demographics, clinical, and biological characteristics of patients undergoing TLE procedure in a representative setting of European cardiology Centres.
To describe the characteristics of leads undergoing extraction.
To evaluate indications for TLE procedures.
To describe the diagnostic and therapeutic approaches employed in the routine practice of physicians performing TLE procedures.
To assess the acute and chronic outcomes of TLE procedures.
The information collected in the Survey will allow a description of the European practice on TLE, a comparison of data among centres and Countries, with possible evaluation of:
Adherence to guideline recommendations,
Differences among small-large volume centres,
Experience-based outcomes,
Need for a learning curve,
Timing and method of reimplantation after extraction.
Potential Value of the Registry
Increased quality of care in the lead extraction process.
Dissemination of knowledge.
Verification and potential adjustment of standards for lead extraction procedures.
Preliminary results
The recruitment of patients started on November 2012 and ended on May 2014. 79 centres from 19 countries participated in the registry and 3524 consecutive patients have been enrolled and are now being followed up to 1 year.
Preliminary data on TLE in Europe have been presented during the 2014 ESC Congress in Barcelona and final results should be presented during the EHRA EUROPACE - Cardiostim 2015 in Milan.
Please see our publications page for the article on the baseline results.
Several auxiliary analyses are being performed currently.
Study organisation
The Executive Committee is chaired by Dr. Maria Grazia Bongiorni, co-chaired by Dr. Charles Kennergren.


Executive Committee
Maria Grazia Bongiorni, Chair
Charles Kennergren, Co-chair
Christian Butter
Jean-Claude Deharo
Andrzej Kutarski
Aldo Rinaldi
Aldo Maggioni, EORP Scientific Coordinator, ex-officio (non-voting)
Carina Blomström-Lundqvist
Angelo Auricchio
Nikolaos Dagres
Most of the Executive Committee members are also regional coordinators for the participating countries.
Maria Grazia Bongiorni (IT,IL,CH,PT)
Charles Kennergren (DK,NO,FI,NL,SE)
Christian Butter (DE)
Jean-Claude Deharo (FR,ES)
Andrzej Kutarski (AZ,CZ,GR,HR,LT,PL,RO,RU,SL,UA)
Aldo Rinaldi (BE,UK)