'In God we trust, all others must bring data.'
Now, more than ever, this famous quote from W. Edwards Deming resonates with those working in healthcare. Europe needs reliable data on cardiovascular disease and the ESC is the body which can provide such data. Registries are an essential tool for assessing cardiovascular epidemiology, diagnostic/therapeutic processes and adherence to Guidelines.
In 2009 the ESC launched the EURObservational Research Programme (EORP). The aim of this programme is to provide a better understanding of medical practice, based on observational data collected with robust methodological procedures.
Role of EORP
Prof. Bogdan Popescu (Bucharest, RO), the new chair of the EORP Oversight Committee, sees the role of EORP as two-fold:
"Firstly, EORP registries bridge the gap between randomised controlled trials (RCTs), with their highly selected populations, and real-life clinical practice, providing important data on the heterogeneous range of patients seen every day. For rare diseases – where patient numbers are too small to make RCTs feasible – EORP registries often provide the only data source upon which to base decisions. Secondly, EORP aims to complement the development of guidelines to measure how well they are being applied in clinical practice. As such, EORP registries help complete the circle of knowledge that can lead to better treatment."
EORP in Figures
20 different registries
more than 2 500 centres with 240,000 patients enrolled in EORP registries
more than 100 publications from EHS/EORP
Today, over 100 countries have already participated in at least one study and we invite you to join!
Ongoing and Planned Registries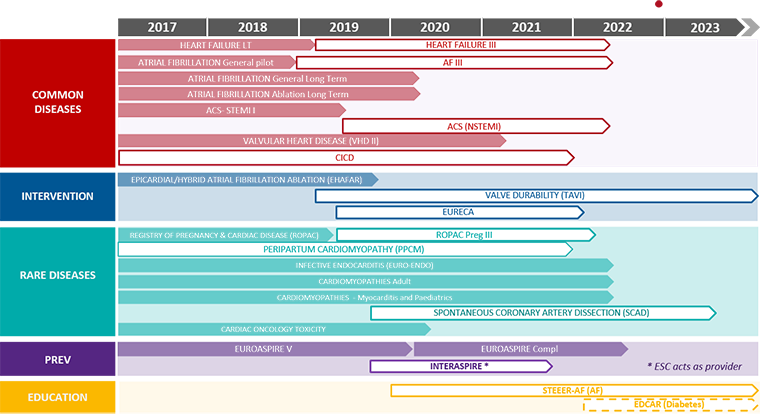 Results from completed EORP studies are published in the European Heart Journal as well as other major scientific reviews.
Main Features of the EURObservational Research Programme
Use of appropriate methodological procedures
A network of volunteer centres appointed by ESC constituent bodies
An on-line electronic Case Report Form (CRF) allowing user-friendly web-based data entry
Full involvement of the ESC National Cardiac Societies (NCS) and relevant ESC constituent bodies
Cardiology Registries
Clinical Registries
Common Diseases to assess the management of diseases of major impact in terms of incidence. These registries will provide epidemiological data and provide reports on the application of clinical practice guidelines recommendations.
Intervention to assess the impact of interventional procedures and imaging techniques.
Rare Diseases to assess epidemiology and management of rarer conditions as arising critical issues in terms of public health (severity of the disease, stringent clinical needs, costs).
Prevention Registries
Prevention to assess cardiovascular risk factors epidemiology and prevention measures.
If you are already registered as a participant in the EORP programme, you may connect to our secure website: http://www.eorp.org.