For the time being, only 3D-TEE probes are commercially available. This probe uses more than 2.500 piezoelectric that allow it to work in two different but complementary ways: 1) as a standard transesophageal transducer, able to obtain 2D, M-mode, Doppler… as when obtaining them with a normal 2D probe (Figure 1). But the same 3D image modalities can also be obtained with a transthoracic 3D probe: x-Plane imaging (two simultaneous planes), Live 3D (real time 3D images), Live 3D Zoom (Figure 2) and 3D Full Volume (four to seven heart cycles are used to obtain a large volume image) and 3D Color Full Volume (several heart cycles are used to obtain a volume with color Doppler information) become possible to acquire. The most frequent limitations of this new system are related to the quality of the transesophageal acoustic window of the patient and to the low temporal resolution it provides.

Aproximate cost of this system is 180.000 euros and the cost of the probe 45.000 euros. Aproximate cost of a 2D TEE probe is 12.000 euros. Cardiologysts are waiting for new devices in the near future and this fact probably decrease the price. Thus, this technique could be affordable for a wide number of practicionners.
Summarising the most common indications to perform a 3D-TEE, we may say that it is useful in the following situations:
Aortic valve evaluation (Figure 3): aortic regurgitation and aortic stenosis assessment (1).
Mitral valve evaluation: mitral valve prolapse is one of the most common indications for 3D-TEE (Figure 4) (2,3), but it also can be useful for mitral stenosis evaluation, especially in cases of poor transthoracic echocardiographic window (4).
Prosthetic valves evaluation: one of the main indications of 3D-TEE is the evaluation of para-valvular leaks. The information it provides is clearly more accurate that the information provided by 2D echocardiography (5).
Left atrium and left atrial appendage assessment (6,7).
Congenital heart disease analysis (Figure 2) (8).
Guiding percutaneous interventional procedures (9).
Assessment of intra-cardiac masses and tumours (10).
Figure 1: 3D-TEE probe may also be used as a conventional 2D-TEE probe. In this figure we can see a mitral valve prolapse.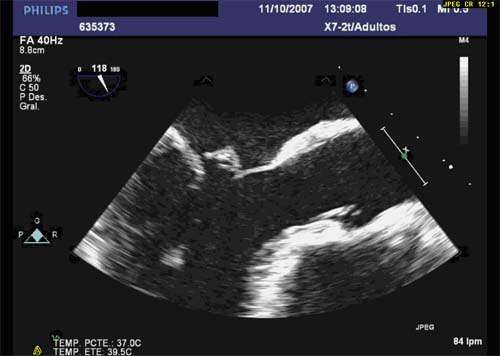 Figure 2: Ostium secundum atrial septal defect obtained by means of 3D-TEE zoom technique. This view was obtained from the left atrium lateral wall. The septal defect can be see as a « black hole » in the image.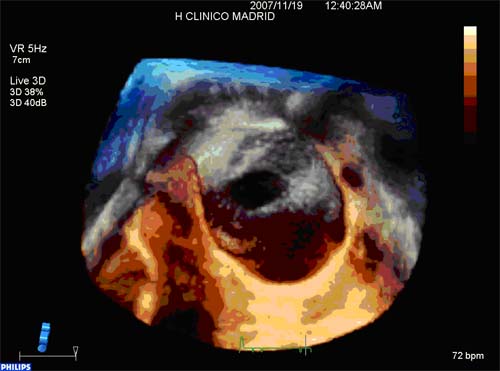 Figure 3: Aortic valve 3D-TEE image. The three aortic leaflets can be seen during systole in this image.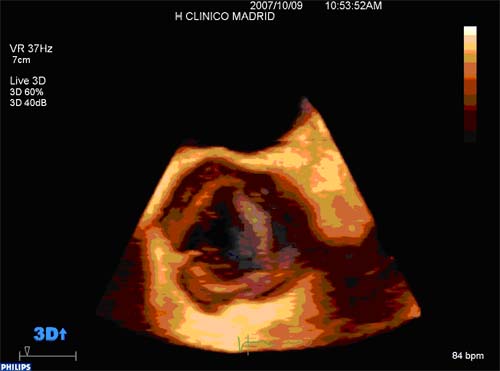 Figure 4: Mitral valve prolapse evaluation by using 3D-TEE imaging. Mitral valve prolapse evaluation is one of the most common indications for transesophageal 3D echocardiography.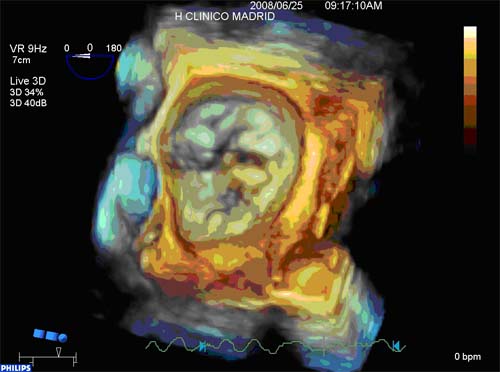 Conclusion:
3D-TEE is one of the most significant advances in cardiac imaging from recent years. This new technique is improving the diagnostic accuracy and the clinical management of hundreds of patients all around the world.