Introduction
Recent studies have underlined the importance of high density lipoprotein cholesterol (HDL) levels as a strong inverse predictor of cardiovascular morbidity and mortality (1;2). However, therapeutic attempts to pharmacologically increase HDL plasma concentrations were disappointing (3-5). Here we describe the importance of HDL as an independent predictor for cardiovascular events and novel therapeutic strategies to increase HDL for the prevention of atherosclerotic disease.
Endothelial dysfunction and atherosclerosis
Cardiovascular diseases account for the majority of deaths in the industrialised world and are associated with abundant morbidity rates leading to frequent hospitalisation, disability, and profound health costs. Although multiple treatment strategies have been developed, therapeutic options are still limited. Onset and progression of atherosclerosis is driven by a poorly understood genetic predisposition and prolonged exposure to multiple cardiovascular risk factors (6).
Upon risk factor exposition, the endothelial monolayer becomes dysfunctional and is accompanied by the loss of genuine physiological properties. These early stages of atherosclerosis are characterised by an impaired endothelium-dependent vasorelaxation due to increased oxidative stress and reduced nitric oxide bioavailability. This condition is referred to as endothelial dysfunction.

Besides the compromised vasomotion, attraction and adhesion of monocytes and T-lymphocytes are important events characterising endothelial dysfunction (7). Ultimately, these inflammatory cells invade the vessel wall and form, along with enhanced lipid deposition as well as migration and proliferation of vascular smooth muscle cells, the atherosclerotic lesion. Continuous inflammation and lipid accumulation renders the plaque unstable which in turn leads to lesion rupture and occlusion of the diseased vessel.

Of note, endothelial dysfunction is not only present in early forms of vascular disease, but is active in virtually all stages of atherosclerosis and is of fundamental importance for the magnitude of cardiovascular complications. Thus, endothelial dysfunction resembles an important pathophysiological condition of the vessel wall, but, beyond that, strongly predicts the outcome of the patient (8).
Endothelial dysfunction and atherosclerosis – the role of HDL
High density lipoprotein (HDL) plasma concentrations negatively correlate with cardiovascular event rates. Individuals with elevated HDL plasma levels are less susceptible to the development of atherosclerosis and endothelial dysfunction. In contrast, low HDL levels predict an increased incidence of myocardial infarction. Experimental data revealed that HDL is potentially anti-atherogenic via the following actions (2):
HDL facilitates reverse cholesterol transport and delivers cholesterol from the vasculature to the liver for excretion from the body for example. In so doing, it counteracts the harmful pro-atherogenic lipid particles such as LDL9.
HDL works as an antioxidant. Reduction of vascular oxidative stress could contribute to the atheroprotective effects of HDL9.
HDL carries anti-inflammatory properties which probably decrease inflammatory processes in the vessel wall occurring during atherogenesis9.
HDL enhances the proliferation and migration of endothelial cells and endothelial progenitor cells and thereby promotes the restoration of the endothelium's integrity10;11.
HDL has anti-apoptotic effects on endothelial cells and endothelial progenitors9;12.
The accumulation of these cellular and molecular effects leads to endothelial protection and prevention of atherosclerotic disease (figure 1).
High HDL levels are vasculoprotective
In a recently published study in the New England Journal of Medicine, the importance of HDL cholesterol levels as an LDL cholesterol independent predictor has been demonstrated (1).
In a post-hoc analysis of the Treating to New Targets (TNT) study the predictive value of HDL for cardiovascular events was assessed. LDL cholesterol was lowered to levels <130mg during a run-in phase. Patients were then randomised to receive either 10mg or 80mg atorvastatin and the occurrence of the first major cardiovascular events was determined. The post-hoc analysis was performed in 9770 patients. HDL levels were predictive of major cardiovascular events. Interestingly, when stratified to LDL levels, HDL cholesterol remained a significant predictor for cardiovascular events. Even in subjects with LDL levels <70mg/dl, high HDL levels were associated with a lower risk for cardiovascular events. These results clearly demonstrate the importance of HDL levels beyond LDL cholesterol.
Treatment strategies to increase HDL levels
The current therapeutic strategies to increase HDL levels are limited (9). According to the guidelines, treatment of patients with low HDL (<40mg/dl) should first include LDL lowering to goal, followed by intensive weight management, increased physical activity, and potentially the use of nicotinic acid or fibrates.
The importance of HDL as an inverse risk predictor has triggered various attempts to further influence HDL levels in patients at risk. Infusion of reconstituted HDL (rHDL, CSL-111) was associated with improvements in endothelial function in hypercholesterolemic men (13) or in patients with low HDL levels14. In a randomized placebo-controlled trial, 183 patients were treated with reconstituted HDL or placebo and the atherosclerotic plaque burden was assessed using intravascular ultrasound (IVUS). 4 weekly infusions of rHDL did not result in a reduction of atheroma volume but was able to positively influence plaque characteristics (5).
Further attempts to increase HDL levels were based on small-molecule inhibitors of cholesteryl ester transfer protein (CETP) (9). Blocking of CETP leads to inhibition of the transfer of cholesteryl ester from HDL to apolipoprotein-B-containing lipoproteins and the simultaneous transfer of triglycerides in the opposite direction, resulting in increased HDL levels. However, despite promising experimental data (10;15), clinical trials with the CETP inhibitor torcetrapib were disappointing. In patients with familial hypercholesterolemia (3) and in patients with coronary artery disease4, the use of CETP inhibition in combination with statin treatment did not result in a reduction of atherosclerotic lesion progression (carotid artery intima/media thickness and coronary atherosclerosis, IVUS) despite a large increase in HDL cholesterol.
Finally, the recently published ILLUMINATE study in 15,067 patients at high cardiovascular risk demonstrated an increase of 72.1% in HDL cholesterol and a decrease of 24.9% in LDL cholesterol (16). However, these effects were associated with an increase of 5.4 mm Hg in systolic blood pressure, a decrease in serum potassium, and increases in serum sodium, bicarbonate, and aldosterone. The study was prematurely terminated due to an increased risk of cardiovascular events (hazard ratio, 1.25; 95% confidence interval, 1.09 to 1.44; P=0.001) and death from any cause (hazard ratio, 1.58; 95% CI, 1.14 to 2.19; P=0.006) in the torcetrapib arm leading finally to the withdrawal of the compound. Post hoc analyses showed an increased risk of death in patients treated with torcetrapib whose reduction in potassium or increase in bicarbonate was greater than the median change.
A recently published study in The Lancet shades new light on CETP inhibition (17). In two double-blind placebo controlled trials with a small patient number (50 patients and 22 healthy participants, respectively), anacetrapib was not associated with an increase in blood pressure17. However, the studies were too small for outcome analysis and the paper was published and written by the pharmaceutical company investigating anacetrapib. Interestingly, blood pressure increase was not associated with increased mortality in the post-hoc analysis of the ILLUMINATE study indicating that other factors may have influenced the outcome (16). Further experimental research is urgently needed to dissect the multiple mechanisms by which CETP inhibition itself or the increased HDL particles may affect cardiovascular outcome.
Conclusions
HDL cholesterol levels are an important target in patients with atherosclerotic disease. Recently published data underline the importance of HDL as an inverse risk predictor independent of LDL cholesterol levels. Currently, HDL levels >60mg/dl are regarded as an "inverse risk factor". The health care provider should aim to increase HDL levels in patients <40mg/dl as stated in the guidelines using lifestyle modifications (weight loss, regular exercise, quit cigarette smoking, and reduction of excess carbohydrate calories) and pharmacological concepts such as nicotinic acid or fibrates. However, in these patients, the primary goal remains to lower LDL cholesterol and non-HDL to target levels.
Figure 1. Effects of high density lipoproteins (HDL) on the endothelium
HDL influences the function and survival of endothelial cells and regenerating endothelial progenitor cells. Effective repair of the endothelium results in the prevention of endothelial dysfunction, atherosclerotic lesion progression, plaque rupture, and restenosis.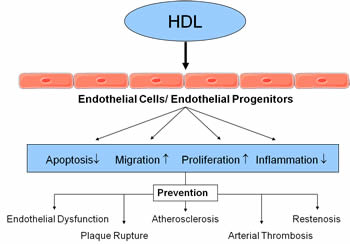 The content of this article reflects the personal opinion of the author/s and is not necessarily the official position of the European Society of Cardiology.