1) Hotline Sessions
In the Hotlines sessions, there were several updates of published studies and important results of two meta-analysis with a very provocative discussion (Salim Yusuf, Ca) on the long term adverse events with drug eluting stents (acute coronary thrombosis and non cardiac mortality). Late and very late stent thrombosis is a more relevant problem than anticipated. The problem may in part due to too short administration of Clopidogrel. This will be further explained in the coming summary on interventional cardiology at WCC 2006.
2) Angiotensin-converting enzyme inhibitors in patients with stable vascular disease without left ventricular systolic dysfunction or heart failure: a meta-analysis. (Dagenais, GR, Ca).
Dagenais et al. undertook a systematic overview of the 3 trials comparing an ACE-inhibitor with a placebo, on top of proven treatment, in patients with stable coronary artery disease without left ventricular systolic dysfunction or heart failure, the HOPE, EUROPA and PEACE trials.

There was consistency in the different outcomes between the 3 trials. The odds reduction for the composite outcomes varies between 15 to 30% for the different trials irrespective of their annual rates of events in the placebo groups except for PEACE. The benefits of the ACE inhibitors were observed among combined EUROPA and HOPE patients taking beta-blockers, lipid lowering agents and antiplatelets individually or together, and/or having undergone coronary revascularisation.

These benefits of ACE inhibitors are consistent, observed in addition to other proven therapies, and even in low-risk CAD patients. Therefore, ACE inhibitors should be considered in all patients with vascular disease as long as they can tolerate these agents and the absolute benefits are judged to be worthy.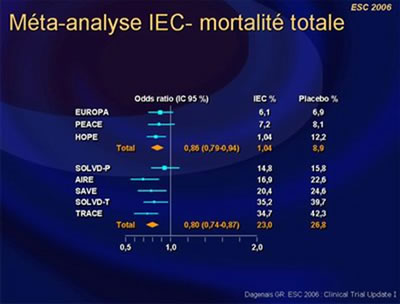 3) The SPARCL Study. (Amarenco, P, FR).
Stroke Prevention by an aggressive reduction in cholesterol levels was evaluated in 4731 patients with recent stroke or TIA within 1-6 months without CHD.

They received atorvastatin 80 mg/day or placebo (mean LDL-C 73 mg/dL, atorvastatin and 129 mg/dL, placebo).

A significant reduction of the primary end-point was observed in patients with atorvastatin (11.2% vs. 13.1% with placebo, CI 0.71-0.99, P=0.03). The absolute 5-year risk reduction in major cardiovascular events was 3.5% (HR=0.80; 95% CI 0.69-0.92, P=0.002). Patients most adherent to atorvastatin 80 mg (those with LDL-C reduction = 50%) experienced the lowest risk of ischemic stroke (33% reduction in ischemic stroke risk (HR 0.67, CI, 0.52-0.86, P=0.0018), with no increased risk of hemorrhagic stroke (HR 1.04 CI, 0.61-1.78, NS). Atorvastatin reduces recurrent stroke in patients without CHD.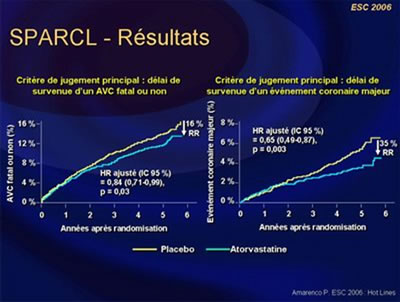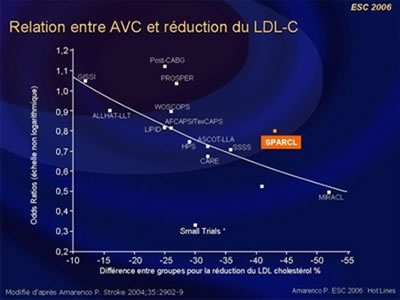 4) The Viability-guided angioplasty after acute myocardial infarction trial. The VIAMI Trial. (Veen G, NL).
Veen G et al., included, in the VIAMI trial, a total of 293 patients after acute myocardial infarction, treated with thrombolysis or without reperfusion therapy.
Of these, 216 patients showed viability, using low-dose dobutamine echocardiography done 48 h after the onset of AMI, in the infarct-area and were randomised to invasive strategy or medical treatment (study group) and 75 patients showed no viability (registry group).

In the 106 patients randomised to the invasive strategy 73% actually underwent culprit-vessel stenting with the use of abciximab. Another 11% were treated with coronary bypass grafting and in the remaining 16%, revascularisation was not indicated. A RRR of 59% (p=0.04) in favour of the invasive strategy was observed, mainly driven by a significant reduction in ischemic events. Finally, at 6 months, a low rate of ischemia was found in the non-viable group in comparison to the viable-conservative group (5.3% vs. 14.5%, p<0.05).

Viability testing using low dose dobutamine stress echocardiography seems safe when done 2 or 3 days after an AMI and the absence of viability is not in favour of revascularisation of the culprit lesion.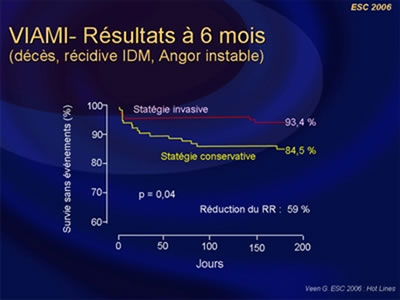 Other interesting reported studies.
1) The Thrombolysis in Cardiac Arrest (TROICA) Trial. Update (Boettiger, B.W, DE).
Survival after an out-of-hospital cardiac arrest is very low, 1% to 5%, despite CPR. A vast majority of cardiac arrest patients (up to 70%) are secondary to thrombosis formation underlying acute myocardial infarction or pulmonary embolism. Both conditions are potentially responsive to fibrinolytic therapy.

In the TROICA trial, 1,050 patients suffering from witnessed out-of-hospital arrest of presumed cardiac origin were randomly assigned to TNK or placebo, plus standard therapy for cardiac arrest.

The main results are that the addition of TNK to standard CPR did not increase the 30-day survival rate (18.2% vs. 20.2%, NS) nor the hospital admission rate (59.0% vs. 59.5%, NS).

Irreversible anoxic cerebral lesions are probably the main explanation for this effect on survival rate at short term. Fibrinolytic therapy probably reduced the myocardial infarct size but this favourable effect would probably be observed at longer term in surviving patients.
2) The Perindopril in elderly people with chronic heart failure (PEP-CHF) study. (Cleland J, GB).
A group of 852 elderly patients (average age of 75 y; 56% women, 79% patients with previous hypertension) with heart failure and preserved left ventricle function (mean LVEF 65%), were randomised to either placebo or perindopril (4 mg).

The follow-up period was 26 months and the primary end point was all-cause death and heart failure hospitalisation. For this end point, there was a not significant trend in favour of perindopril (HR 0.92; 95% CI 0.70 to 1.21).

It must be emphasised that the study was prolonged due to slow recruitment and a considerably lower event rate than originally expected. This led to an important discontinuation rate of 38% at 18 months with about 90% of patients both on placebo and perindopril being placed on open ACE inhibitor treatment.
At one year of follow-up, there was a 31% RRR in the primary end point (p=0.055) and a significant 37% RRR in heart failure hospitalisation (p=0.033) in favour of perindopril. It should also be emphasised that other important measures of clinical status were strongly supportive of a positive effect of perindopril.

Taken together the results of PEP-CHF and CHARM Preserved, with candesartan, appear to support a role for inhibition of the renin-angiotensin system in patients with heart failure and preserved systolic function. The I-PRESERVE trial (with irbesartan), in a similar population 4128 patients, should report next year.
3) The MIST Trial. (Dowson A, GB).
The MIST trial was a prospective, multicenter, randomised, double-blind, placebo-controlled trial to evaluate the efficacy of patients foramen ovale closure with a septal repair implant (STARFlex®) to prevent refractory migraine headaches with aura. The rationale for MIST was based on retrospective data showing the higher prevalence of PFO in patients complaining of migraine with aura and the beneficial effect after device closure. Sham procedure was essential to judge the magnitude of the placebo effect. The MIST study fails to demonstrate the primary end point of cessation of migraine with aura following patent foramen ovale closure. But, there was missing information on closure rate and residual shunting may have affected the results. Nevertheless, it did show the percentage of patients achieving the secondary end point of 50 % reduction in headache days was comparable to conventional preventive drug treatments and this important result strongly supports to pursue the ongoing trials.
The content of this article reflects the personal opinion of the author/s and is not necessarily the official position of the European Society of Cardiology.