TAKE-HOME MESSAGES
Background
Hypertension is the most common cardiovascular risk factor, and high systolic blood pressure (BP) is the biggest contributor to global mortality, resulting in 10.4 million deaths per year worldwide [1].
Pharmacological treatment is well established, and several robust clinical trials have shown the impact of reducing cardiovascular events, morbidity and mortality with treatment. Despite this fact, a substantial proportion of patients diagnosed with hypertension continue to have sub-optimal BP control. In 2018, data from May Measurement Month showed 33.4% of patients who had their BP measured had hypertension: 59.5% of whom were aware of their diagnosis, and 55.3% were taking medications. Among the treated group, only 60% had achieved target BP control [2]. Several factors may be responsible for this, the most important and controllable factor being poor compliance with prescribed medications. It is estimated that approximately 1 year after initiation, <50% of patients take medications as prescribed [3]. The consequences of nonadherence to antihypertensive medications range from end organ damage associated with hypertension, such as microalbuminuria, stroke, and heart failure, as well as increased hospital admissions and healthcare costs, reduced quality of life and death. Unused medicines contribute to substantial pharmaceutical wastage, which in turn offsets sustainability, impacting the environment and ultimately incurring costs in billions per year.
Compliance can be defined as the extent to which a patient's behaviour matches the recommendations of the healthcare provider. Compliance in the context of hypertension management encompasses following agreed recommendations, including the monitoring of BP and pharmacological and non-pharmacological therapies. Adherence is a preferred term as it considers the importance of the patient's perspectives in medication taking, based on their own appraisal, beliefs, and circumstances. We prefer the term adherence though in the literature the terms have been used interchangeably. Nonadherence may be complete or partial and can be intentional or unintentional, though in most cases there is no clear intention to omit treatment, and nonadherence can occur at any point in a patient's journey in the management of hypertension.
The purpose of this brief review is to provide a framework to assess nonadherence to antihypertensive medications and how to make patients aware of this issue and address it. A PubMed search was undertaken to review up-to-date evidence on all aspects of adherence in hypertension management.
Assessment of adherence
When to suspect nonadherence?
To summarise individual impacts of nonadherence, the statement of C. Everett Koop, the former Surgeon General of the United States, is relevant here, "Drugs don't work in those who don't take them."
Patients who exhibit an apparent lack of efficacy with their treatment, labile hypertension, multiple adverse effects, and resistant hypertension should be useful cues for healthcare professionals to suspect adherence issues. Resistant hypertension is defined as uncontrolled hypertension, despite optimal or best-tolerated doses of 3 or more antihypertensive drugs, including a diuretic. Most patients would benefit from an evaluation of adherence before reaching the state of apparent resistant hypertension. It is well known that persistence with treatment declines over time. At the same time, the increasing number of medications leading to polypharmacy increases the rates of non-adherence. It is also well known that 20-30% of new prescriptions are not filled by patients [4]. In the sections below, interventions to prevent nonadherence are addressed.
Measures of detection of nonadherence
There are multiple ways to assess adherence, although these are not necessarily applicable to all patients at all stages in the management of hypertension.
In many cases, a discussion born out of a healthcare provider's simple and non-judgemental inquiry or a patient's self-report, may be forthcoming on issues impacting adherence to medications. A detailed questionnaire to assess non-adherence, such as the Morisky adherence scale [5], may provide further insights into some patients. However, these methods are subjective and tend to overestimate adherence. Pill count and prescription refill data are other simple measures to assess adherence. And though this is easy to assess and advantageous in a well-established integrated healthcare system, in less centralised healthcare systems other sources of prescriptions/medicines may be missed. While pill count and prescription refill data are largely useful to detect nonadherence, adherence may remain difficult to prove. Electronic pill boxes and digital sensors built into medications are some of the more sophisticated tools to assess nonadherence. The medication event monitoring system (MEMS) [6] is an underutilised example of an electronic medication monitoring and adherence system, though they are still too expensive to be widely adopted for use in clinics and are not cost effective.
Chemical adherence testing using biological samples is an objective, sensitive and valid method to detect adherence [7]. Urine and plasma samples can be used to assess the presence of medications, qualitatively and quantitatively, thus providing a more robust way to confirm adherence. Increasingly, this is now more widely available and less expensive. In some patients, knowledge of the test can trigger improved short-term adherence, also known as white coat adherence. The pharmacokinetic factors of the medications may also impact the results, particularly in the case of partial adherence. Long-acting medications may be found in the urine long after they have been taken, giving the impression of complete adherence.
Direct observation therapy conducted in a healthcare facility can be considered the gold standard here, though the process is laborious for the patient and the doctor. Some patients may need hospital admission, and there is an inherent risk of rapid reduction in BP in patients who were persistently non-adherent before the administration of the medication. This can unfortunately manifest in untoward incidents, including stroke and myocardial infarction. Therefore, it is important to ensure that patients understand the reasons for nonadherence testing, which requires effective communication skills from the healthcare provider.
The choice of test depends on the index of suspicion of nonadherence and the impact of hypertension on the patient's BP control. Biochemical testing and direct observation therapy are best used to differentiate apparent and true resistance to hypertension. Simple measures, such as prescription refill data, can be evaluated much earlier on, ideally before or at the time of prescription of a second antihypertensive agent.
Factors affecting adherence in hypertension
Adherence to any therapy is a multistep process based on the patient's own appraisal of the recommendations received. The World Health Organization (WHO) described five dimensions that contribute to nonadherence: social/economic, patient-related, therapy-related, condition-related, and healthcare-related. It is not uncommon for a patient to have more than one factor contributing to nonadherence.
Some of these factors can be prevented at the time of the "new diagnosis of hypertension" (Figure 1) by providing health education, shared decision-making to treat, and promotion of self-care and self-management. Several factors, such as homelessness, comorbidities needing polypharmacy, drug/alcohol abuse and frailty, can be identified and explored at the outset of starting treatment. Other factors surface as the patient progresses in their journey of hypertension management. This multidimensional perspective makes understanding nonadherence in hypertension clinics complex and the application of strategies time-consuming. However, it provides a useful framework with multiple tools to tackle nonadherence; integrating some of these tools in a busy clinic is the key challenge.
Figure 1. Factors leading to nonadherence. Adapted from WHO's framework for adherence [8]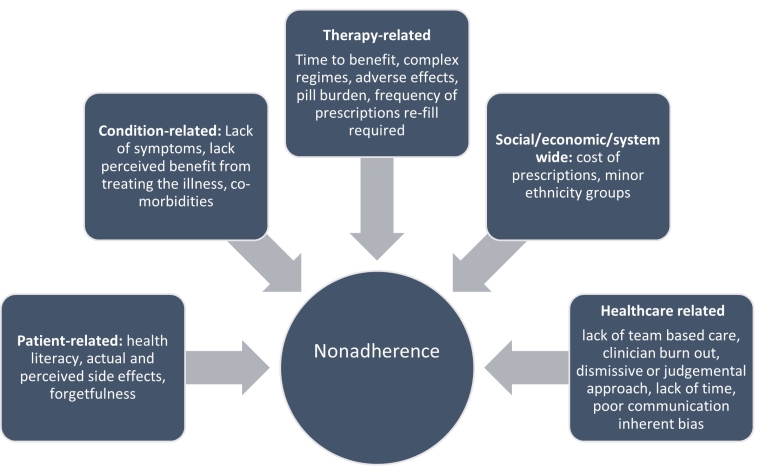 The guidelines of the European Society of Cardiology (ESC)/ European Society of Hypertension (ESH) and the 2020 International Society of Hypertension (ISH) guidelines [9] support assessment of nonadherence in suspected resistant hypertension. They also provide a summary of interventions that can improve drug adherence in patients [10]. In particular, they focus on reducing therapeutic inertia, involving patients in a shared decision-making process, and the use of single-pill combination drugs to treat hypertension.
In the following section, several individual factors along with possible interventions are presented. There is no dearth of clinical trials undertaken in the field of adherence, unfortunately, research has been immensely disadvantaged by using the strategy of 'one size fits all'. Table 1 lists some of the interventions studied more recently in systematic reviews. Many of these factors are applicable to other chronic disease managements, such as diabetes, stroke, heart failure and dyslipidaemia.
Table 1. Summary of recently published systematic reviews and meta-analysis on interventions to improve adherence. (Please note that this is not an exhaustive list.)
Intervention
Change in adherence parameters
Impact on BP
Reference

Communication skills training of healthcare professionals

Five studies reported on medication adherence 2 studies found significant difference in the intervention group communication skills training of healthcare professionals, while 3 studies did not find any difference between groups).

The differences in BP were not significant with intervention.

Pooled mean difference in SBP: -2.61 mmHg (95% CI: -9.19 to 3.97); DBP: -0.06 mmHg (95% CI: -3.65 to 2.45)

[11]

Single-pill combination versus free-equivalent combination

Better adherence and persistence with single- pill combination.

Significant difference at 12 weeks favouring single-pill combination. Pooled mean difference in SBP: -3.99 mmHg (95% CI: -7.92 to -0.07); DBP: -1.54 mmHg (95% CI: -2.67 to -0.41)

[12]

Effectiveness of fixed-dose combination

Significant improvement in adherence and persistence, measured by the average possession rate of drugs and the greater number of patients continuing treatment and duration of treatment.

Non-significant difference in BP. Heterogeneity in the measurement of the BP and the timing of introduction of fixed-dose combination.

[13]

Smartphone App-based interventions

Adherence, measured by Morisky's adherence score, was significantly better in the intervention group. (Standard mean difference 0.38, 95% CI: 0.26 to 0.50)

Significant difference in BP with intervention. Weighted mean difference in SBP: -2.28 mmHg (95% CI: -3.90 to 0.66) and DBP: -1.84 mmHg (95% CI: -3.49 to -0.19)

[14]

Pharmacist-led intervention in primary care

Positive outcome on adherence

Significant reduction in SBP: -9.33 mmHg (95% CI: -13.36 to -5.30)

[15]
BP: blood pressure; CI: confidence interval; DBP: diastolic blood pressure; SBP: systolic blood pressure
Condition- and therapy-related factors
It is well known that complex regimens with several medications, especially those requiring multiple doses in a day, significantly affect adherence to medications in any field of medicine. Adverse effects of antihypertensive medications are another well-known factor precluding patients from better control of hypertension. Current drug development strategies usually consider this a priority and work on improving the half-lives of therapeutic agents and decreasing the toxicity.
Newer emerging therapies include vaccine development against the renin-angiotensin system cascade, however, this has not yet arrived, and not much has changed in the landscape of pharmacotherapy in the present day clinics. Meanwhile, swapping long-acting medications for short-acting ones is beneficial in most patients. Managing actual and/or perceived side effects can be challenging. On-target and/or off-target biologically plausible side effects are the easiest to manage. These usually abate after reducing the dose and/or stopping the medication, necessitating a switch to a different medication belonging to the same class or another class. Perceived side effects can be frustrating for both patient and the clinician. On treatment initiation, a subset of chronically hypertensive patients may experience symptoms explicitly due to a reduction in BP resulting from a shift in the cerebral perfusion pressure in the context of chronically elevated mean arterial pressure. Educating patients on home BP monitoring and choosing lower doses of multiple medications may be helpful in these patients.
There is mounting evidence attributing better BP reduction, better adherence to medications and better clinical outcomes by employing a single-pill combination in comparison to free-equivalent combinations [12, 16]. Whilst starting a single-pill combination of 2 or more medications reduces pill burden and is an attractive option, the prescriber should be mindful that this approach can lead to inflexible dosing possibly exposing the patient to unnecessary risks. At the same time, lower dose single-pill combinations can help counteract dose-dependent side effects, thus increasing tolerability.
A change in medication within or outside the class, e.g., a brand change, dosage reduction and/ or consideration of a single combined pill, can be adopted in a patient who is struggling to maintain adherence. Ultimately, all the above factors should shorten the time taken to reach the target BP. Patients who reach their target BP quickly require fewer adjustments in their therapeutic regimens, and those who do not experience adverse effects require less frequent refilling of prescriptions and are more likely to adhere to and persist with therapy.
Patient factors
Age, gender, race-ethnicity, and social support are some of the known socio-demographic factors that impact the adherence and management of any medical condition. Young patients might deny their diagnosis and might not be convinced to take medications for an asymptomatic hypertensive state. The benefits of treating hypertension might not be palpable for patients in the short term. In addition, patients may need to take a break from work to collect prescriptions on time.
Hypertension control is largely uninsured, and the cost of prescriptions affects the young workforce who are at risk of de-prioritising their health needs. The role of family/social/peer group support in medication behaviour cannot be overemphasised. Changes in behaviour can be slow and repeated motivation at regular intervals may be needed to achieve adherence. Negative beliefs about medication, due to numerous factors such as inaccurate information on adverse effects and inaccurate disease perception, amount to about 20% of variance in adherence, especially in deprived social groups [17]. Polypharmacy associated with comorbidities, including cognitive and physical decline, may impact adherence in the elderly.
The pandemic has brought the role of self-care into the spotlight with the promotion of various home testing strategies. In the context of hypertension management, this self-efficacy translates into home BP monitoring. Informed and engaged patients tend to be more involved in the decision-making process and, in turn, adherent [18].
For patients who are in denial and sceptical about starting treatment, the benefits and risks of untreated hypertension and medications should be highlighted individually, such as using their own QRISK or Heart Age calculator. Visualising their own test results, like the echocardiogram or a carotid ultrasound, may help make the aim of the treatment relatable and help drive home the seriousness of the medical condition to the patient.
Practical issues, such as cost of medications, forgetfulness, and time off work, can be managed to some extent with subsidies for medicines, reminders such as alarms and cues and a free medicine delivery service. Habit-forming strategies include using conditioning cues to take medication, which can be time- based or place-based, such as placing the pills where it can be seen clearly and taking them right before or after an important activity. This will be different for each individual, and patients should be encouraged to plan this. Digital solutions, e.g., electronic monitoring and smart phone apps, can be used.
Using a pill box may be useful in selective elderly patients who have a high pill burden due to concomitant medications. Dossette boxes have fallen out of favour as no robust evidence exists favouring their routine use, yet they may be helpful in select patients.
Physician-related factors
The patient-clinician relationship is the key factor that determines the patient's confidence in their clinician's decisions [19]. The patient's perception of trust and being valued and respected by the healthcare provider empowers them to initiate discussion about treatments. This promotes adherence and the implementation of strategies to tackle nonadherence. It has been studied extensively in patients with other chronic illnesses, such as HIV.
Counselling, health coaching and motivational interviewing can help some clinicians motivate patients to be honest about their adherence. For example, opening the discussion on adherence with, 'It can be hard for many people to take medications every day without fail. Do you face or foresee any problems with taking medicines?' rather than 'Do you take your medications regularly?' is likely to result in a better open dialogue. Self-monitoring with feedback reinforces the engagement of both parties to achieve the joint goals. The results from clinical trials studying effective communication training are heterogenous and do not conclusively confirm that training in communications helps adherence to medications [11]. However, this is probably because communication skills inherently differ from clinician to clinician based on personalities, irrespective of training, and as such, robust quantitative assessment of the impact of such training in a randomised control trial setting maybe flawed.
Burnout and inertia of physicians in identifying factors that affect BP control might translate into a weaker relationship and lead to nonadherence. A multidisciplinary team including pharmacists [20, 21] and nurses can provide effective support, especially on follow-up. They can aid in persistence with medication by regular reappraisals of illness severity and treatment efficacy, as well as helping to reduce the general physicians' burden and prevent burnout.
Digital interventions, such as smartphone technologies, can also be used by healthcare teams to provide ongoing support for behaviour change. Text or voice messages, personalised reminders and application-based communication with feedback can help with persistence of medications and result in a reduction in BP [14]. In some patients, a judicious simple act of maintaining a patient diary might be effective.
System factors and interventions
Improving access to healthcare and reducing the costs of prescriptions and medications will undoubtedly improve adherence. Making hypertension management a priority and rewarding healthcare professionals for achieving or improving rates of controlled hypertension may be effective ways to reduce physician inertia, though this might not be cost effective in some healthcare systems. Creating a patient-centred, integrated multidisciplinary team approach may help improve patient journeys and improve cardiovascular health. It cannot be overemphasised that hypertension management today has unmet needs calling for the development of longer-acting, user-friendly, safe, and newer therapies.
The cycle of "assess, evaluate and improve" is repeated both by patients and healthcare teams to support patients at various time points in their journey (Figure 2, Table 1). Despite the best efforts from an entire team, some patients may remain resistant to therapy, some of whom would be resistant due to partial or complete nonadherence. Ultimately, shared decision making would mean that the choice rests in the hands of the informed patients.
Figure 2 and Table 2. Interventions that can be used to prevent nonadherence and address nonadherence along a patient's journey in hypertension management.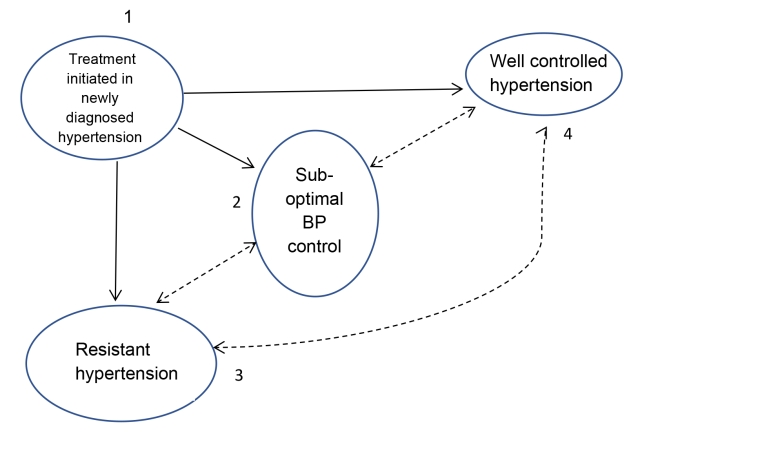 Time points
Phase in management
Assessment of adherence
Action steps
1
Treatment initiated in newly diagnosed hypertension
Emphasise effects of uncontrolled hypertension and importance of taking treatment such as 2 mmHg drop in SBP reduces risk of stroke by 8%.

Educate and assess patient's understanding on hypertension and aims of treatment
Promote self-monitoring and self-care with feedback.
Assess motivation for behaviour change and support with taking medication and prescription re-fills.
Consider if monetary subsidiaries can be availed
Ensure patient has assess to larger community-based health care team for support with above
Arrange follow up to assess response.

2
Sub-optimal hypertension
Assess adherence by non-judgemental interviewing prescription re-fill data and biochemical testing (as available)

Assess side effects to medications, pill burden, polypharmacy, and physical characteristics of the medication itself like size and smell.
Consider medication switch, adding a second/third medication.
Consider pill box
Consider managing comorbidities such as anxiety and depression
Counsel on behaviour change techniques
Repeats steps of time points 1.
Investigate true resistance
Consider single pill combination therapy.

3
Resistant hypertension
Assess with above steps at time points 1 and 2. Consider directly observed therapy
Repeat all steps above, consider management in hospital if resources available and rule out true resistance, if necessary with directly observed therapy
4
Well-controlled hypertension
Important to have a robust plan for self-care, self-monitoring with feedback, and a health team to fall back to if and when necessary
Conclusions
Adhering to treatment in hypertension is an action anchored in multiple factors, including hypertension education, perceived side effects to medications and the relationship with the care provider. It is important to prevent nonadherence right from the start i.e,at the point of diagnosis,by using a shared decision-making process as well as educating the patient.
Throughout the patient's journey perspectives change, and it is vital to continuously assess the factors that affect adherence both subjectively and objectively in a non-judgmental way, using the best available tools to do so. No opportunity should be missed to empower patients, promote self-care, educate them and provide strategies to reduce nonadherence. Various strategies can be implemented ranging from system-wide initiatives, such as free prescriptions for hypertension, incentives for doctors in improving controlled hypertension in treated patients and developing a multidisciplinary team, to patient-focused solutions, including counselling, using reminders/smart phone apps, regular follow-up, pill boxes and single combination pills. This approach should also be employed to non-pharmacological treatments. The ultimate goal of reducing the burden of cardiovascular disease resulting from uncontrolled hypertension is unattainable without patient partnership.